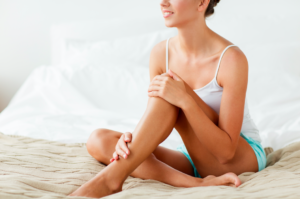 Spider veins, medically called telangiectasias, are small, branchlike pink, purple, or red veins that often develop on the face, legs, and feet. They are not harmful, but they can present an unsightly appearance to some people. As a result, many individuals turn to laser therapy from our practice to help clear away these lines and create smoother, more evenly toned skin in the affected area. Dr. Brunner uses innovative technology for this purpose, and one of the many benefits is that it works on a wide range of skin tones and types. That said, not everyone is a candidate. Laser spider vein treatment may not be right for you if you are:
Pregnant
Diagnosed with skin cancer
Taking a blood thinner
Taking Accutane®
Taking medications that cause photosensitivity
Additionally, if you have vitiligo, herpes simplex, or diabetes, we may recommend another approach. If a tattoo covers the area you wish to address, this also could present difficulties. We will evaluate your concerns and develop a plan of action at your initial consultation. With every patient we strive to provide an optimal experience, which includes only using techniques that offer the safest outcome possible.