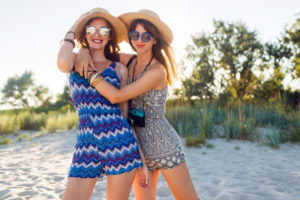 Even though plastic surgery has been popular for decades, it seems only recently that people have begun to openly embrace cosmetic enhancement. The truth is, there's nothing to be ashamed of if you want to soften common signs of aging, restore a feature to its former beauty, or enhance an area that makes you feel self-conscious. Self-love comes in many forms, and how you choose to express it is no one's business but your own.
Dr. Eugenie Brunner has seen a transformation take place in her practice. Patients used to come in feeling a bit bashful about their desire to enhance their skin and face. More often now, though, men and women feel comfortable asking for help achieving their aesthetic goals, whether they are interested in non-surgical treatment or surgical procedures. This change in attitude is reflected in pop culture as well, where celebrities are openly discussing the procedures they have received and welcoming conversation about how it has improved their lives.
Everyone has unique reasons for wanting facial plastic surgery. It's always been important to respect other people's personal medical decisions, including cosmetic choices. But now that message seems to finally be taking root. If you've thought about getting cosmetic surgery but were concerned about how people may react, the good news is they may not care at all. Some friends and family members may congratulate you, should you decide to share your experience, and others may not. You can feel confident, however, that millions of men and women have made the same decision as you and are pleased with the results.
Ready to learn more? Schedule a consultation with Dr. Brunner to discuss your goals in a pressure-free environment.