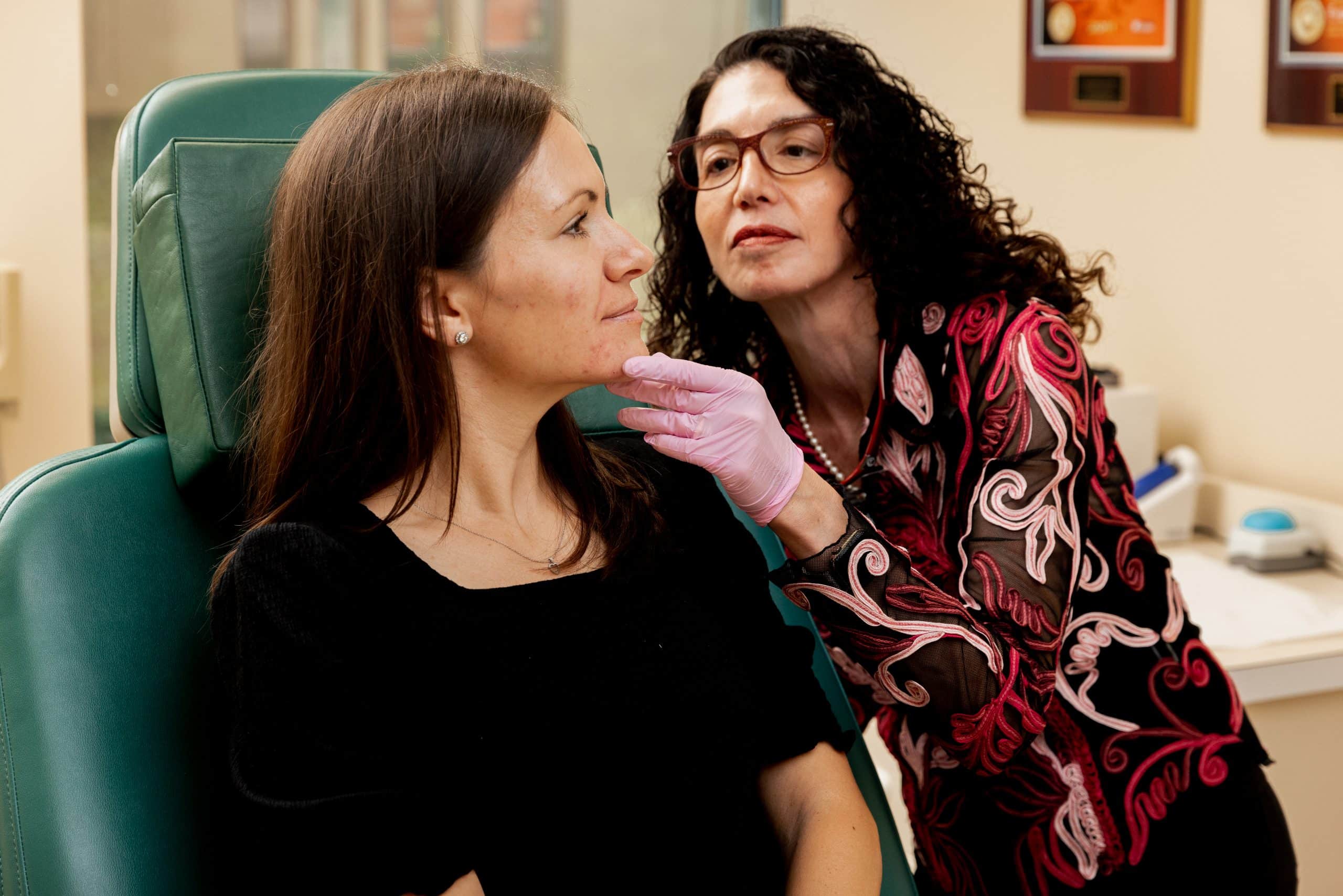 EZ PRF Gel Injectable
EZ PRF gel is a 100% natural biostimulating injectable that utilizes the body's natural proteins and growth factors to improve skin tone and texture while treating deep tear troughs, lines and wrinkles, volume loss, and more.
What Is EZ PRF?
EZ PRF is an autologous bio-stimulating filler, meaning its rejuvenating properties stem from your own body. To prepare EZ PRF, Dr. Brunner draws your blood and separates its components through centrifugation. This process extracts and isolates the platelets, growth factors, and stem cells into an albumin matrix.
How It Works
EZ PRF combines your body's own platelet-rich fibrin (PRF) with albumin to create a natural filler that may be safer and more versatile than most injectables because it uses your body's own blood components. EZ PRF provides an innovative, flexible consistency that allows the gel to adapt to the various treatment areas, including:
Undereye hollows
Sunken cheeks
Fine lines and deep wrinkles
Enlarged pores
Chin and jawline contouring
Lip augmentation
The treatment smooths lines and wrinkles, restores volume, and creates a scaffolding that promotes collagen and elastin generation for smoother, younger-looking skin.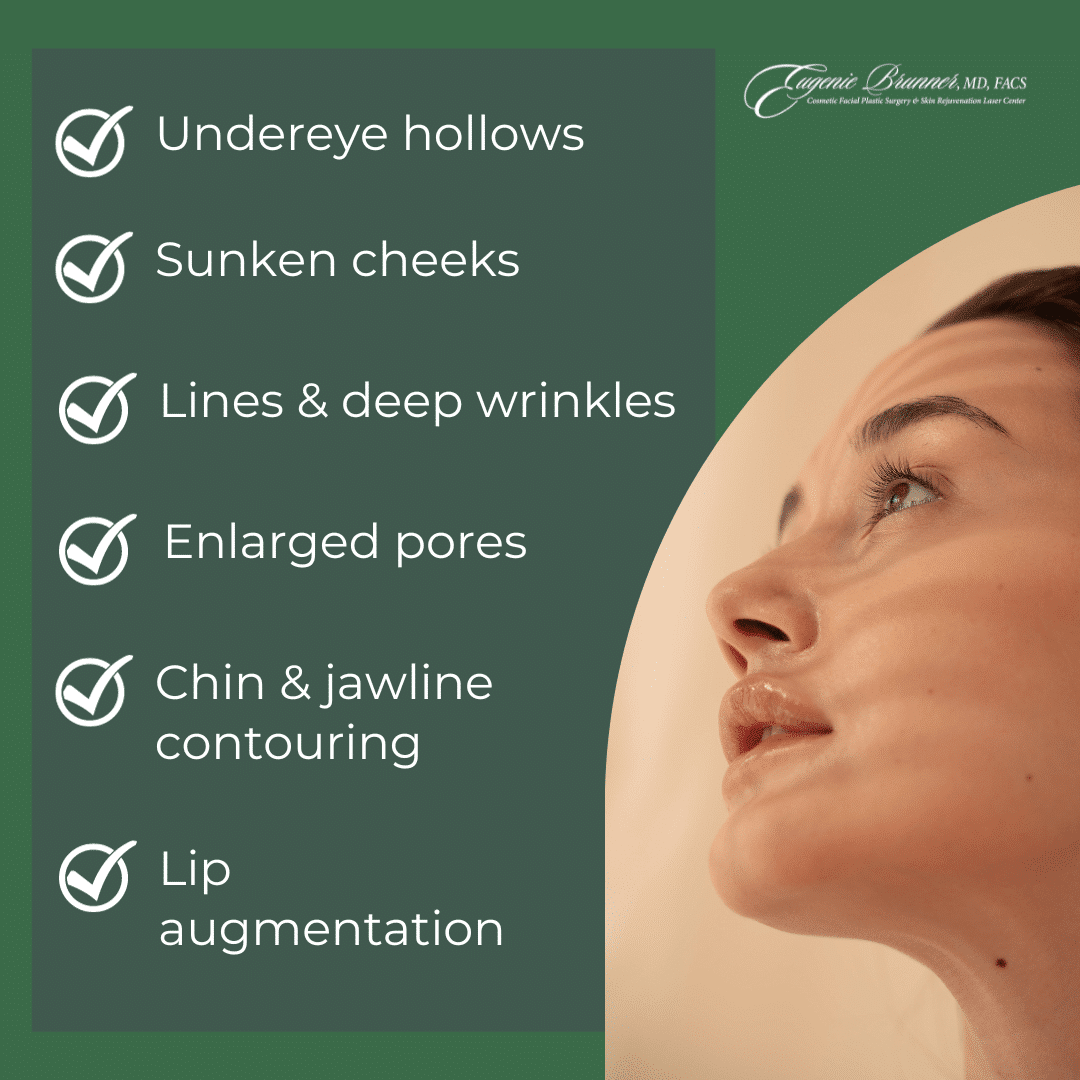 Dr. Brunner understands that pain and discomfort may deter patients from seeking desired cosmetic treatments. Fortunately, nerve blocking, a procedure that prevents pain signals from reaching the brain, allows patients to experience the transformative benefits of cosmetic procedures without discomfort. With over 25 years of experience in facial plastics and expertise in nerve blocking, Dr. Brunner can perform procedures at a leisurely pace for perfect, natural-looking results. Dr. Brunner's nerve-blocking technique, along with topical numbing creams and Pro-Nox™, is a game-changer in aesthetics.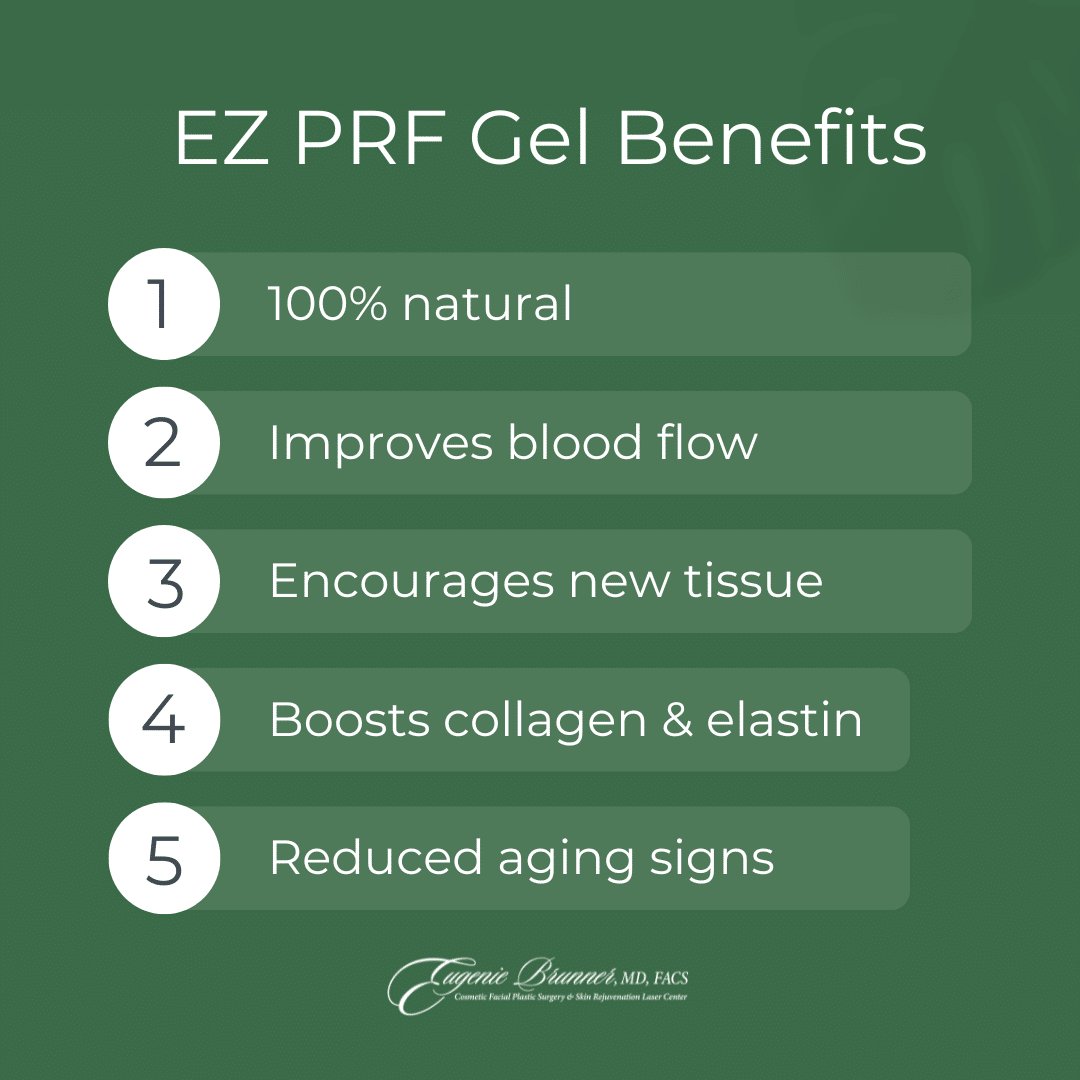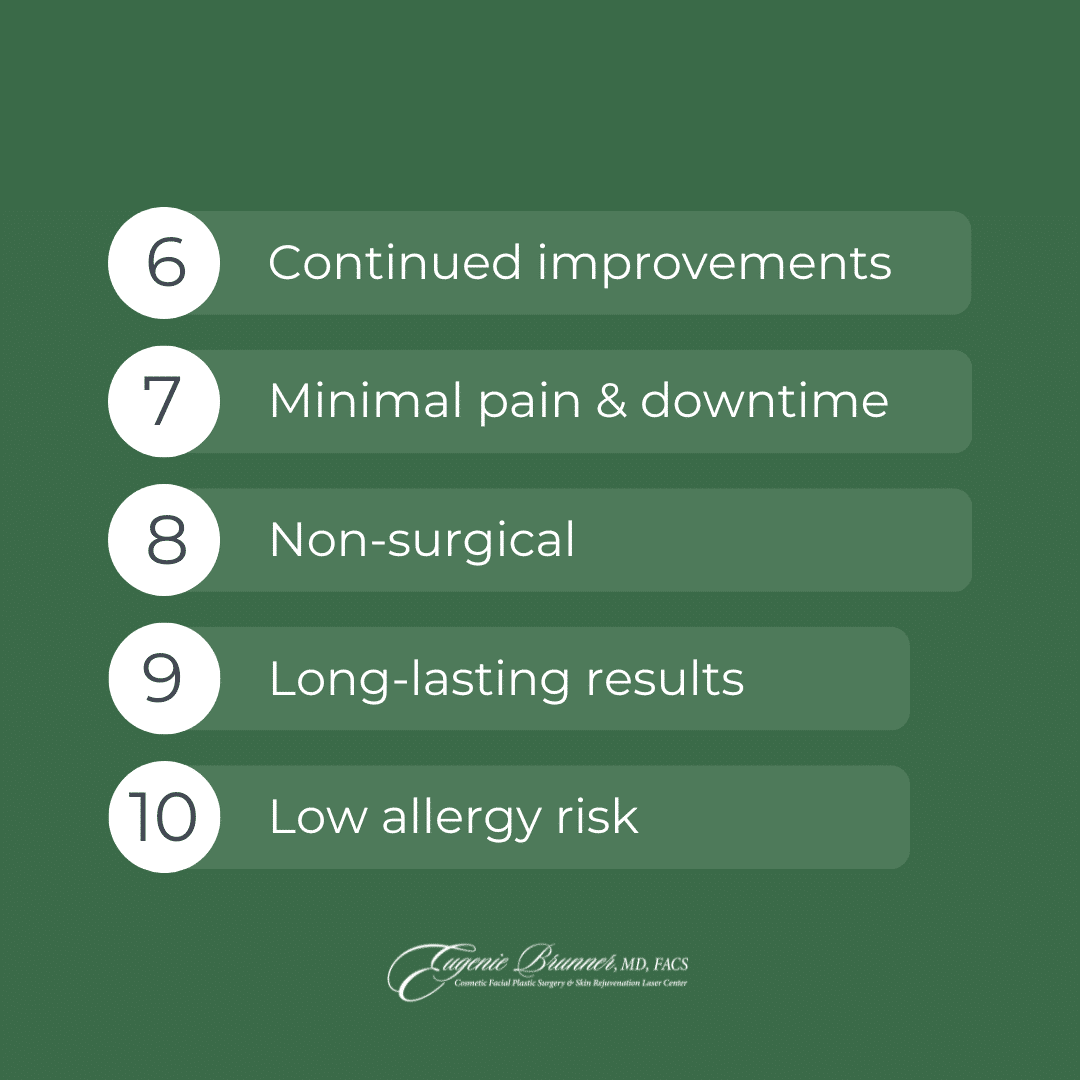 How Is EZ PRF Different From Other Injectables?
EZ PRF Gel is unique in its versatility. While neuromodulators like Botox® Cosmetic and Daxxify® target dynamic wrinkles in expressive areas of the face, most dermal fillers (e.g., Juvederm® and Restylane®) restore lost volume. Biostimulators like Radiesse® and Sculptra® stimulate collagen and can boost volume, but they contain synthetic materials.
EZ PRF does both. It instantly restores lost volume and encourages new collagen — without a single unnatural ingredient. Everything in EZ PRF Gel come from you.
Benefits of EZ PRF
100% natural injectable
Improves blood flow and tissue regeneration
Increases collagen and elastin production
Reduces signs of aging
Continues improvement over several weeks to months after one treatment
Minimal to no pain and downtime
Non-surgical procedure
Long-lasting results
Lower risk of allergic reactions
What to Expect During EZ PRF Injections

EZ PRF Gel is a three-step process that includes the following:
Step 1: Dr. Brunner collects a blood sample and places it in a centrifuge to separate its plasma, platelet, and fibrin components.
Step 2: The centrifuge spins the blood to isolate the PRF, which undergoes controlled heating and cooling to create a gel filler rich with growth factors, leukocytes, and mesenchymal stem cells.
Step 3: During this time, Dr. Brunner provides numbing medication to minimize discomfort. Once the EZP PRF solution is ready, she uses a fine needle to inject the EZ PRF into treatment areas.
The entire procedure usually takes around 30 minutes, depending on the injection location. For optimal results, 3-5 treatments spaced a minimum of 4-6 weeks apart may be necessary, depending on your skin condition and aesthetic goals.
When Will I See Results After EZ PRF Injections?
The plasma gel provides immediate volumizing effects maintained for 3–6 months. The long-term effects of growth factors and collagen production produce continued results for the next 2-6 months, depending on your lifestyle, metabolism, activity level, and other factors.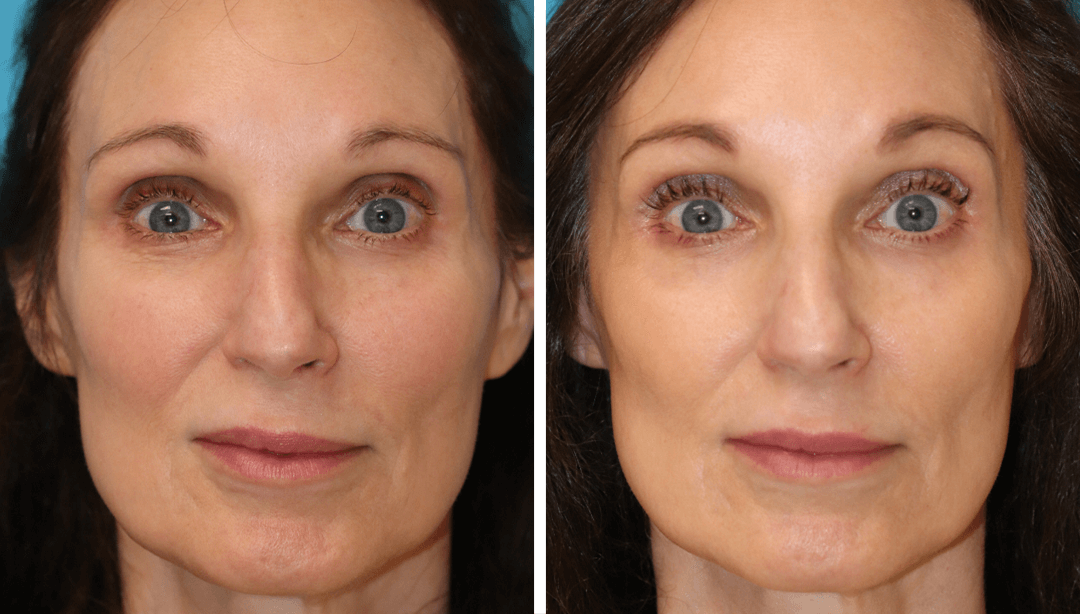 Schedule EZ PRF Gel Treatment in Princeton
If you'd like a 100% natural solution for skin rejuvenation, EZ PRF gel might be the right treatment for you. Dr. Brunner and her staff in Princeton, NJ will be happy to discuss the skin-rejuvenating benefits of EZ PRF gel treatment. During your consultation, Dr. Brunner will tailor the best procedure plan according to your specific needs. Please contact us online or call our office at (609) 921-9497 to learn more about our services or to schedule your private consultation.
Is EZ PRF Gel Safe?
EZ PRF gel is a safe and effective procedure when performed by a qualified and experienced provider. Autologous treatments like EZ PRF are less likely to cause allergic reactions than synthetic injectables, as they use your body's own materials.
When Will I See Results?
You will notice immediate volumizing effects, which last for 3–6 months. The long-term effects of collagen production will produce continued improvement for the next 2-6 months.
How Long Do EZ PRF Results Last?
The bio-stimulating filler lasts for about 3 months, and the rejuvenation benefits of the PRF will continue to provide results for 6-12 months.
Is There Downtime?
You may experience mild tenderness to the treated area, and as with any type of injection, bruising, and swelling are a possibility but should resolve within 48 hours. These side effects should not keep you from your regular activities.
Am I a Candidate for EZ PRF Gel?
The best candidates for EZ PRF are those who desire to diminish visible signs of aging, such as dark under-eye circles or deep tear troughs, lines and wrinkles, and loss of facial volume without surgery. Candidates must also be in good overall health and have realistic expectations regarding their treatment outcomes.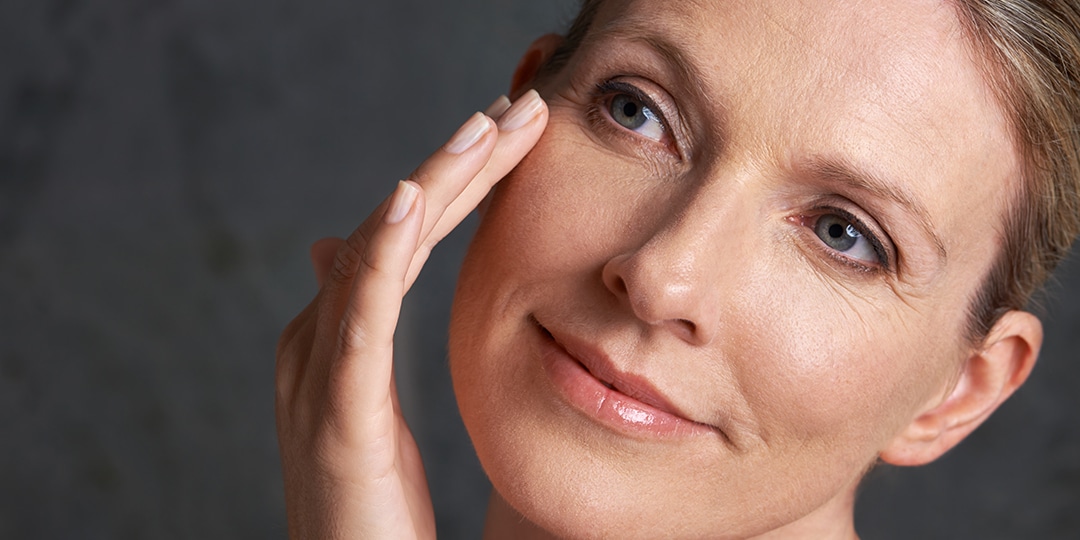 Dermal fillers and cosmetic injectables offer a way to soften the appearance of a wide range of concerns with typically quick results and minimal downtime.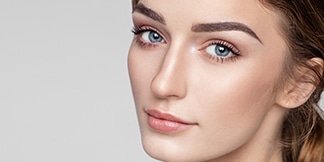 The Fraxel Re:pair laser is a non-surgical enhancement that is the premier fractional ablative CO2 laser designed for treatment of wrinkles, sun damaged skin, texture irregularities, acne scarring, brown spots due to sun exposure and aging, and generalized redness.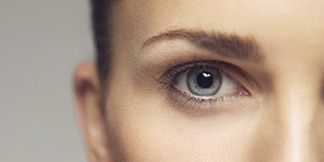 Botox® Cosmetic is a non-invasive injectable treatment designed to weaken the muscles that contribute to frown lines, deep forehead wrinkles, crow's feet, and platysmal bands along the neck. 
Regional & National Awards