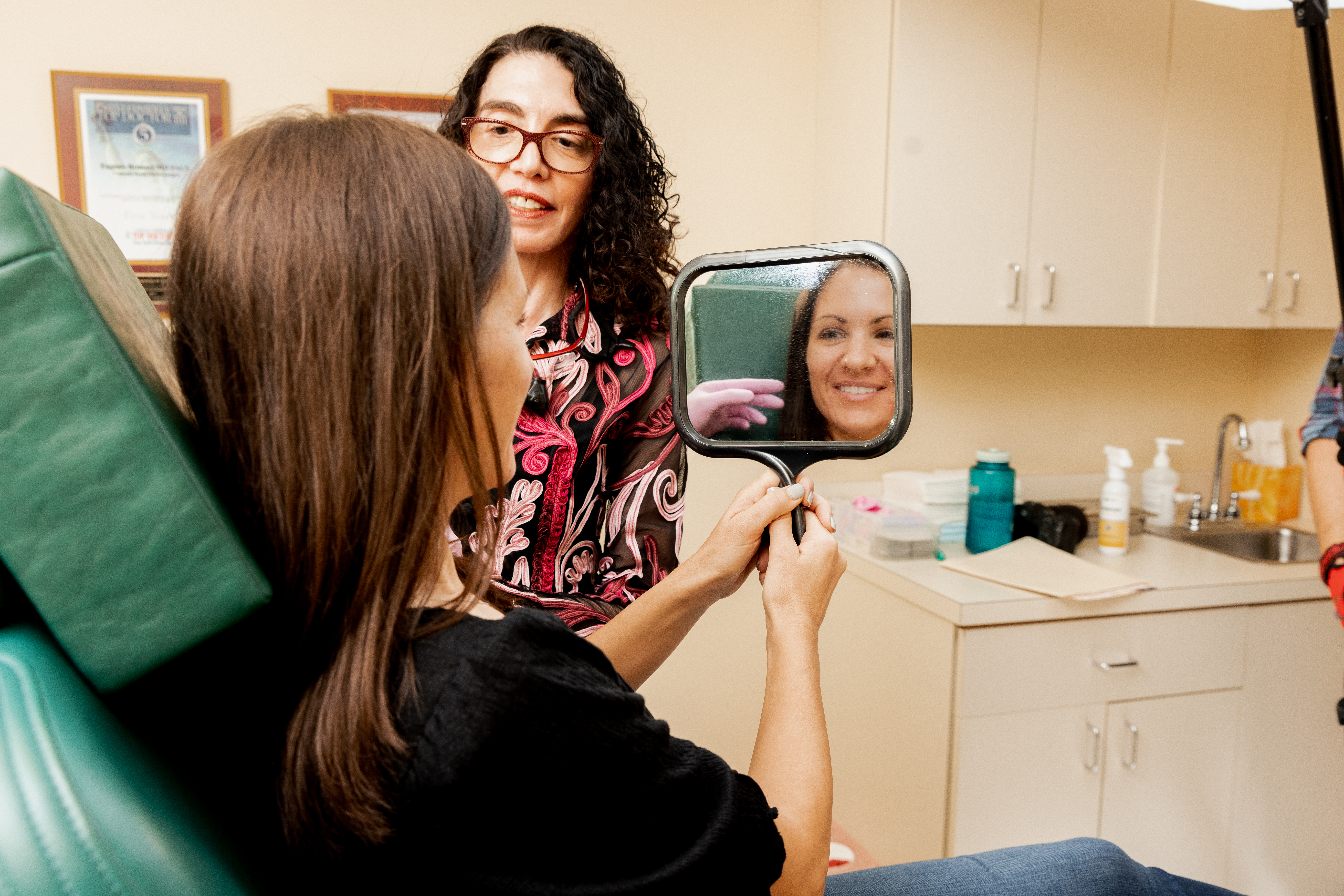 What is a Mini Facelift?
The Mini Facelift (mini lift or minimal incision facelift) is designed to reduce the appearance of common signs of early aging that are limited to the mid-facial area. This procedure, offered at our Princeton, NJ office, is often particularly beneficial for our patients in their 40s and 50s who are experiencing mild skin inelasticity along the jawline and neck. Mini face lifts accomplish many of the goals of a traditional full facelift, however with more severe drooping of the neck and jowl skin a full facelift provides a better, longer lasting result compared to a mini facelift.
The best candidates for a mini facelift are those in good health with mild to moderate lower facial and/or neck laxity. It is also effective as a follow-up for patients who previously had full facelifts, but desire additional rejuvenation of the face and/or neck area. Likewise, it does not preclude undergoing a full facelift in the future. To learn more about a mini facelift, visit healthcare.utah.edu
Mini Facelift Consultation
The mini facelift consultation is very similar to the facelift consultation. During your one hour facelift consultation, a full medical history will be taken. The physical examination performed by facial plastic surgeon Eugenie Brunner, MD will focus on your age, genetics, skin type, skin elasticity, skin laxity, bone structure, soft tissue volume, and facial proportion. It is important for you to discuss any pre-existing conditions, allergies, and previous surgeries. Dr. Brunner will ask what you like and dislike about your face. Once Dr. Brunner understands your expectations, mutual, realistic goals can be set and a treatment plan will be formulated with you.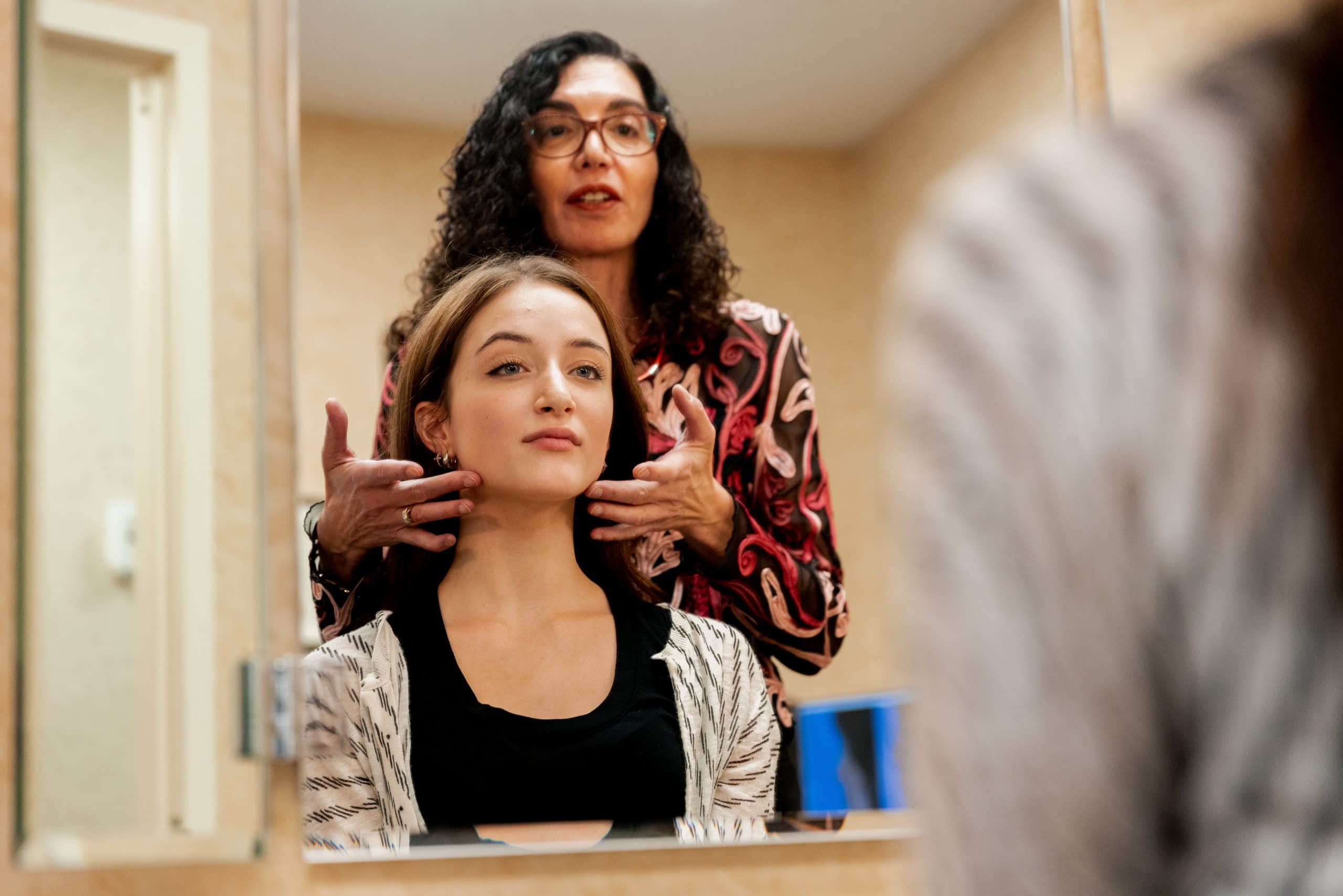 "I Can Now Look at Myself in the Mirror Every Day and Be Happy with What I See"
Mini Facelift Procedure
The mini facelift is also referred to as an S-lift, or short incision facelift due to the shape and smaller size of the incision. Mini Facelifts minimize the incision and the recovery time. The procedure for a short-scar facelift includes repositioning all of the portions of the face that show signs of aging, but the incision is approximately one-half the length of a traditional facelift incision and eliminates most of the incisions behind the ears. The incision is hidden behind the natural curves of the ear called the tragus, so that no scars are visible. The muscle layer is tightened but not dissected and this minimizes postoperative bruising and swelling. This procedure is ideal for professionals and those with tight schedules due to its shorter recovery time.
Preparation for a Mini Facelift
For at least two weeks before surgery, you are required to refrain from alcohol, all aspirin products, ibuprofen, and certain vitamins and herbal supplements. These products thin the blood and increase the risk of bleeding. Please tell Dr. Brunner about all the medications that you take, both prescription and non-prescription. Smoking interferes with circulation and healing, and must be stopped three months before surgery.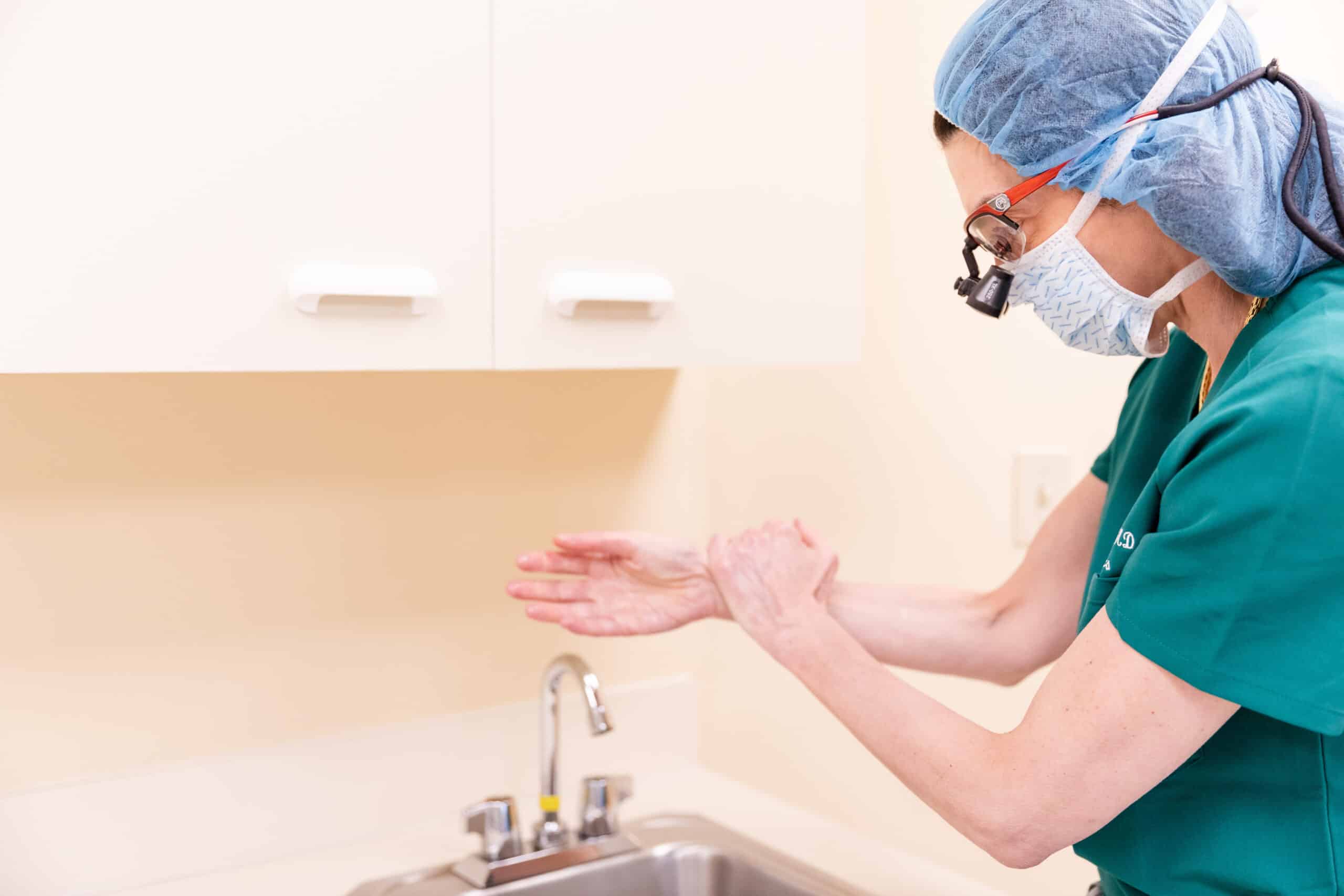 Mini Facelift Recovery
Most people who undergo the mini facelift can go home the same day. Immediately after the procedure, a soft cotton dressing will be wrapped under the chin and around the top of the head. This will be worn continually for the first four days after surgery. A removable support garment will be worn during the next 7 days. It can be removed briefly to bathe and wash your hair. There isn't usually significant discomfort after surgery; if there is, it can be lessened with the pain medication prescribed by Dr. Brunner. Antibiotics may also be prescribed. There will be some degree of swelling and bruising, which can be kept to a minimum by the application of cold compresses, sleeping with your head elevated, and the use of Arnica montana pills. Strenuous activity should be avoided for three weeks after surgery. If you experience bruising, it can be camouflaged with makeup immediately after the procedure. Some numbness of the skin is quite normal; it will start to disappear in several weeks.
Mini Facelift Frequently Asked Questions
To help our patients make the best decision for their needs and goals, Dr. Brunner has provided answers to a selection of frequently asked questions (FAQs). If you would like to know more, please reach out to our skilled medical team to make an appointment.
What will mini facelift scars look like?
It is Dr. Brunner's goal to achieve a natural-looking outcome that does not give you an appearance of having been "operated on." Her advanced techniques make it possible to lift and rejuvenate without creating overly tight skin. Additionally, one of the many benefits of a mini facelift is the shorter incisions, which typically result in smaller, less noticeable scars. The incisions are placed within the natural folds of the ear, where they are almost completely inconspicuous. This also allows for a shorter recovery compared with a full facelift. If you would like to consider additional scar reduction options, we offer state-of-the-art laser skin resurfacing treatment that can enhance healing.
How much does a mini facelift cost?
We personalize every treatment plan based on your individual needs, goals, and desired outcome. Factors like complexity, technique, and number of procedures play a role in the cost of a mini facelift, so we will review the details of your plan, including the expected cost, during your initial consultation.
Generally speaking, the surgeon's fee for a mini facelift can range from $5,000 to over $7,000. It's important to note that the total cost will include the surgeon's fee, the hospital facility fee, and the anesthesiology fee, as well as other incidentals. Many practices, when providing a quote, offer only the surgeon's fee. To compare like with like, we recommend asking what is included in each estimate you receive.
We work with reputable medical lending agencies that offer great plastic surgery financing rates and terms to qualified applicants. We can discuss this as an option during your initial consultation if it sounds like something you would be interested in.
How do I choose the right plastic surgeon for a mini facelift?
Choosing a facial plastic surgeon is like starting a relationship: You want someone trustworthy, reliable, attentive, and comfortable to be around. In addition, a good facial plastic surgeon will have the training, experience, and expertise to provide the discussed outcome. We recommend selecting someone who is board certified in facial plastic and reconstructive surgery, like Dr. Brunner who has also completed extensive training in mini facelift surgery. You should ask any potential surgeon how often they perform the procedure, and review their mini facelift before-and-after photos to get an idea of what can be achieved. For facial plastic surgery, we strongly recommend choosing a facial plastic surgeon over a more general plastic surgeon. Surgeons in this specialty field focus their education and training on the structures of the face and neck. If you have any questions about what makes facial plastic surgeons unique, please talk to our friendly and knowledgeable medical team.
Schedule a Mini Facelift Consultation in Princeton, NJ
Dr. Brunner and her staff will be happy to discuss a mini facelift with you. When you come in for your consultation, Dr. Brunner will formulate the best mini facelift treatment plan to suit your specific needs. Please contact us online or call our Princeton, NJ office (609) 921-9497 to schedule your private consultation.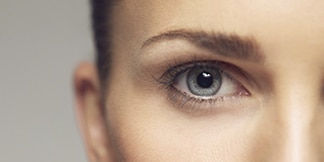 An eyelid lift or blepharoplasty can correct these issues and remove the puffiness and bags under the eyes that make you look worn and tired.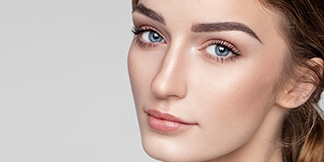 Rhinoplasty (a type of nasal surgery), also referred to as "nose reshaping" or a "nose job," improves the appearance and proportion of your nose, enhancing facial harmony and self confidence.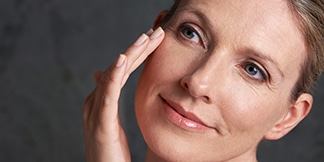 The Fraxel Re:pair laser is a non-surgical enhancement that is the premier fractional ablative CO2 laser designed for treatment of wrinkles, sun damaged skin, texture irregularities, acne scarring, brown spots due to sun exposure and aging, and generalized redness.
Regional & National Awards