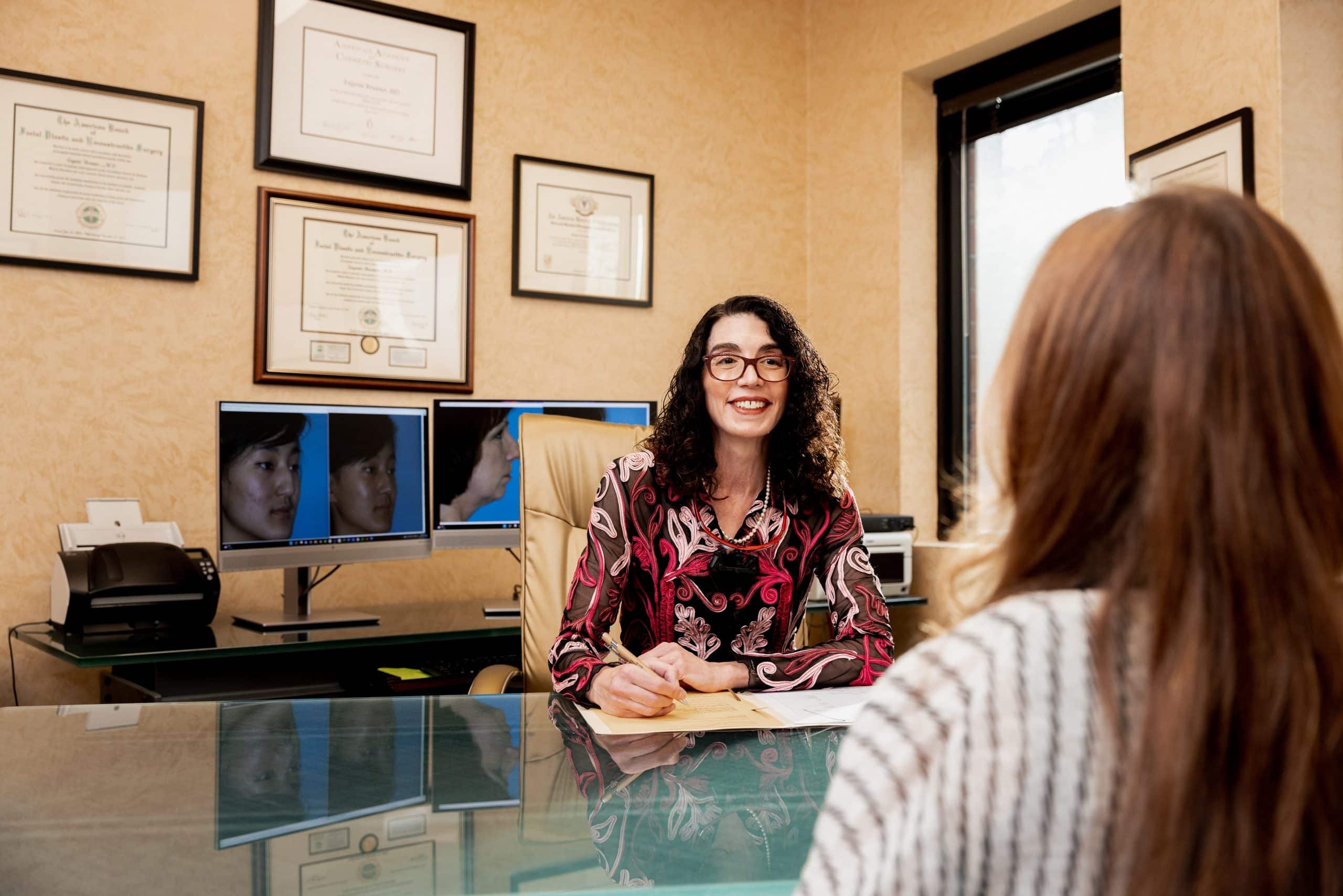 Non-Surgical Neck Lift
Signs of aging aren't exclusive to the face. Age, gravity, sun damage, environmental factors, and unhealthy lifestyle habits will also impact neck skin (especially since it gets even thinner with age), resulting in skin laxity, vertical banding, horizontal creases, or a double chin. While a surgical neck lift is considered the gold standard for tightening loose skin and reducing neck bands, some patients prefer a non-invasive approach.
Dr. Brunner understands that pain and discomfort may deter patients from seeking desired cosmetic treatments. Fortunately, nerve blocking, a procedure that prevents pain signals from reaching the brain, allows patients to experience the transformative benefits of cosmetic procedures without discomfort. With over 25 years of experience in facial plastics and expertise in nerve blocking, Dr. Brunner can perform procedures at a leisurely pace for perfect, natural-looking results. Dr. Brunner's nerve-blocking technique, along with topical numbing creams and Pro-Nox™, is a game-changer in aesthetics.
Eugenie Brunner, MD, FACS, our double board-certified facial plastic surgeon, can perform a non-surgical neck lift using advanced technology, a combination of minimally-invasive treatments, and her keen artistic eye to provide her Princeton, NJ patients with beautiful and natural-looking results.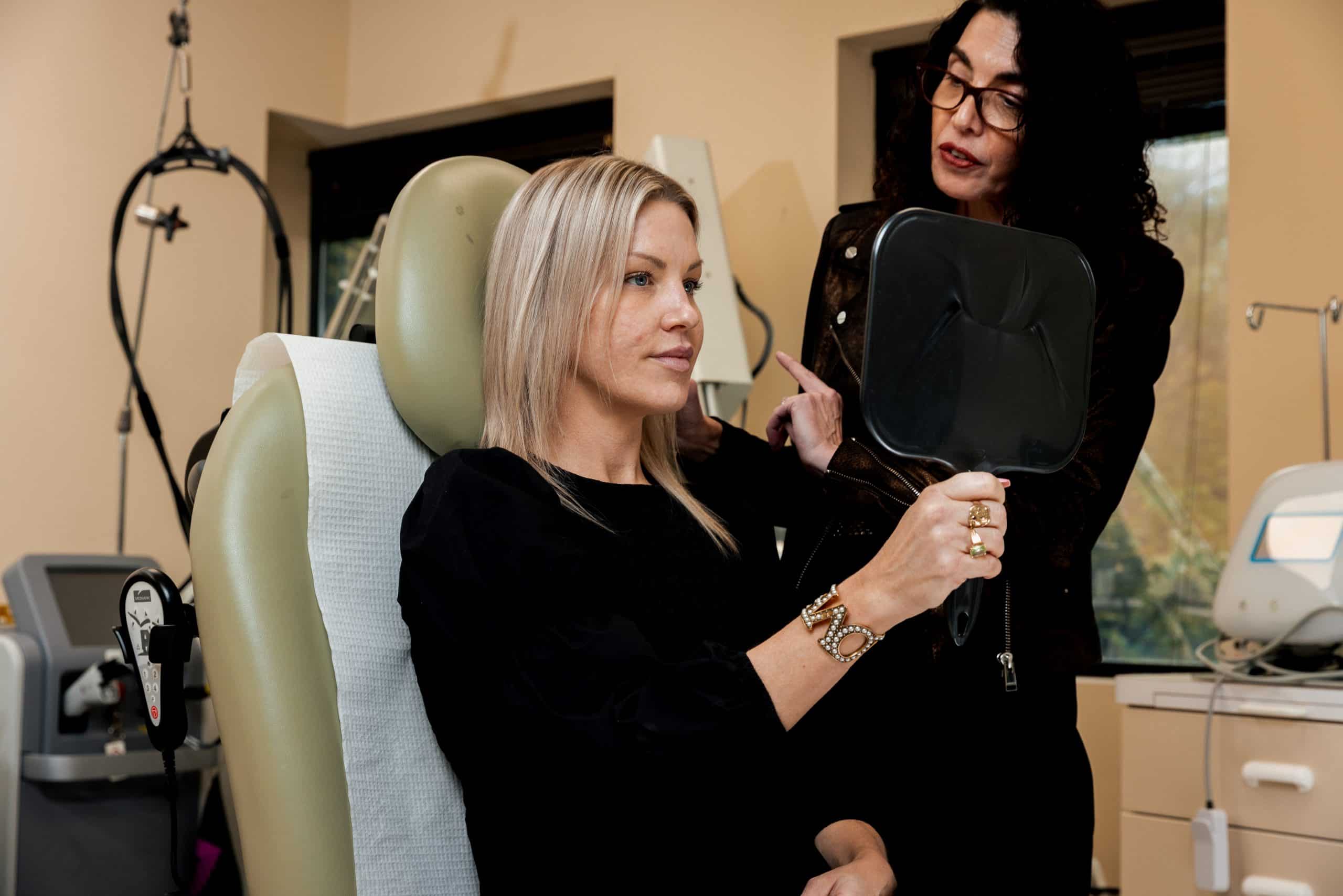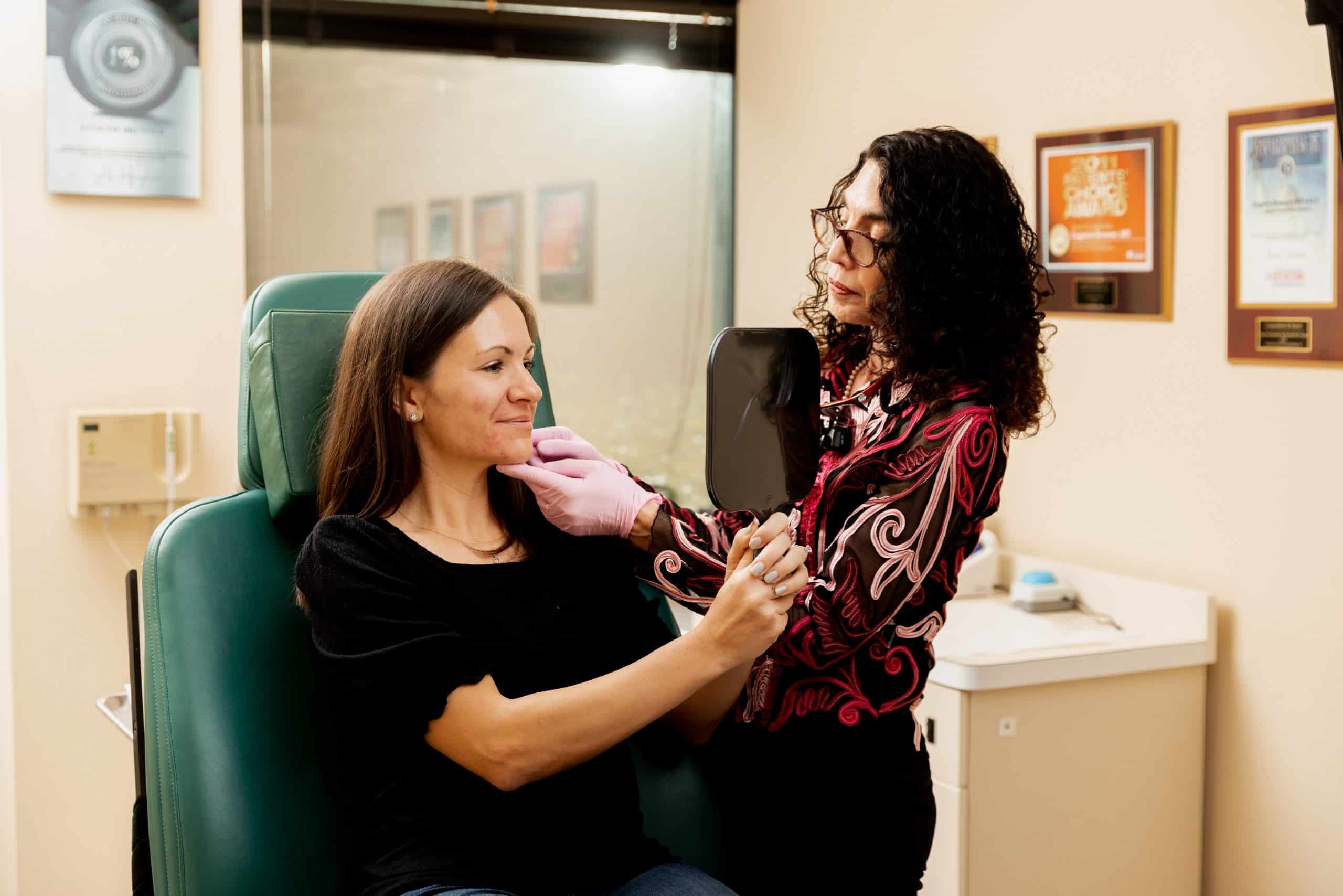 Non-Surgical Neck Lift Consultation
Dr. Brunner will perform a comprehensive evaluation to help determine your best options for neck lift without surgery. She can customize a non-surgical neck lift based on several factors, such as the degree of tissue laxity, bone structure, and fat volume in conjunction with your own concerns and aesthetic goals.
If you do not need dramatic correction of loose, sagging skin along the lower face and neck, Dr. Brunner will recommend non-surgical procedures that can be combined to effectively lift and tighten the neck as well as augment the jawline.
Non-Surgical Neck Lift Procedure
When performing a neck lift without surgery in Princeton, Dr. Brunner will smooth and tighten loose skin in the neck area to help reduce the appearance of neck bands – all without the use of a scalpel.
A combination of neuromodulators, radiofrequency (RF) energy, and microneedling can effectively relax neck muscles or stimulate collagen production, resulting in skin tightening and lifting.
At our Princeton medical spa, Dr. Brunner offers the following non-surgical neck lift procedures:
Evoke
Evoke is a face remodeling device that utilizes the power of RF energy to penetrate deep tissues to contour and sculpt them for tighter and firmer skin, reduced jowls, and a more youthful-looking jawline.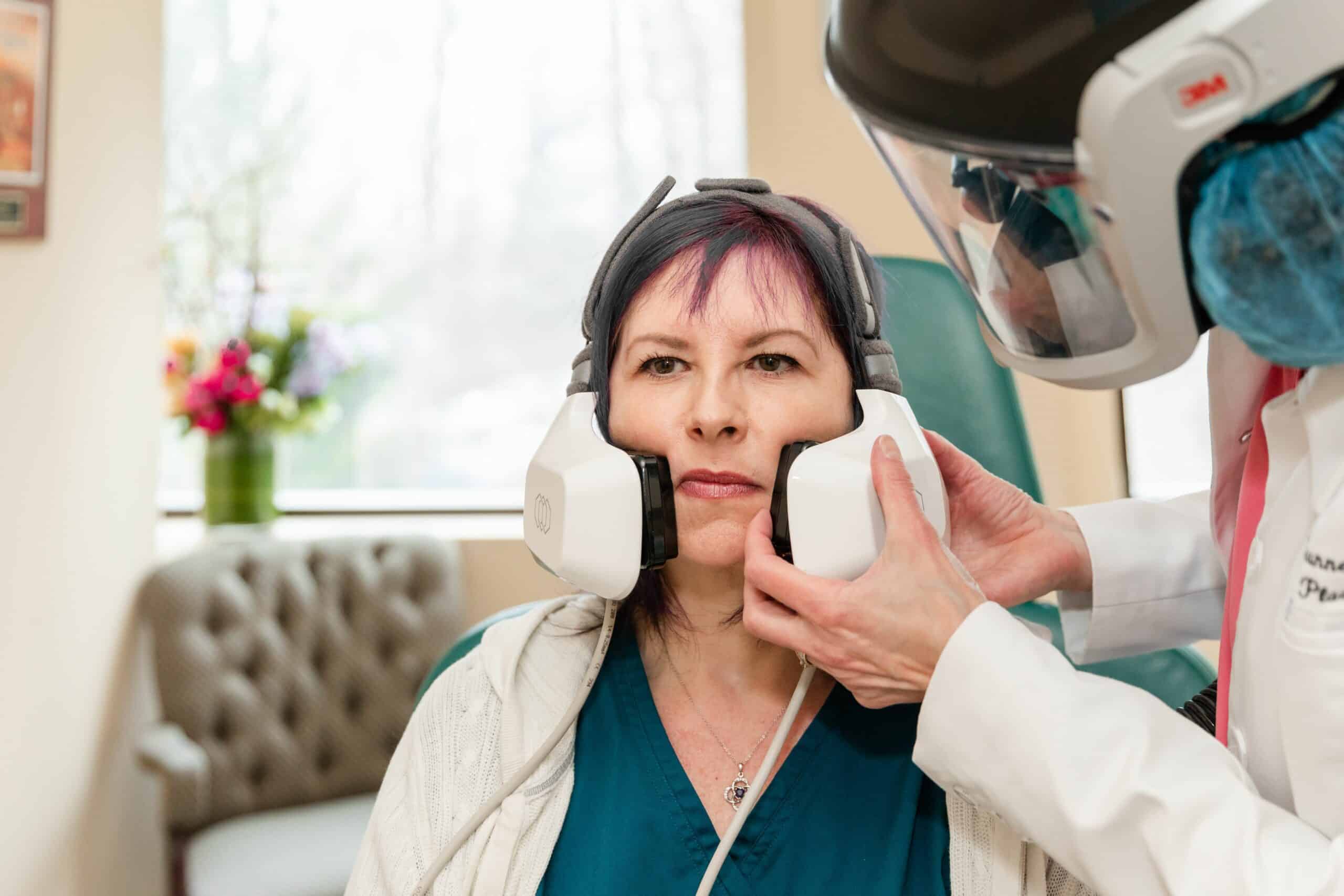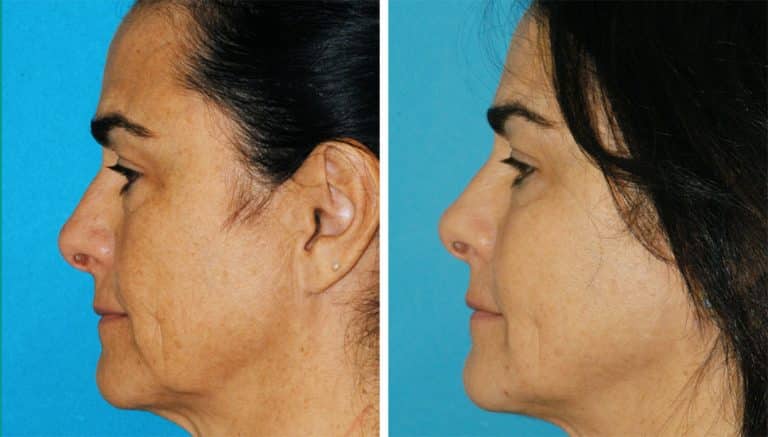 EmbraceRF
EmbraceRF is a two-step procedure that combines the skin tightening benefits of two leading facial rejuvenation treatments: FaceTite and Morpheus8. FaceTite uses RF energy to target unwanted fat, tighten the skin, and contour the face. Morpheus8 improves the skin's texture and tone by combining microneedling with RF energy to promote collagen production and reduce wrinkles and sagging skin in the face and neck.
Tri-Zone Laser Lift
The Tri-Zone Laser Lift is Dr. Brunner's proprietary treatment for a non-surgical makeover. This procedure incorporates cutting-edge laser treatments with advanced injectables to transform the skin without the need for surgery. She combines Smartlipo/FaceTite, dermal fillers, and a non-invasive skin resurfacing laser (Clear + Brilliant and/or PicoSure) to dramatically reverse the signs of aging.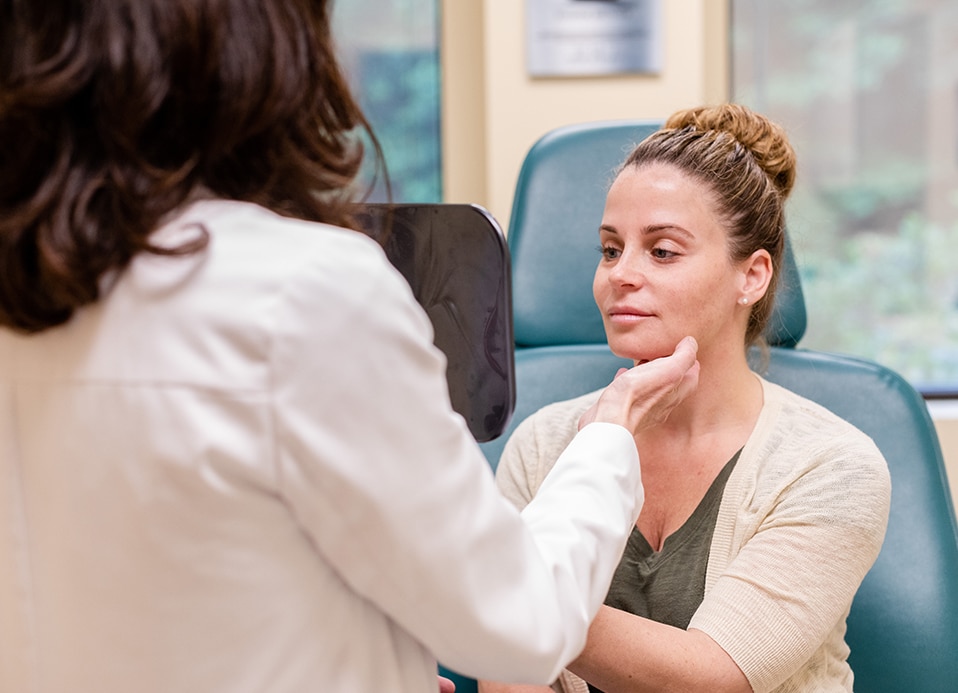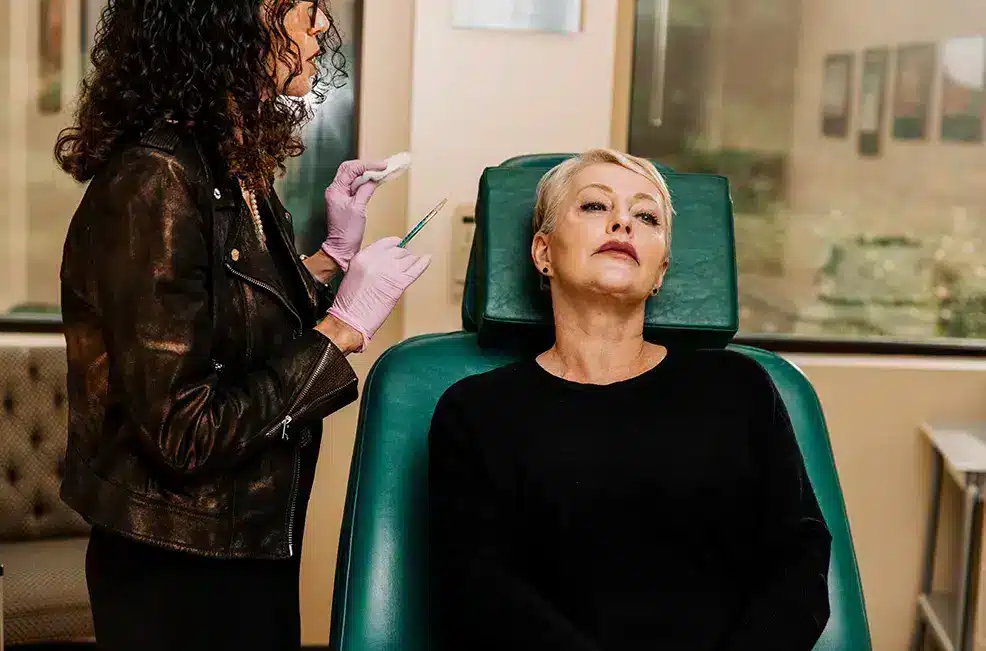 Botox
Botox®, the popular wrinkle smoother, is another non-surgical option for neck skin smoothing. When injected into the neck's vertical bands, Botox can relax the dynamic muscles, making them less prominent. The neck achieves a smoother, younger-looking appearance with a visible reduction in both vertical and horizontal banding. To learn more about Botox® neck smoothing, please visit medlineplus.gov.
Recovery After A Non-Surgical Neck Lift
You can expect a quick recovery time after your non-surgical neck lift. Since general anesthesia and large incisions are not required for any of these procedures, there are minimal side effects and minimal risks associated with these procedures. Downtime may just be a few days, if you have any at all.
Results from Your Non-Surgical Neck Lift
You can expect the following results from your procedure:
Tighter skin and improvement in jowl formation
Reduction of a double chin
Firmer, more defined jawline
Relaxed vertical neck muscles
Diminished neck band wrinkles
Non-Surgical Neck Lift FAQ's
Who is a good candidate for a non-surgical neck lift?
A non-surgical neck lift is generally best suited for patients who are noticing signs of aging on their lower face and neck and have mild to moderate skin laxity with good underlying bone structure. Those who do not need dramatic skin removal and lifting and are within 30 lbs. of their ideal weight will benefit most from a non-surgical neck lift.
The best way to find out if a non-surgical neck lift is right for you is to consult with Dr. Brunner. She can evaluate your skin's condition, discuss your goals, and recommend the best treatment plan for you.
How do I know which procedures will work best for me?
During your consultation, your skin evaluation will also involve Dr. Brunner discussing everything you need to know about all available procedures. In addition to creating a welcoming consultation environment, Dr. Brunner also believes in providing honest, straightforward information because knowledgeable patients are ultimately happiest with their results. By prioritizing your goals, she can help you determine your best options, customize your treatment plan, and create a positive overall experience.
What is the downtime like after a non-surgical neck lift?
There is minimal downtime required after a non-surgical neck lift. You will need about three days to recover from SmartLipo and FaceTite, and you should avoid intense physical activity for one or two days to allow Botox Cosmetic to settle. The lasers and RF devices do not require any downtime. Your overall downtime depends on the types of devices used during your treatment. 
How soon will I see results?
A non-surgical neck lift provides both immediate and long-term results. Because of collagen production, you will likely continue to see improvement for up to 6 months after your treatment. With proper skincare, including daily UV protection, and healthy lifestyle habits, you can help prolong your results.
What are the alternatives to a non-surgical neck lift?
There are several other non-surgical options to consider for skin tightening and facial/neck rejuvenation. These include Kybella injections that break down and metabolize fat cells and dermal fillers to reduce wrinkles and enhance facial contours.
Schedule A Non-Surgical Neck Lift at Our Medical Spa Today
A neck lift may be considered one of the cornerstones of facial rejuvenation, but facial surgery isn't your only option for turning back the clock on aging. You can flaunt a beautiful, natural, and youthful-looking neck with Dr. Brunner's non-surgical neck lift procedure. To learn more about our services or to schedule a consultation, contact our Princeton, NJ medical spa.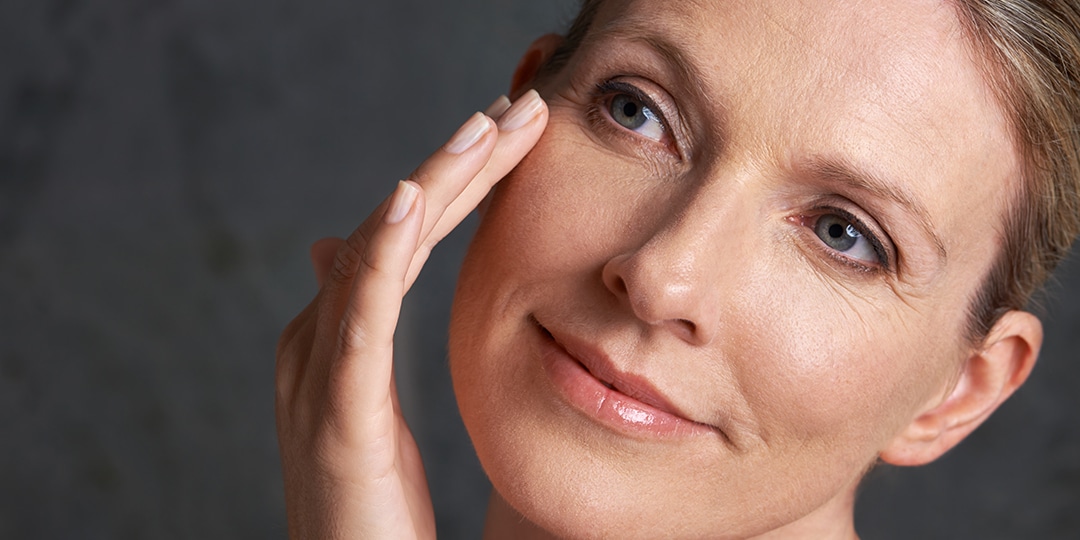 Dermal fillers and cosmetic injectables offer a way to soften the appearance of a wide range of concerns with typically quick results and minimal downtime.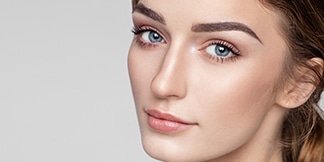 The Fraxel Re:pair laser is a non-surgical enhancement that is the premier fractional ablative CO2 laser designed for treatment of wrinkles, sun damaged skin, texture irregularities, acne scarring, brown spots due to sun exposure and aging, and generalized redness.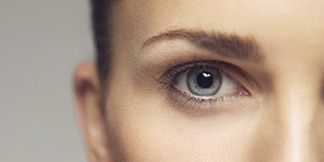 Botox® Cosmetic is a non-invasive injectable treatment designed to weaken the muscles that contribute to frown lines, deep forehead wrinkles, crow's feet, and platysmal bands along the neck. 
Regional & National Awards