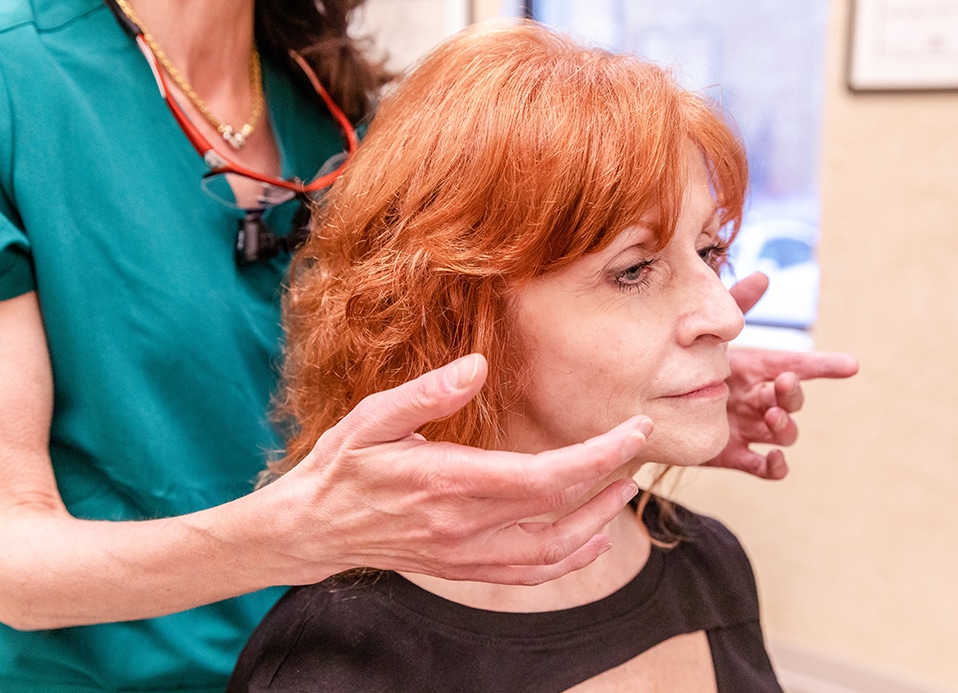 Neck Liposculpture
Self-conscious about a double chin or saggy neck? You don't have to be. Effective, non-surgical treatment options are available that can transform the lower face and neck and help restore your confidence.
Eugenie Brunner, MD, FACS, in Princeton, NJ, is a double board-certified facial plastic surgeon who recently received the New Jersey Monthly award for neck laser liposuction. Dr. Brunner's signature cosmetic laser procedure, neck liposculpture, combines two state-of-the-art techniques: SmartLipo for fat removal and FaceTite for tightening and lifting loose, sagging skin. The result is a firmer, uplifted, more youthful look.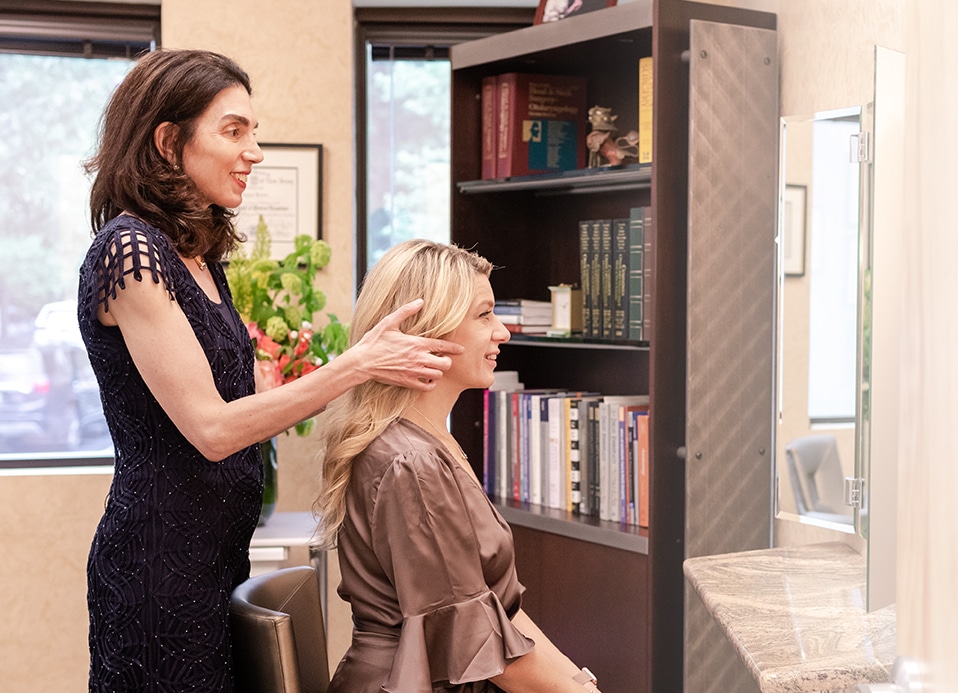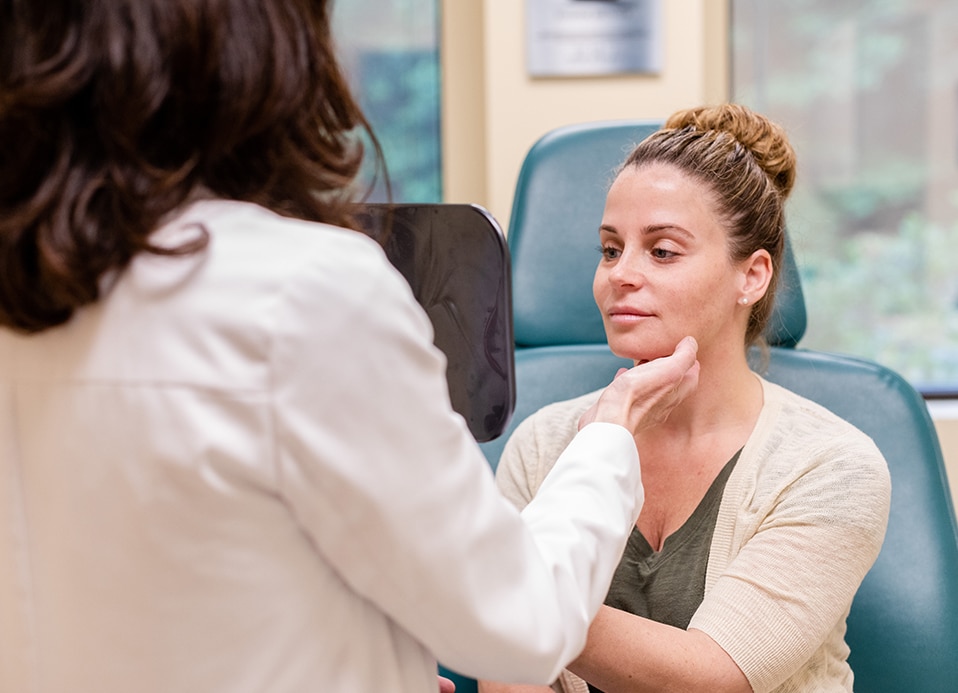 What is Submental Fat?
Submental fat is the fat that accumulates beneath the chin. It's also referred to as a "double chin." Aging, genetics, and weight gain are the most common contributors to submental fat. To learn more about the submental fat region of the neck, please visit ncbi.gov.
Submental fat is stubborn—often resistant to the effects of diet and exercise. However, it can be significantly reduced or completely eliminated through neck liposculpture.
Why Liposuction Alone Isn't the Best Option
Liposuction is effective for fat removal, but since it does nothing to tighten the skin of the neck, the procedure performed on its own may have an aging effect. Any skin laxity that was apparent before liposuction will be more pronounced after the treatment. However, liposuction combined with a skin-tightening treatment can produce dramatic improvements.
Submental fat and skin laxity must be addressed to effectively correct a double chin. This is what Dr. Brunner's neck liposculpture procedure achieves.
What is SmartLipo?
SmartLipo is one of the most effective, non-invasive body contouring procedures available today.
This revolutionary technology focuses laser energy to heat and destroy fat cells, while tightening the skin. The fat is then naturally metabolized, which allows the safe removal of unwanted fat with much less downtime than other liposuction techniques.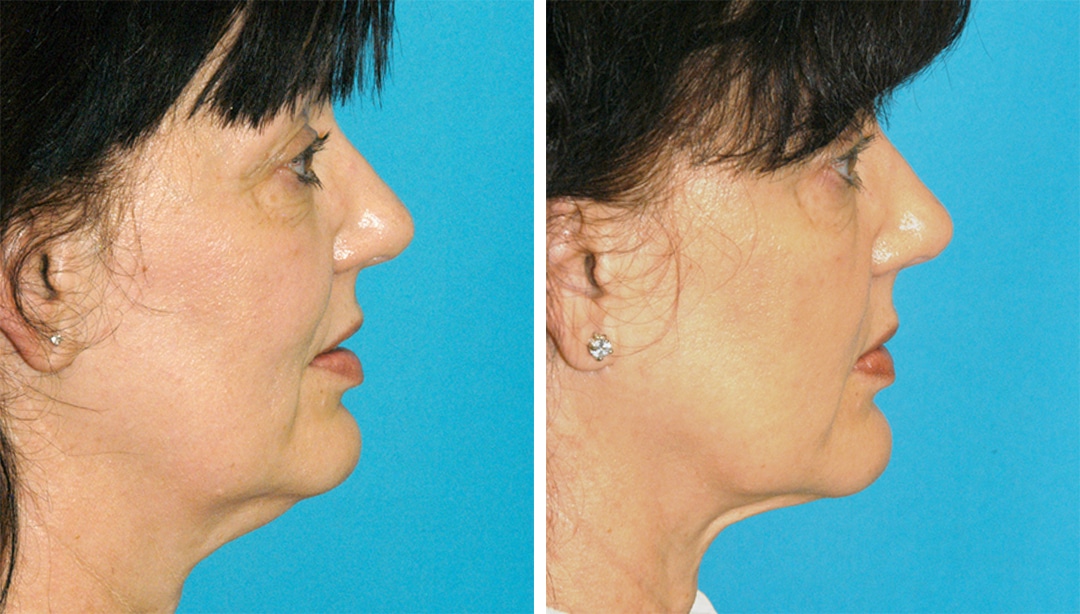 What Are the Benefits of SmartLipo?
SmartLipo uses sophisticated laser technology, allowing treatments to be done on an outpatient basis with only mild discomfort.
The benefits of SmartLipo include:
Very small incisions
No sutures required
No general anesthesia
FDA approved and safe
SmartLipo is ideal for small areas like the chin and neck, due to its ability to sculpt the area at the same time it removes unwanted fat.
SmartLipo offers a wide range of benefits over traditional fat removal techniques, including increased safety, faster recovery times, less bruising, fewer side effects, and reduced healing time.
What is FaceTite?
FaceTite is a non-surgical skin-tightening system that reduces wrinkles, fine lines, and skin laxity. It delivers powerful radiofrequency (RF) energy that lifts, firms, and tightens the skin.
FaceTite penetrates deep into the skin to create a natural-looking, youthful, lifted appearance that can last up to three years or more—without surgery or lengthy recovery time.
Benefits of Face-Tite
FaceTite is designed to effectively treat moderate to severe wrinkles, folds, and skin laxity of the face and neck. In most cases, the treatment takes less than an hour. Patients typically see an improvement in their appearance within seven days.
FaceTite produces results that last for two to three years, depending on how well you take care of your skin after treatment. Touch-ups can be done to maintain results.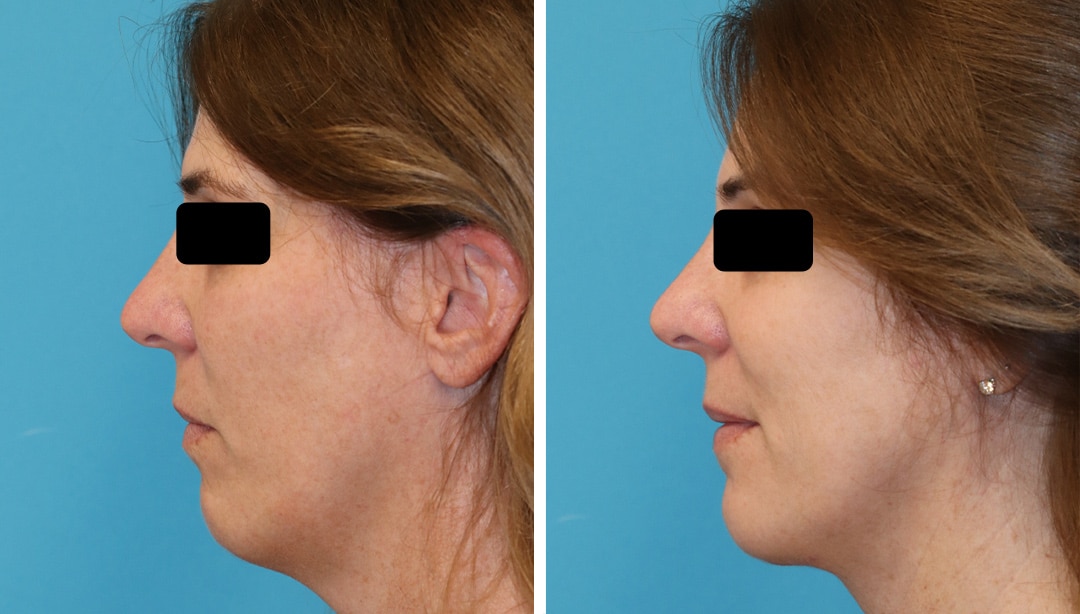 How Are SmartLipo and FaceTite Performed?
SmartLipo and FaceTite are minimally-invasive procedures performed in our New Jersey medical spa.
The SmartLipo treatment breaks up and dissolves stubborn fat cells for easier removal. This method only targets fat cells and doesn't affect surrounding skin or tissue, for a gentler treatment and quicker recovery process.
During the FaceTite treatment, the neck is numbed with a local anesthetic. Next, the applicator delivers low-level radiofrequency energy to the skin, creating heat and stimulating collagen production to tighten laxity and improve elasticity. The procedure takes about one hour.
Recovery
After neck liposculpture, you can return to regular activity after about two days of rest and recovery. Recovery from the SmartLipo treatment is typically faster than traditional liposuction, with a 2-3 days recovery period. Swelling and bruising are common and will subside within a few days.
You may experience some mild swelling and redness immediately following your FaceTite treatment, which will subside over the next 48 hours. You'll notice an improvement almost immediately after treatment as your skin begins to tighten, but your new look will take several weeks to become entirely noticeable.
Expect to see improvement within one week after neck liposculpture, with full results becoming visible within about eight weeks.
Who is a good candidate for SmartLipo and FaceTite?
The best candidates for SmartLipo are near their ideal body weight but have stubborn pockets of fat in the chin and neck area.
FaceTite is an ideal non-invasive treatment option for patients seeking additional tightening of the face following SmartLipo.
When will I see my results?
Expect to see improvement within about one week after neck liposculpture, with full results becoming visible within about eight weeks.
How long will my results last?
You can expect long-lasting results from your neck liposculpture procedure.
Results from the SmartLipo treatment have been shown to last many years, and results from one FaceTite treatment can also last several years. Maintenance touch-ups can be performed if desired.
The length of time you maintain your results depends on several factors, including your age and genetics. You can take steps to ensure that your results last as long as possible after your neck liposculpture procedure by maintaining a healthy weight, protecting your skin from the sun, and practicing a good skincare regimen.
Is there scarring after SmartLipo?
The cannula used during SmartLipo is very thin and fine. Although you'll initially see some traces of the incisions, most patients heal well enough that scars are barely perceptible. Dr. Brunner takes great care to camouflage any signs of treatment and will discuss this in detail at your consultation.
Schedule a Neck Liposculpture Consultation at Our Medical Spa
Dr. Brunner and her staff will be happy to discuss the neck liposculpture procedure with you, taking your specific needs and goals into consideration. Please contact us online or call our medical spa at (609) 921-9497 to schedule your consultation.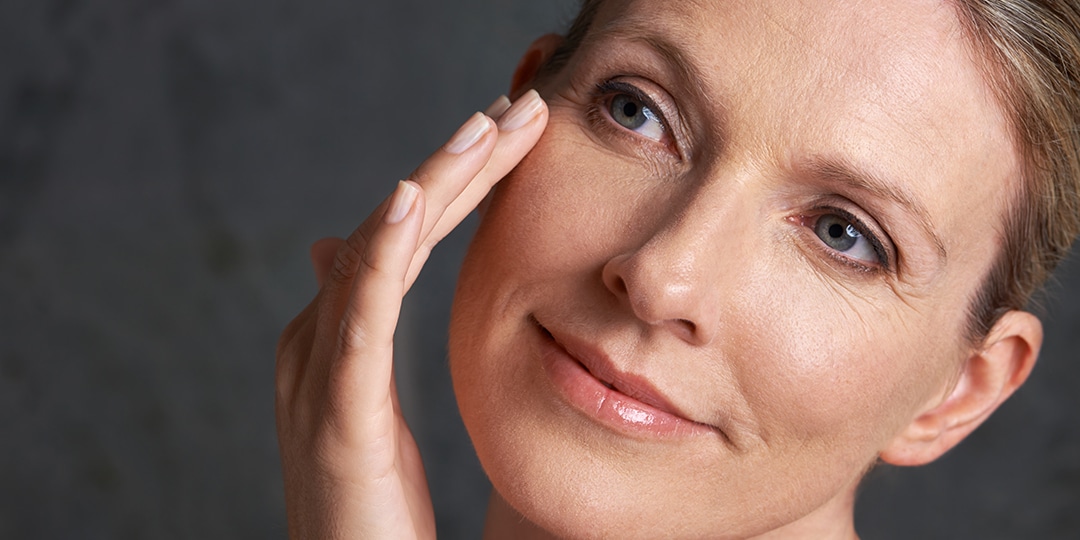 Dermal fillers and cosmetic injectables offer a way to soften the appearance of a wide range of concerns with typically quick results and minimal downtime.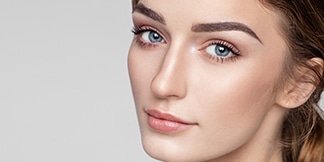 The Fraxel Re:pair laser is a non-surgical enhancement that is the premier fractional ablative CO2 laser designed for treatment of wrinkles, sun damaged skin, texture irregularities, acne scarring, brown spots due to sun exposure and aging, and generalized redness.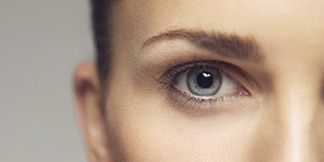 Botox® Cosmetic is a non-invasive injectable treatment designed to weaken the muscles that contribute to frown lines, deep forehead wrinkles, crow's feet, and platysmal bands along the neck. 
Regional & National Awards