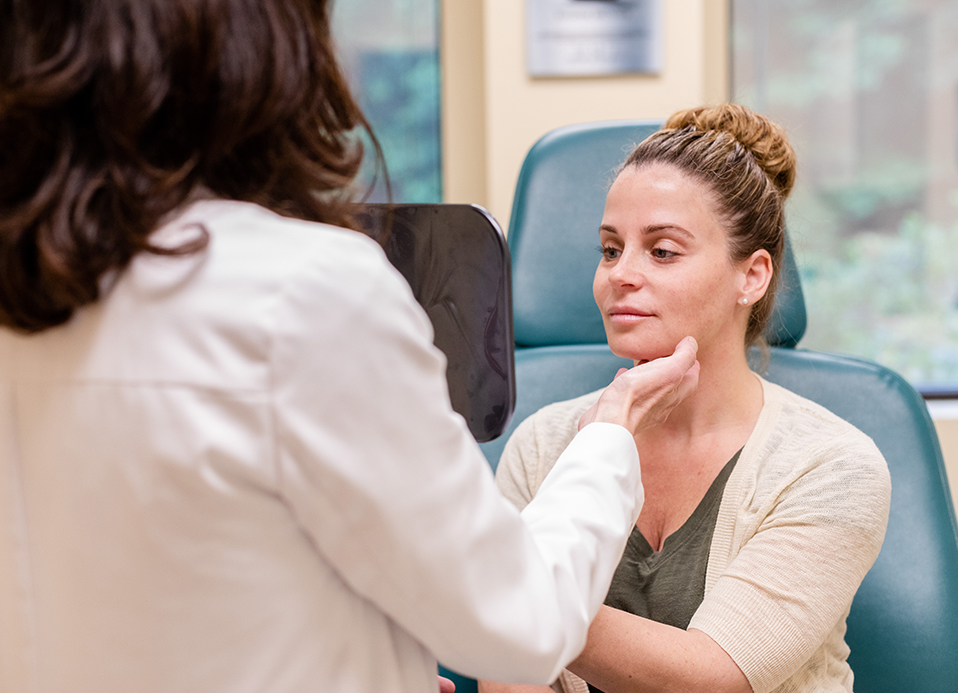 PrecisionTx
If you're bothered by excess fat in your lower face and neck, new technology is available that can help. 
Advancements in technology and equipment continually push the boundaries of what cosmetic treatments can achieve. PrecisionTx® is a direct result of these advancements and is considered a cutting-edge, low-risk means of delivering great aesthetic results.
Double board-certified facial plastic surgeon Dr. Eugenie Brunner uses the latest technology and procedures to provide her patients with beautiful, natural-looking results. In her Princeton, NJ medical spa, she utilizes laser treatments such as PrecisionTx to provide patients the best possible results.
What is PrecisionTx?
PrecisionTx is state-of-the-art laser technology that enables a new, minimally invasive laser procedure for contouring small areas such as the jawline and neck. PrecisionTx treatment can help you achieve a smoother, youthful, more defined appearance without the need for surgery.
What are the benefits of PrecisionTx?
Benefits of a PrecisionTx treatment include: 
Effective treatment for smaller areas

Collagen production for long-lasting results 

Quick procedure with optimal results and minimal downtime

2-3 small, discreetly placed incisions leave little or no scarring 
PrecisionTx stimulates the growth of collagen, which is responsible for stabilizing and strengthening the skin's structure. Post-treatment, skin tightness is often improved by up to 30 percent. 
What to Expect from Your PrecisionTx Treatment
A PrecisionTx procedure treats fat under the chin and sagging skin around the neck, cheeks, and jawline in under an hour. 
Three tiny incisions will be made after the treatment area is numbed: one under each earlobe and one under the chin. If any scarring does occur, the placement of the incisions helps ensure that they won't be noticeable. 
The cannula is then inserted, delivering energy from the laser to break up fat using a thermal and photomechanical effect. Fat is suctioned away. Laser energy is then used to direct heat into the skin to stimulate collagen production, ultimately resulting in tighter, smoother skin and a lifted, refreshed appearance.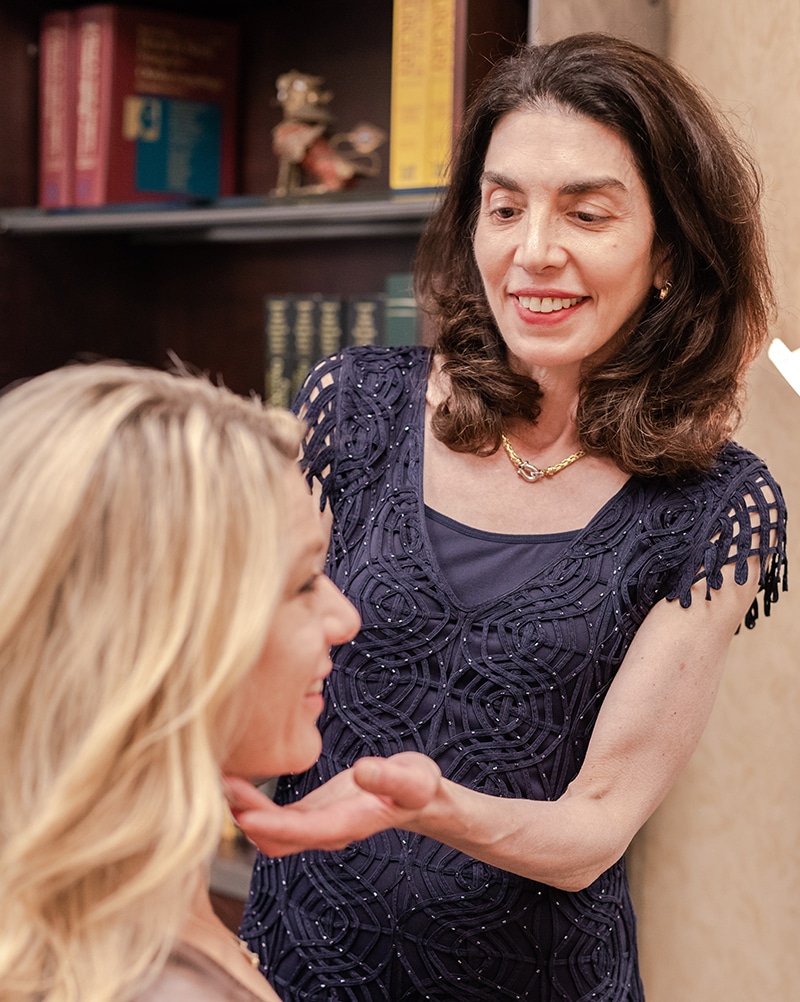 PrecisionTx Recovery
You can return home within a few hours of your procedure. Compression bandages are wrapped gently around the lower face and neck to support and control swelling in the treated area. These must remain in place for 3 to 4 days. 
You may experience slight bruising and swelling. For most patients, over-the-counter pain medications are sufficient to alleviate any discomfort. Patients can return to regular activities within 3-4 days. Three days after the procedure, swelling should subside, and minimal bruising can be easily concealed with makeup, loose clothing, or accessories (such as a scarf). 
It is sometimes recommended that you avoid strenuous work and exercise for one week post-treatment and that a lightweight chin strap be worn at night for 4-6 weeks. Dr. Brunner will give you specific instructions for recovery after your treatment. 
Does PrecisionTx hurt?
Since a local anesthetic is applied to numb the treatment area, you'll experience minimal discomfort. You may be given an oral sedative to help you relax. Patients may feel slight pressure or a mild warming sensation in and around the treated area, and there may be some soreness following the procedure. Most patients report feeling no pain or discomfort from the treatment.
Is PrecisionTx right for me?
At your consultation, Dr. Brunner can determine if you are a good candidate for PrecisionTx. 
PrecisionTx is best suited for patients who: 
Have mild to moderate fatty tissue and loose skin in the lower face and neck 

Have been unable to eliminate fat in these areas with diet and exercise efforts

Are not overweight but exhibit common signs of aging in the lower face and neck 

Are healthy with a positive outlook and reasonable expectations
What are the alternatives to PrecisionTx?
In her Princeton, New Jersey practice, Dr. Brunner offers a variety of procedures to address excess fat and loose skin on the lower face and neck. These include her signature Tri-Zone Laser Lift, a full facelift, mini-lift, neck lift, or liquid facelift, as well as other options. She'll recommend which procedure or combination of procedures can achieve the best results for your unique needs and goals. 
Neck Lift
This surgery entails both cervicoplasty (removing excess skin) and platysmaplasty (modifying neck muscles). Additionally, liposuction can remove excess fat from the neck during a neck lift. 
A neck lift is often most appropriate for patients with excess loose, sagging skin who are looking for optimal improvement and are prepared to undergo a surgical procedure and the recovery that follows. Results include a dramatic reduction in loose and sagging skin, tightening of the underlying muscle, diminished platysmal banding and "necklace" lines, and smoother, more youthful-looking skin.   
A neck lift can be performed alone or combined with other procedures, such as Dr. Brunner's neck rejuvenation treatment. 
Facelift
Like surgical neck lifts, surgical facelifts are generally most effective for patients with moderate to severe skin laxity. Dr. Brunner performs traditional facelifts, mini-lifts, and liquid facelifts. With her artistic sensibilities and medical expertise, she can customize a treatment plan perfectly suited to your needs.
When will I see the results?
Patients notice some skin tightening and fat loss results immediately after their procedure. Skin texture and firmness continue to improve over the course of 3-6 months until final results are visible. PrecisionTx treatment encourages the body to boost collagen production, a gradual process that gives the skin more support and a youthful glow.
Duration of results varies from patient to patient depending on age, habits, lifestyle, and genetics. Generally, results last about 3-5 years. Sun exposure and smoking accelerate collagen depletion and can reduce the duration of results. 
How long will my results last?
Results should be long-lasting due to the stimulation of collagen. Patients who follow Dr. Brunner's post-procedure instructions and adopt or continue healthy habits, such as sensible eating, exercising, practicing a good skincare regimen, and consistently using sun protection can expect optimal, long-lasting results. 
Find Out if PrecisionTx is Right for You: Schedule A Consultation at Our Medical Spa Today
Please contact us today for more information about PrecisionTx or to request a consultation with Dr. Brunner at our Princeton, New Jersey, medical spa.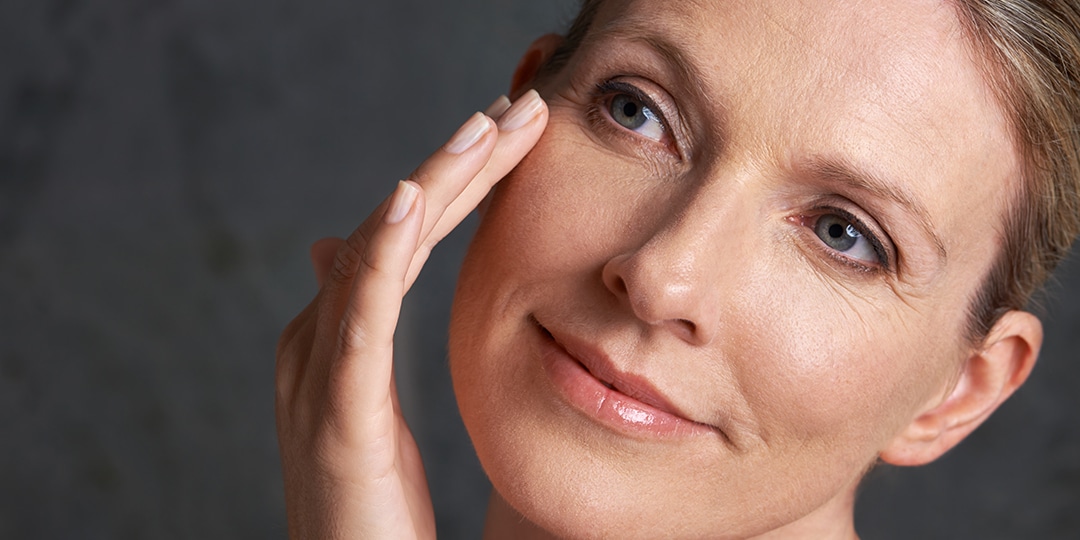 Dermal fillers and cosmetic injectables offer a way to soften the appearance of a wide range of concerns with typically quick results and minimal downtime.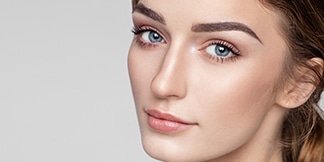 The Fraxel Re:pair laser is a non-surgical enhancement that is the premier fractional ablative CO2 laser designed for treatment of wrinkles, sun damaged skin, texture irregularities, acne scarring, brown spots due to sun exposure and aging, and generalized redness.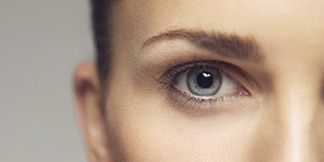 Botox® Cosmetic is a non-invasive injectable treatment designed to weaken the muscles that contribute to frown lines, deep forehead wrinkles, crow's feet, and platysmal bands along the neck. 
Regional & National Awards