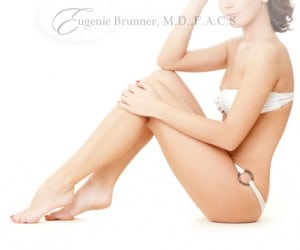 Designed to remove stubborn pockets of fat and help tighten inelastic skin on the jawline and neck, the SmartLipo Triplex™ laser-assisted contouring system is one of the most innovative cosmetic enhancement procedures available in Princeton, NJ.
Able to effectively contour the chin, neck and jawline with beautiful results, this minimally-invasive laser treatment has given rise to traditional liposuction comparisons. While both can be excellent fat reduction options, there are several differences between the two procedures.
Traditional liposuction alone can be very effective at removing deposits of fat; however, it does not typically help tighten the skin after fat removal, which may produce a sagging or drooping effect similar to the results of dramatic weight loss.
In addition, traditional liposuction often requires a more lengthy recovery period, and you may not have the ability or inclination to spend an extended period of time away from your work or everyday routine.
On the contrary, SmartLipo Triplex™ utilizes laser energy to dissolve fat and stimulate skin tightening by causing new collagen formation. Customized to suit your needs, the laser contouring system can efficiently remove excess fat along the jaw, chin, and/or neck while activating collagen formation and contraction.
The result is often firm, youthful-looking skin with minimal downtime. Our SmartLipo Triplex™ system can also be combined with other facial rejuvenation treatments, such as dermal fillers, MicroLaserPeel®, and Fraxel Laser Resurfacing for more dramatic cosmetic enhancement.
Ultimately, SmartLipo Triplex™ offers fat reduction and skin tightening in one typically brief treatment, which generally allows you to return to normal activities within two to three days. If you're experiencing dissatisfaction with your appearance due to a double chin or sagging neckline but are hesitant to undergo a surgical procedure, SmartLipo Triplex™ may be able to help you achieve your aesthetic goals.
To schedule a consultation at our Princeton medical spa, or if you have any questions about SmartLipo Triplex™, please contact us today.