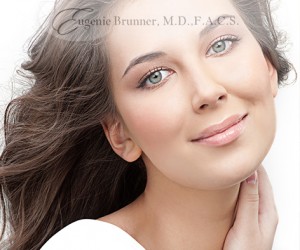 Whether you want to enhance the appearance of your face, improve the function of your nose, or both, rhinoplasty can offer a number of benefits. However, like all major surgeries, nasal surgery comes with certain risks. By understanding what the side effects and complications could be, you can become well informed about this operation and make the best possible decision for your needs and goals. To help shed light on the endeavor, our experienced facial plastic surgeon, Dr. Eugenie Brunner, will detail the risks during your initial consultation. Though rare, complications can occur, and being prepared can help to minimize the possibility of an unwanted outcome.
The truth is the most common unwanted side effect of rhinoplasty is dissatisfaction with the result. Surgeons aren't mind readers, and you can help to reduce the possibility of this happening by being open and honest about your goals and expectations. You should also choose a board-certified facial plastic surgeon with extensive experience in nasal surgery, one who listens attentively and understands what you want. You can also review the rhinoplasty before and after photos on the practice website to see examples of the surgeon's aesthetic.
Other common side effects are related to the recovery process, such as bruising, swelling, and discomfort. These symptoms are normal, and Dr. Brunner or the surgeon of your choice will provide medication to help manage your pain. Other risks, including septal perforation (a hole in the wall that divides the two nostrils), bleeding, and infection, rarely occur but will need to be addressed as quickly as possible.
Although the risks can sound a little scary, the vast majority of nasal surgeries take place without incident. The most important action for you is to thoroughly research the surgeon and the procedure so that you feel comfortable and confident.
For more information about rhinoplasty risks and benefits, or if you would like to schedule a consultation with Dr. Brunner, please contact our office today.