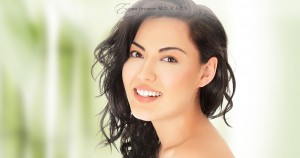 Similar yet distinct, facelift and mini facelift are both designed to achieve a more youthful appearance. However, these two procedures typically address separate concerns and will be appropriate for different patients. If you're considering facial rejuvenation and want to know more about these two techniques, our friendly and knowledgeable medical team is happy to help. Our double board certified plastic surgeon, Dr. Eugenie Brunner, performs both methods, and she believes customizing the treatment plan to your needs and goals is an essential step to attaining optimal results.
A mini facelift can address early signs of aging that have developed in the mid-facial area. The mini lift can improve mild skin laxity, tighten muscles, and enhance facial contour. The incision is generally about half the size of the one utilized in a full facelift. As a result, this technique may also be called an S-lift or short incision facelift. Recovery typically will be shorter with this operation than with traditional facelift surgery. For many individuals, a mini facelift can help to delay the need for a full facelift, or it can be used as a "touch-up" procedure when the benefits of a facelift begin to subside. No one can stop the natural aging process, but we can help you look your best at every stage of life.
For a more comprehensive rejuvenation and longer-lasting results, a facelift may be the right choice. This method can address moderate to severe skin and muscle laxity, deep creases caused by loose skin, and excess fat. If you have a double chin, jowls, or a "wattle," this technique can help to firm and smooth your facial contours for a younger looking and more aesthetically pleasing appearance. During the initial consultation, Dr. Brunner will discuss your concerns and determine if facelift or mini facelift can offer you greater benefits based on your needs and goals.
If you would like to learn more about either of these procedures, contact our office today. We are happy to provide additional information or help you schedule a consultation with Dr. Brunner.