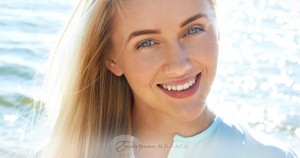 One of the many benefits of mini facelift surgery is the typically shorter recovery period compared with a full facelift. While it may be briefer, the healing process is still an important step and is an essential part of achieving optimal results. Before the operation, Dr. Eugenie Brunner, our board certified plastic surgeon, will discuss what to expect and answer any questions you may have. She will also provide instructions designed to make recovery as easy, quick, and safe as possible.
Following mini facelift surgery, you should be able to return home the same day. You will have dressings wrapped around the treated area, which will be worn at all times for the first four days or so after the operation. These will eventually be replaced with a support garment that can be removed for bathing; it should be worn for about one week. Medication will be provided to enhance your comfort during recovery, and most patients report little pain. Swelling, bruising, and numbness are common. These effects should fade with time, and using cold compresses and Arnica montana can help. Keeping your head elevated, even at night, can also help to reduce swelling. We advise patients to avoid strenuous exercise for at least three weeks, or as long as Dr. Brunner recommends.
We're here to help make your healing experience as pleasant and swift as possible. If you have questions during recovery, we encourage you to reach out. Our team is ready to help.