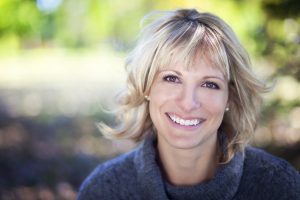 The number of people choosing to have non-surgical cosmetic enhancement is on the rise, and there are a multitude of excellent minimally invasive treatments available. That said, it's important to realize there is a time and a place for everything. Board certified facial plastic surgeon Eugenie Brunner, MD explains that surgical and non-surgical brow lifts are designed to achieve different effects. While both procedures can rejuvenate the appearance, they each offer something unique.
Brow lift surgery, also known as a forehead lift, is primarily designed to elevate the brow back to a more youthful position. The natural process of aging can lead to skin sagging in this area, which can make a person look sad or even angry, regardless of their emotional state. This facial drooping can also lead to deep creases along the forehead. During a brow lift, the skin will be lifted higher and the excess will be trimmed, creating a more open and rested appearance.
On the other hand, cosmetic injectables like BOTOX® Cosmetic, Dysport®, and other neuromodulators are designed to halt excess muscle movement that causes wrinkle formation. By relaxing targeted muscles in the forehead, wrinkles can be smoothed and softened. This is great if you just have a few lines. But if you have sagging skin, this technique could actually worsen the drooping effect.
Whether brow lift surgery, non-surgical brow lift, or a combination of the two can optimize your results will depend on your unique needs and goals. During your initial consultation, Dr. Brunner will explain all your options and develop a treatment plan in collaboration with you.