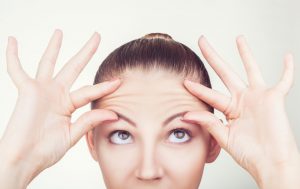 Designed to address fine lines and wrinkles, BOTOX® injections are a popular way to rejuvenate the face without surgery. One of the many benefits of this treatment is the ability to customize the procedure to fit the needs and goals of a diverse group of women and men—including patients from a broad age range. Dr. Eugenie Brunner, our board certified facial plastic surgeon, emphasizes that everyone experiences the natural process of aging differently. That means that while some people may not notice creases until they're in their 40s, other may see wrinkles in their 20s. For patients developing early signs of aging, Dr. Brunner uses BOTOX® Cosmetic more conservatively, and this technique is often colloquially known as "Baby BOTOX®."
Conservative treatment with BOTOX® injections typically means using a smaller amount of the formula, but the approach is also modified. Dr. Brunner adjusts the targeted areas, depth of injection, and other factors to optimize the outcome and provide the most natural-looking result possible. The goal is to achieve soft, youthful-looking features with no sign of "treatment" at all. Furthermore, by addressing wrinkles and fine lines early, you may be able to minimize advancement of those concerns, delaying the need for more invasive facial procedures in the future.
If you're beginning to develop signs of aging and want to know how you can rejuvenate your face without surgery, we can help. Talk to us today about your options.