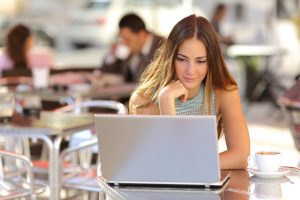 One of the best ways patients can select a facial plastic surgeon who can help them achieve their cosmetic goals is by looking through the doctor's before-and-after photos. These images are designed to show what can be accomplished and reveal the physician's skill—but not all of these pictures tell the truth. When it comes to nose surgery, it seems many unscrupulous plastic surgeons are using misleading images, or even stealing pictures from another doctor's website. How can patients tell which rhinoplasty photos are accurate and which are suspicious? Dr. Eugenie Brunner provides some helpful tips:
Ask the surgeon if he or she took the photos and if the photos are of patients he or she performed the surgery on.
Check to see if the same background is used for all the photos, or if they are a mish-mash of styles—a variety of backgrounds may suggest that the photos were collected from different sites.
Ask if any digital enhancements or retouching were used on the photos; many practices will add a note below the images stating that the before-and-after photos are of real patients and have not been altered.
Thoroughly review the surgeon's website. Do you feel like they are providing information or simply trying to sell you on a procedure?
Ask if you can speak with any previous patients about their experience and results. Satisfied individuals are often happy to speak with prospective patients and let them know how their treatment went.
It's important to note: board certified facial plastic surgeons receive photographic training to help them capture the best angles to showcase their work. Good before-and-after photos will have multiple angles and views to show the full scope of the results. For more information or to schedule a consultation, please reach out to our skilled medical team.