Women are becoming more aware of what can be achieved with the right arsenal of cosmetic treatments today. Experts not only see a steady rise in demand for cosmetic procedures but are also seeing more innovative procedures taking center stage. This new wave of beauty treatments will be game-changers for patients seeking to create better versions of themselves.
Committed to rejuvenating the skin and restoring a youthful appearance, double board-certified facial plastic surgeon Dr. Eugenie Brunner provides her patients with beautiful, natural-looking facial enhancement and reconstruction results. In her state-of-the-art Princeton, NJ medical spa, she utilizes injectables, facelift surgery, laser treatments, and other progressive technologies to enhance the overall facial aesthetic. Below, we share Dr. Brunner's beauty forecast for 2022 and how she can help you look and feel your best. 
The Combo Treatment for Full Results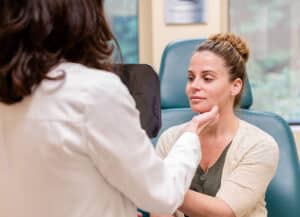 Combining treatments may become standard procedure by 2022, offering a more comprehensive approach to treating your skin by targeting several skin issues at once. Maximizing the benefits of each treatment means healthier, more beautiful skin that will require less maintenance work and less amount of recovery time when you come back for new treatments. Instead of having one treatment per week, patients can achieve more dramatic, and sometimes long-lasting improvements in a single session.
Dr. Brunner's proprietary Tri-Zone treatment combines three powerful procedures to create dramatic results. It combines Smartlipo/FaceTite with dermal fillers and a non-invasive skin resurfacing laser (Clear + Brilliant and/or PicoSure). By combining these treatments, Dr. Brunner can dramatically reverse the signs of aging by addressing wrinkles, age spots, sun damage, and other skin imperfections in a single, non-surgical skin tightening procedure.
Dr. Brunner also performs all treatments herself to ensure patients receive the highest level of care and the best possible results.
A New Focus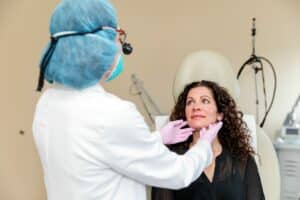 The increased time spent with our heads down staring at our phones leads to downward stress on the neck, contributing to a sign of aging often dubbed the "tech neck." Dr. Brunner believes that the neck and jawline area will gain more attention or even take the spotlight in 2022. The skin on the neck is thinner than the skin on the face, making it prone to early signs of aging. 
In her office in Princeton, NJ, Dr. Brunner performs a comprehensive selection of surgical and non-surgical cosmetic enhancement options designed to re-contour and revitalize the neck, jawline, and chin area. Neck lift surgery can be combined with SmartLipo, a state-of-the-art laser-assisted liposuction technique to remove the fat and enhance the natural delineation of the jawline, eliminate excess skin, and reduce the appearance of pronounced platysmal bands. 
Either in combination with SmartLipo or separately, non-surgical laser therapy will help tighten the skin on your neck, taking up the slack that causes slight sagging and the beginnings of a turkey neck. Depending on your skin quality, needs, and goals, Dr. Brunner can recommend cutting-edge laser and energy devices such as:
Fraxel Re:pair — ablative laser treatment that resurfaces skin to remove wrinkles and brown spots, plus stimulate the production of skin-strengthening collagen and elastin 
Fractora RF/Morpheus 8 — RF energy triggers collagen production to tighten, firm, and recontour your skin, also eliminates hyperpigmentation, wrinkling, and melts away excess chin fat with minimal downtime
EmbraceRF – combines two leading facial rejuvenation treatments, FaceTite and Morpheus 8 to provide a "facelift alternative" using RF energy to lift, contour, and smooth the face 
Clear + Brilliant and PicoSure lasers —These lasers improve skin tone, erase excess pigmentation, and firm your skin over time with new collagen and elastin. You only need one or two treatments and little to no downtime.
In addition to lasers, Dr. Brunner sees more reliance on neuromodulators and dermal fillers to help smooth away wrinkles, restore lost volume, and improve facial contours, including the neck area. These injectables effectively lift the skin, sculpting the neck area to make it look more youthful. Injectables are a safe and effective way to treat the neck's early signs of aging. Patients benefit from immediate results and minimal downtime.
Sculpting Youth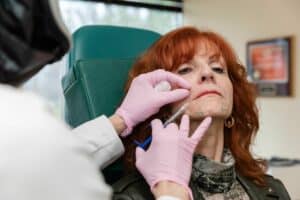 While wrinkle smoothers such as Botox®, Dysport®, and Xeomin®, and dermal fillers such as Restylane®, Juvederm®, Radiesse®, and Sculptra® have become treatment mainstays, 2022 will be an even more exciting year for injectables. Next year, we may welcome the next generation of resilient dermal fillers and the next generation of Botox that achieve natural-looking results with longer improvements.
These upcoming injectables and fillers will take facial sculpting to a new level, turning providers into artists who can help accentuate the face's natural beauty. Varying fillers and their respective formulas and viscosity will allow Dr. Brunner to precisely shape and sculpt facial contours and create natural-looking results. With "a surgeon's hands, an artist's eyes, and a woman's touch," she can provide her Princeton, New Jersey patients with customized treatment plans tailored to their individual needs and expressed goals.  
A Move to Non-Surgical Options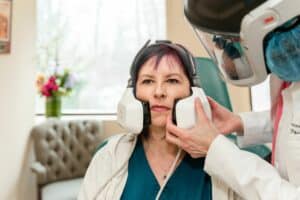 Looking ahead to 2022, Dr. Brunner believes that the desire to maintain a natural-looking appearance will still be the ongoing trend. People prefer to enhance their natural features and look more refreshed and radiant without looking like they've had any work done. That's why non-surgical skin tightening has been and will continue to be so popular. According to an American Society of Plastic Surgeons report, there is a 458% increase in Botox injections from 2000-2020 and a 483% increase in laser skin resurfacing procedures. 
If there's one thing patients love more than ever, it's having plenty of options. Non-surgical treatments provide a wide array of treatment modalities which means versatility and endless customization. Patients can feel more confident that they can find a treatment that will work best for their goals. 
Injectables and lasers are also designed for today's lifestyle. People from New Jersey are busy and can't afford to spend weeks of recovery time. Non-surgical rejuvenation procedures can be completed during your lunch break and will require little to no downtime. Since they are minimally invasive, there is a low-risk factor and low complication rates associated with them. 
Additionally, these treatments can easily be combined to produce a more cohesive effect that can lead to better and more immediate results, as well as greater patient satisfaction.
Schedule A Skin Rejuvenating Procedure at Our Medical Spa Today
Moving forward, everyone deserves to be excited about the many options that can help them feel good about themselves again, including aesthetic procedures. For more information about our Princeton, New Jersey medical spa's surgical and non-surgical enhancement procedures, or to request a consultation with Dr. Brunner, please contact us.