Juvederm®

Juvederm® injectable filler is a hyaluronic acid gel that is frequently used by our facial plastic surgeon, Dr. Brunner, to treat moderate to severe facial wrinkles and folds. Juvederm® is a smooth injectable hyluronic acid gel that can restore the skins' volume and smooth away facial wrinkles and folds, including those highly visible ones around the mouth and nose and on the forehead. There are two types of Juvederm: Juvederm Ultra XC, which is used to correct fine to deep facial wrinkles and to add fullness to the lips, and Juvederm Ultra Plus XC, which has a denser formulation and is therefore helpful for improving the appearance of much deeper facial folds. Most patients appreciate its long lasting effects, with many experiencing from 8 months to a year or more of correction from a single treatment.
Juvederm® is great for smoothing fine to deep wrinkles around the mouth, marionette lines, improving the definition of your lips, and adding volume, shape and proportion to your lips, if desired. Dr. Brunner also uses Juvederm® fill in frown lines between your eyebrows, soften deep nasolabial folds & marionette lines, correct the turn-down at the corners of the mouth, and smooth out facial scars, including acne scars. Juvederm® may also be used in combination with other dermal filler injections (Belotero Balance®, Radiesse®, Restylane®, Perlane®) and Botox® to further enhance your results. Dr. Brunner will develop a treatment plan during your consultation that addresses your particular needs.
Juvederm® Results
The majority of people treated are thrilled with their results and appreciate the immediate return to their busy schedules. There have been few reports of hypersensitivity reactions, but because it is so unlikely, it does not require skin testing.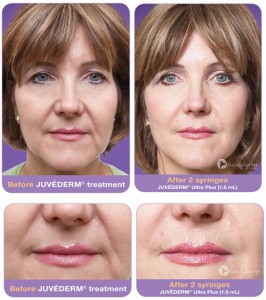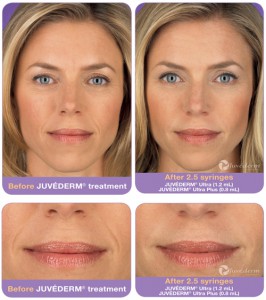 OcuMend® Nanotechnology Gel Pads
Side effects from JUVÉDERM® injections are typically minor; however, many patients experience some bruising in the treated area. To help reduce the appearance of this symptom, Dr. Brunner utilizes OcuMend® healing pads.
For further information about Juvederm® , please schedule your consultation with Dr. Brunner at (609) 921-9497. We look forward to hearing from you!