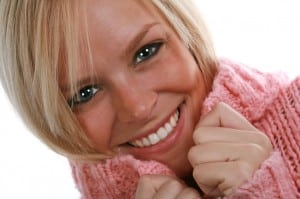 As we age, so do our eyes. The skin of our eyelids is very thin, so it is among the first places on the body to show signs of aging. With time, eyes can become puffy, tired-looking, and saggy. This is may start off as a cosmetic concern, but it may turn into a more serious issue if droopy eyelid skin obstructs your field of vision! Fortunately, blepharoplasty (also known as an eyelid lift) can help correct your puffy eyes and excess eyelid skin. Let's take a look at the most commonly asked questions about this treatment option offered by Dr. Eugenie Brunner in Princeton, NJ.
Commonly Asked Blepharoplasty Questions
What is blepharoplasty? Blepharoplasty or Eyelid lift is a cosmetic surgical procedure that corrects the look of tired, droopy eyelids, leaving  patients with a rejuvenated, more youthful look. It can be performed for the upper and lower eyelids to remove puffiness and loose skin around the eyes. This procedure is occasionally combined with BOTOX® or a facelift to decrease the appearance of wrinkles, dark circles, or crow's feet.
Am I a candidate for blepharoplasty? Candidacy depends on several factors. Dr. Brunner will evaluate your medical history, overall health, expectations, and goals, to determine if you are a good candidate for blepharoplasty. The skin around the eyes is one of the first areas of the face to show signs of aging.  It's not unusual to see hooded upper eyelids or saggy, puffy lower lids appearing when you are in your 30′s.  Because an adult of any age may be a candidate for a blepharoplasty, it is one of the most common cosmetic surgeries performed.
How is the blepharoplasty performed? The procedure is performed under either local or general anesthesia, requiring 1 to 3 hours to complete. Usually, the procedure is performed through small surgical incisions made along the creases of the upper and lower eyelids. Bags or puffiness under the eyes are also removed, through an incision behind the lower eyelid.
Will this leave behind any scarring? Evident scars are usually very minimal with this procedure, due to the ability of  skin on eyelids to heal rapidly. Visible scars can be covered with makeup, and should disappear on their own within a few months.
How long will it take to recover? Though there is normally little discomfort following blepharoplasty, patients are advised to protect their eyes following surgery, by wearing sunglasses and using eye drops to prevent any irritation. Using cold compresses can also help with recovery. Full recovery takes a few weeks, though most patients are able to return to work a week after surgery. Best of all, results are long-lasting.
To learn more about blepharoplasty, visit medlineplus.gov
Cosmetic Surgery and >Blepharoplasty (Eyelid lift) in Princeton, NJ
If you have any interest in rejuvenating your eyes with a blepharoplasty , contact us today to schedule a consultation. Our office is located in Princeton, NJ, and you can reach us at (609) 921-9497. We look forward to hearing from you.