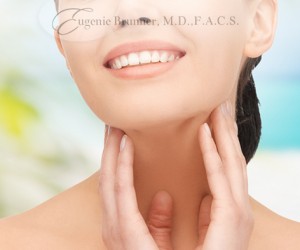 Face and neck contouring in Princeton, NJ with SmartLipo Triplex™ can be a great way to diminish the appearance of a double chin and redefine the jawline to create a more youthful facial aesthetic.
This innovative, minimally-invasive technique can also offer excellent results without the lengthy downtime typical of surgical procedures like traditional liposuction or facelift.
If you are experiencing unwanted pockets of fat or drooping skin on the jawline and neck, SmartLipo Triplex™ may be able to help produce a rejuvenated outcome.
At our medical spa our experienced facial plastic surgeon, Eugenie Brunner, MD, FACS, will customize a SmartLipo Triplex™ laser treatment plan for qualified patients. If you are interested in laser fat reduction & skin tightening along the jaw and neck, some of the anatomical factors she will consider include:
Localized fat deposits under the chin and jawline
Mild to moderate skin laxity on the lower face and neck
Good skin quality
Dr. Brunner will also consider your expectation for results and aesthetic goals when determining the appropriate treatment.
While SmartLipo Triplex™ can offer many benefits, it is not designed to mimic the dramatic effects of surgical procedures – candidates with significant skin laxity, prominent jowling, or sun-damaged skin may be better suited to an alternative approach, such as a facelift.
Dr. Brunner will discuss all available treatment options and their associated benefits and risks during the initial consultation.
For more information about SmartLipo Triplex™, or to schedule a consultation with Dr. Brunner in Princeton, please contact us today.