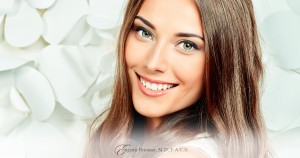 Advances in cosmetic injectables have made it possible to minimize common signs of aging and to achieve other aesthetic goals without the need for surgery. Can the same be true for rhinoplasty? Our board certified facial plastic surgeon reveals what a non-surgical nose job can and cannot do, and when it may be a better option to have nose reshaping surgery.
Dermal fillers such as JUVÉDERM®, Restylane®, and Radiesse® have been used to alter the shape of the nose by adding volume. What this "Liquid Nose Job" cannot do, however, is reduce the size of the bridge, correct a deviated septum, or contour dorsal humps. It's also important to note that fillers are temporary, and a non-surgical nose job will have to be maintained with regular "touch-up" sessions to preserve the look. There may be slight variations in the outcome each time, as well. Rhinoplasty from Dr. Eugenie Brunner is fully customized to suit your anatomic needs and cosmetic goals. Furthermore, the surgery can permanently improve the size and shape of your nose to better harmonize with your facial features.
Dermal fillers have many benefits; however, when it comes to changing the structure of the nose, surgical techniques often provide a better result. If you're interested in reshaping your nose, our experienced facial plastic surgeon can help you find the ideal approach for your desired outcome.