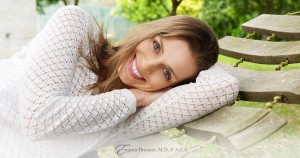 Life would be more predictable if we all aged at the same rate. In reality, however, each person experiences the effects of growing older a little differently. As a result, Dr. Eugenie Brunner, our double-board certified facial plastic surgeon, explains that there is no "perfect" time to have a facelift. Some patients may benefit from having the procedure performed as early as in their 40s. Others may be able to comfortably wait until they're in their 60s. Personal preferences, in addition to anatomical indicators, will also play a role in determining the ideal time for a facelift.
When you arrive for your initial consultation, Dr. Brunner will explain whether your concerns can be addressed with facelift (or perhaps mini facelift) surgery or if you should hold off for a few years—or more. In the event a facelift is not right for you, there are many other options that can help you rejuvenate your appearance and restore a more youthful look. We offer a comprehensive array of cosmetic injectables, laser skin resurfacing options, and other non-surgical treatments that may be able to help achieve your goals. We will work with you to find an approach that can optimize your outcome.
At our practice, age is just a number. Your skin quality may tell a different story than the number of years you've lived, and we're here to listen. Talk to us about what troubles you about your appearance, and we'll find a solution tailored to your unique needs and goals.