Filler & Botox® Injections and Wrinkle Treatment
Dermal fillers, such as Restylane®, JUVÉDERM®, Belotero Balance®, and Perlane®, can help restore the youthful contours of the face in all three dimensions. Designed to enhance volume, minimize wrinkles, and augment facial features such as the lips and cheeks, many injectable fillers are comprised of hyaluronic acid (HA)—a naturally-occurring protein found in the skin. The body's collagen is surrounded by a layer of HA, which is long, flexible, and firm, similar in appearance to a rope. It acts as a cushion for collagen and other structural proteins in the skin. All injectables are administered by our board-certified facial plastic surgeon, Dr. Brunner.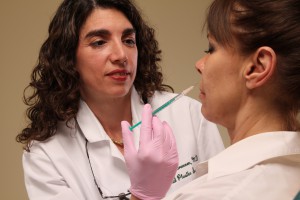 Hyaluronic acid is one of the most popular substances for fillers, and it is used around the world. Dr. Eugenie Brunner, our experienced facial plastic surgeon, often favors HA fillers due to the more natural composition, which are unlikely to cause allergic reactions. Furthermore, the flexible structure makes it possible to mold to the unique contours of the face for more natural-looking results. Although rarely necessary, an injection of an enzyme (hyaluronidase) can break down HA, reversing the effects.
Each type of HA-based dermal filler differs in a number of ways. One characteristic is cross-linked strands. When strands of the proteins become attached, or cross-linked, to other strands, the effects are typically longer-lasting. Other differences may include how the fillers are manufactured and the size of the particles in the solution.
The FDA has approved Restylane®, JUVÉDERM®, Belotero Balance®, and Perlane® for use in the nasolabial folds (lines between the nose and mouth), and Restylane® is also approved for adding volume to the lips. There are several extended applications for dermal fillers, including augmenting the cheeks and lips, reducing undereye bags and troughs, upper lip wrinkles, and marionette lines (creases from the mouth to the chin), and minimizing other facial lines. Less commonly, injectables may be used to help treat acne scars and add volume to the temples and/or earlobes.
JUVÉDERM VOLUMA™ XC is FDA-approved to enhance volume in the cheek and mid-face—currently the only filler on the market with this distinction. Results are often long-lasting, up to two years, and the treatment can bring a noticeable reduction in cheek lines, nasolabial folds, tear troughs, and jowling.
Other Types of Cosmetic Injectables
In addition to HA-based fillers, we also offer a number of other cosmetic injectables that may help our patients achieve their aesthetic goals. Radiesse® is an injectable filler made up of calcium microspheres, and it is designed to add volume and stimulate collagen production. Sculptra® Aesthetic, another collagen stimulator, is comprised of a synthetic solution called poly-L-lactic acid, a biodegradable material that has been widely used in surgical procedures. Sculptra® Aesthetic is often very effective for improving the effects of lipoatrophy (hollowness in the cheeks). BOTOX® Cosmetic and Dysport® are also very popular injectable treatments designed to reduce signs of wrinkles and creases around the eyes, between the brows, and in other areas.
How Do I Know if I Need Injectable Filler Treatment?
If you want to reduce the appearance of fine lines, look more refreshed and less tired, and/or improve the contours of your face, dermal filler treatment may be right for you. Injectables can minimize signs of smile lines, acne and other facial scars, cheek wrinkles, and hollows or dark circles beneath the eyes. They can also enhance the volume of thin or wrinkled lips, give the cheeks a fuller appearance, and reduce jowling and sagging of the skin. Ultimately, they are designed to produce a lifted, more youthful-looking aesthetic.
How Does the Treatment Work?
When implemented by a skilled professional, injectable fillers can reduce common signs of aging and improve your overall appearance. Dr. Brunner has performed thousands of injections, and she combines her extensive experience in cosmetic facial plastic surgery with a background in art to rejuvenate your appearance with beautiful results.
The treatment involves injection of the filler into the targeted areas with a very fine needle. Most of our patients report minimal discomfort during the procedure. HA-based fillers typically contain a local anesthetic to help numb the area being treated. A slow, careful application and included anesthetic help make the experience more comfortable; however, Dr. Brunner offers cold compresses, topical numbing creams, and additional numbing injections to help make the treatment as painless as possible. She also utilizes blunt-tipped applicators, called cannulas, to minimize discomfort and bruising. Certain areas, such as the lips, are often more sensitive and may require additional anesthetic.
What Benefits Can I Expect?
Achieving smoother, more refreshed, and more vibrant-looking skin is the goal. After treatment, you should still see yourself, just a more youthful version as the volume loss of key areas is restored. We endeavor to provide profound yet subtle improvement that is both natural-looking and safe. Family and friends may notice a difference, and they may even ask if you have modified your hairstyle or make-up. Typically, they cannot identify the change. During your initial consultation, Dr. Brunner will discuss the available fillers that suit your skin and customize a comprehensive treatment plan tailored to your aesthetic goals.
The benefits of most injectable fillers are temporary, and the anticipated longevity depends on the type used and the location of the injections. For example, Restylane® and JUVÉDERM® typically last 4-12 months, Perlane® approximately 6-15 months, and Belotero Balance® about 4-6 months. Individual results will vary, and occasional follow-up treatments can help extend the life of the results. Touch-ups once or twice a year are commonly recommended initially, though after several treatments you may discover the fillers have stimulated the production of natural collagen, thus extending the benefits for longer periods.
Permanent silicone or plastic facial implants are available, but due to the synthetic composition there can occasionally be complications, including allergic reaction, that may occur up to ten years after placement. These permanent "fillers" also carry a risk of migration, creating a lump, bump, or irregularity in an unwanted area. Only surgery can remove permanent implants. For these reasons, Dr. Brunner believes temporary fillers are safer, as they can be naturally absorbed and processed by the body.
What Is the Recovery After Treatment?
Some bruising, swelling, and discomfort are normal. Dr. Brunner often advises using cold compresses immediately after treatment to help minimize these effects. She also recommends abstaining from exercise and heavy lifting for approximately 12-24 hours after the procedure.
Prior to your appointment, Dr. Brunner recommends you start taking Arnica montana pills—an herbal supplement used to treat bruising—one or two days before treatment, and to continue until bruising has dissipated. You should also avoid blood thinners for one week in advance of the procedure. Our office can provide a comprehensive list of medications from which to abstain. Bruising may last up to a week; however, significant discoloration can often be minimized with laser treatments, which can often lessen the color, break up the bruise faster, and allow make-up to more effectively cover the area. Let us know if you have a history of facial cold sores, so we may pretreat you with anti-viral medication.
What Are Other Ways to Improve Wrinkles?
There are numerous facial rejuvenation options available to help combat wrinkles, including neurotoxins like BOTOX® Cosmetic, Fraxel® laser skin resurfacing, SmartLipo™ for lower face and neck contouring, and surgical procedures such as facelift and eyelid lift (blepharoplasty). In many cases, multiple treatments are required to achieve the desired result. One popular combination is to use BOTOX® Cosmetic or Dysport® injections for the upper face, including the brows, and utilize dermal fillers for the mid and lower face. This method typically offers dramatic benefits that are often visible in as little as one to two weeks. BOTOX® Cosmetic or Dysport® may also be used to extend the life of injectable fillers. If you have extensive sun damage, Dr. Brunner may recommend Fraxel® laser skin resurfacing in advance of filler treatments, which can be used on persistent wrinkles and facial volume loss approximately 6-8 weeks later.
How Do I Get Started?
If you are interested in injectable filler treatments or wish to schedule a consultation with Dr. Brunner, please contact us today.