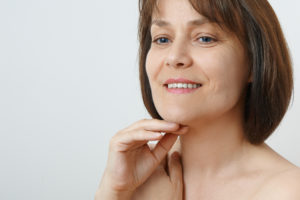 As wonderful as the sun can feel on the skin, it can also cause a lot of damage. Age and brown spots, hyperpigmentation, and uneven skin tone are common concerns for many people, and they often stem from spending time in the sun without protection. Fortunately, Dr. Eugenie Brunner can minimize the appearance of sun damage using the latest laser technology. VariLite treatment offers noticeable results and typically requires little to no downtime. Designed to stimulate cell turnover in the treated area, VariLite can also brighten and rejuvenate the skin, giving you a more youthful look as well as smoothing the complexion.
As an extensively trained facial plastic surgeon, Dr. Brunner customizes every treatment plan to best suit the needs and goals of each patient. If you have brown spots and facial pigmentation that you would like to address, a series of three to five VariLite treatments could help. Additionally, we offer a comprehensive array of non-surgical facial rejuvenation options, so we can find the ideal approach for your characteristics and desired outcome.
Ready to learn more? Reach out to our friendly and knowledgeable team to schedule a consultation and to ask any questions.