Fractora/Morpheus8 is a radiofrequency-based facial remodeling platform designed to tighten the midface and jawline, while improving the appearance of your complexion, without the need for surgery.
Do you want to highlight your cheekbones and create a more defined jawline? Do you prefer not to go under the knife to achieve a more youthful appearance? If you answered yes to these questions, you are on your way to becoming a candidate for a Fractora/Morpheus8 face and neck treatment.
Dr. Brunner offers Fractora and Morpheus8 as part of her menu of facial cosmetic services in her Princeton, NJ, office. To better determine if Fractora, Morpheus8, or a combination approach is the best treatment option for you, we've put together a guide that explains the ins and outs of this revolutionary system.
How does Fractora skin tightening work?
Fractora is a non-surgical face contouring device that uses radiofrequency (RF) microneedling to treat the lower third of the face. Made by InMode, the RF system features multiple modalities, including Morpheus8, a microneedling applicator that penetrates even deeper. Dr. Brunner often recommends combining these two treatments for complete facial remodeling.
Fractora therapy's controlled heating process stimulates fat remodeling and encourages new collagen and elastin production, effectively contouring, resurfacing, and shaping the tissues to form firmer and tighter skin, resulting in reduced jowls and a more youthful jawline.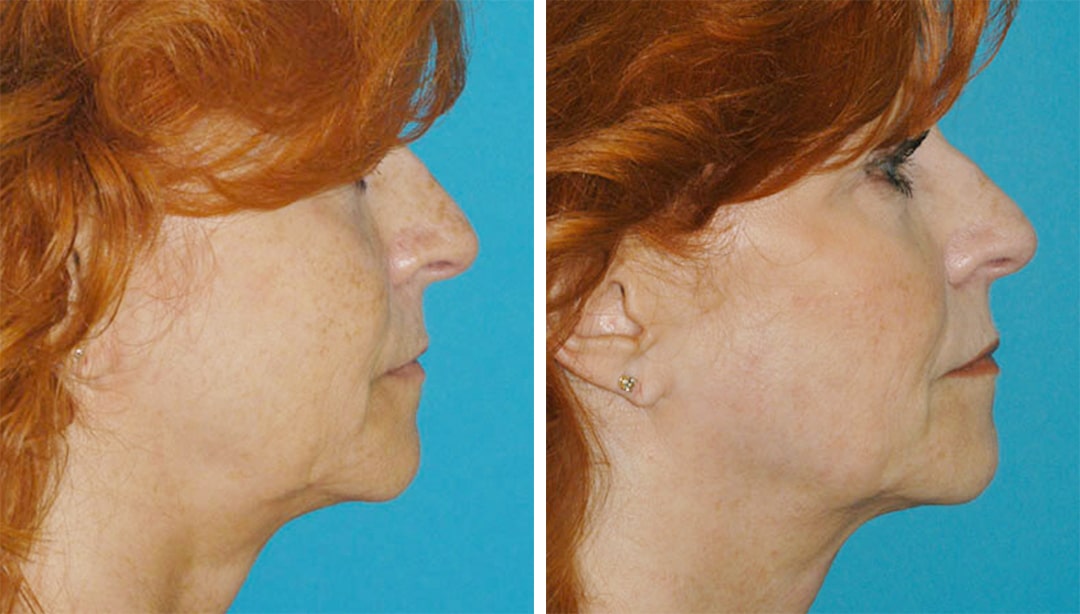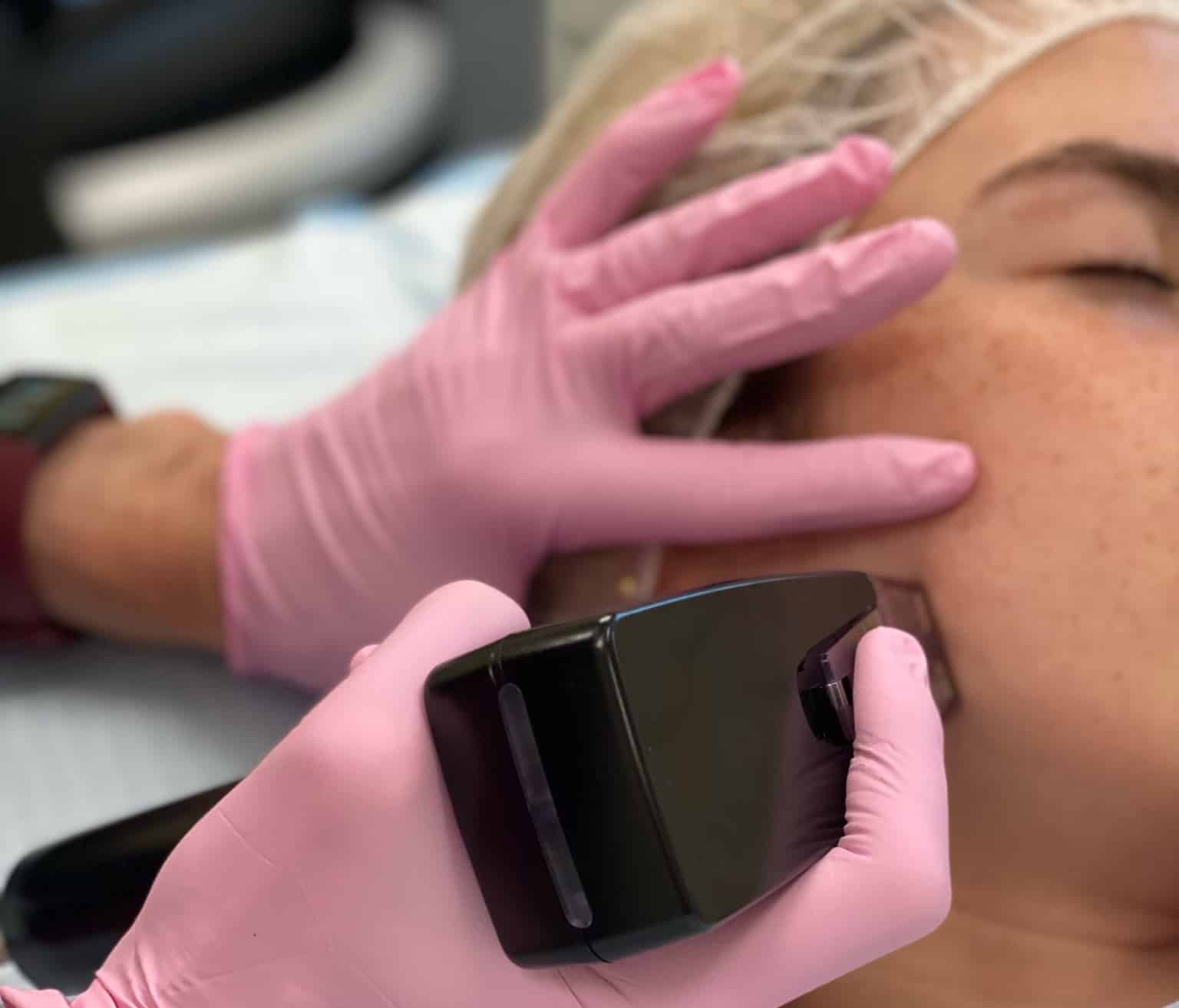 How does Morpheus8 skin tightening work?
Morpheus8 penetrates the skin's deepest layers, including the subcutaneous (fat) tissue. Its 24 coated pins can puncture anywhere from 0.5 mm to 8 mm deep, creating microchannels that allow the RF energy to reach each layer of skin. This powerful combination of deep microneedling and RF energy remodels fat and tightens the skin. Morpheus8 can be used on the face or body, but the jowls and jawline are the most popular treatment areas.
What are the benefits of Fractora/Morpheus8 treatments?
Morpheus8 and Fractora face treatment's ability to rejuvenate the skin from the inside out by remodeling facial tissue makes them ideal face contouring treatments that provide plenty of benefits.
They're customizable procedures that target specific facial areas.
Because they're minimally invasive procedures, the results are natural looking.
They're safe and effective for skin tightening and fat reduction (when combined).
They produce more defined facial characteristics by tightening the jawline, improving facial contours, and reducing the appearance of a double chin.
Soften fine lines around the mouth,and crepy neck skin
Improve acne scarring, skin quality, and can reduce the appearance of large pore size.
Comfortable procedure
Minimal downtime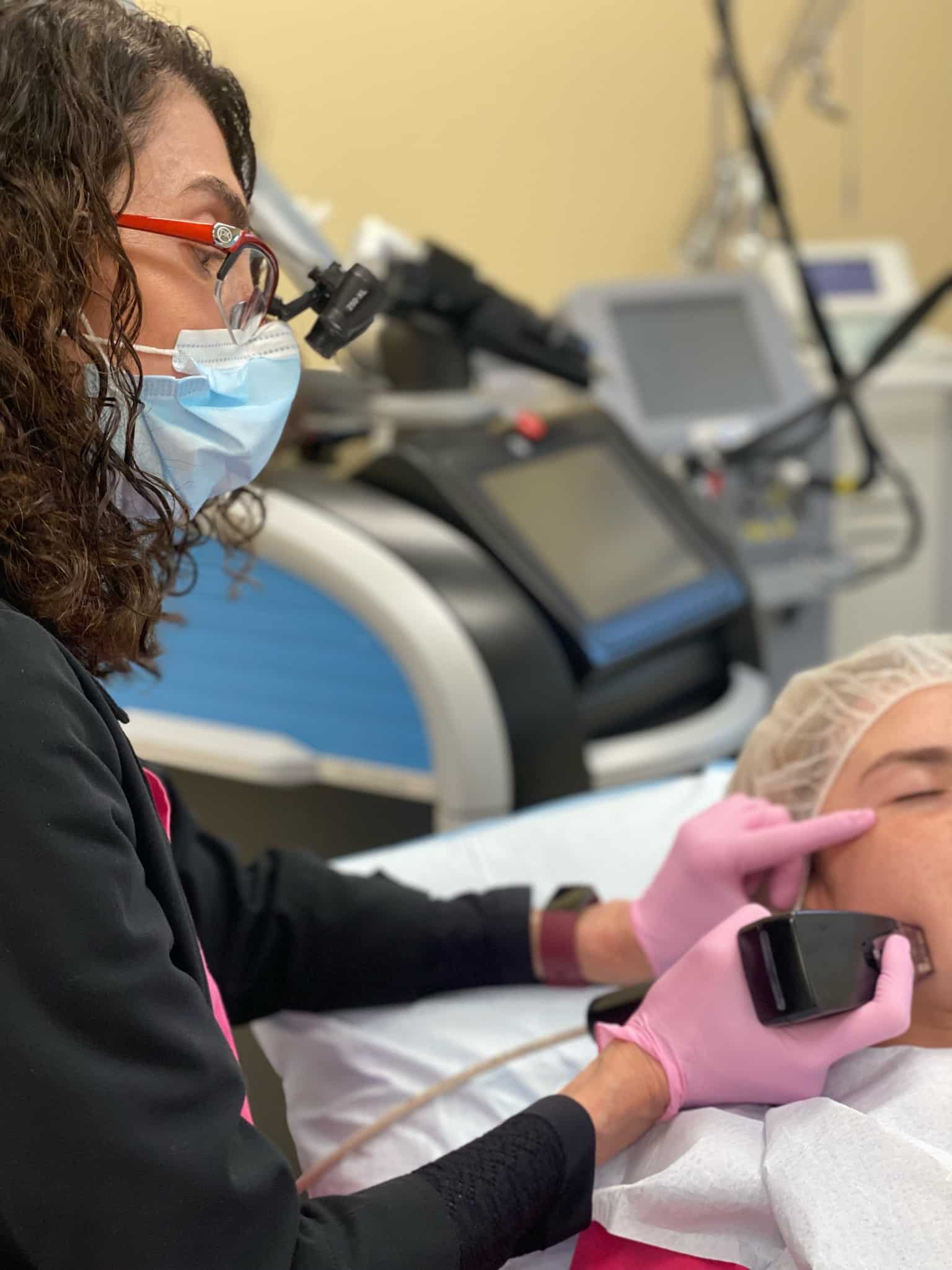 Risks and downtime associated with Fractora/Morpheus8
Morpheus and Fractora facial remodeling are safe procedures with minimal risk of discomfort and side effects, especially when performed by a qualified and trained provider. You can expect the following after your treatment:
There may be slight redness but should only be temporary.
Pain medication is unnecessary.
Little to no downtime
You can resume your normal activities immediately following your treatment.
How often are treatments necessary?
Typically, 1-4 sessions (or more if needed) are performed at four-week intervals.
While it effectively reduces the signs of aging on the face, Fractora/Morpheus8 cannot stop the natural course of the aging process after a treatment. We may recommend follow-up sessions in our Princeton, NJ, office to maintain optimal results.
How much does Fractora/Morpheus8 RF microneedling cost?
The actual cost of Fractora/Morpheus8 RF microneedling varies depending on factors like how many areas need to be treated and your provider's qualifications. You can determine the total cost of your treatment during your consultation. While costs should always be taken into consideration, only seek treatments from qualified providers to ensure the safest and most successful outcome.
Schedule a Consultation with Princeton's Top Plastic Surgeon to learn more
Enjoy more sculpted and contoured facial features with the help of Fractora/Morpheus8. Dr. Brunner and her staff in Princeton, NJ can further discuss how this facial contouring device provides safe and effective skin tightening. Dr. Brunner will also customize the best treatment plan to suit your needs and goals. Contact us to schedule a private consultation.