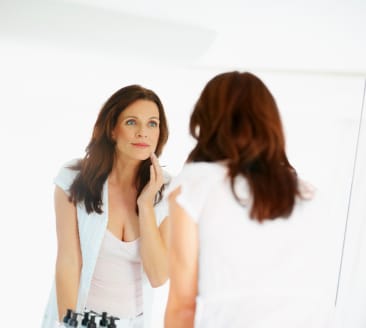 To a certain extent, facial aging affects us all.  A reflection of our environment, lifestyle choices and simply, the aging process itself, fine lines and wrinkles can be a problem for patients of all ages.  Thankfully, however, for those looking to "turn back the clock," modern medicine now offers a variety of simple, minimally-invasive solutions.  So, which treatments are today's men and women in Princeton choosing?  Let's take a look at a recent report from the American Society of Plastic Surgeons.
Top Cosmetic Procedures
Each year, the ASPS publishes data on which cosmetic procedures patients from Princeton and the rest of the country are choosing.  This year's figures have just been released, and they may surprise you!  According to the ASPS, BOTOX® and soft tissue fillers now represent the number-one and number-two categories of cosmetic procedures nationwide.  As today's top wrinkle fighters, let's take a closer look at these treatments and how they have grown more and more popular over the years.
Botulinum toxin type A: A category that includes BOTOX® and Dysport®, you can think of botulinum toxin treatments as essentially muscle relaxers.  Working to reduce the appearance of fine lines and wrinkles, BOTOX® and Dysport® are particularly well-suited for "dynamic lines," such as frown lines and worry lines across the forehead.  As today's number-one cosmetic treatment, the ASPS is reporting over 6.1 million botulinum toxin procedures performed in 2012.  Compared to the previous year's numbers, that represents a remarkable 8% increase in one year alone.
Soft tissue fillers: For deeper, more persistent lines, we will often recommend a soft tissue filler, such as Juvéderm®, Restylane®, and Radiesse®. Working to "fill in" the valleys of creases, these treatments add volume to the skin and promote a more youthful appearance.  With nearly 2 million filler procedures performed last year, the ASPS is reporting a full 5% increase in popularity since 2011.
To learn more about the American Society of Plastic Surgeons, visit asps.org
BOTOX®, RESTYLANE®, JUVEDERM®, and RADIESSE® in Princeton, NJ
To learn more about BOTOX®, fillers or any of the cosmetic treatments we offer, we encourage you to contact us today and schedule a consultation.  Our offices are located in Princeton, and you can reach us directly at (609) 921-9497.  We look forward to meeting you!