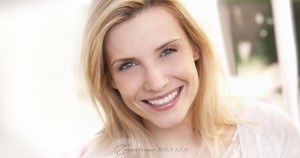 Non-surgical facial rejuvenation is becoming more and more popular with each passing year. Cosmetic injectables, including BOTOX® Cosmetic, Dysport®, JUVÉDERM®, and Radiesse®, can reduce the appearance of many signs of aging. Dr. Eugenie Brunner, our experienced facial plastic surgeon, performs Dysport® and BOTOX® injections often, but many patients have stated some confusion about the difference between these two products. They have more in common than not, but there are a few important distinctions you should know about before selecting one treatment or another.
Both BOTOX® Cosmetic and Dysport® are considered neuromodulators that limit the movement of muscles that can cause fine lines and wrinkles. As a result, both formulas can smooth creases along the forehead, around the eyes, and the lower face—areas affected by smiling, frowning, and other expressions. Both products can also be used in combination with other surgical or non-surgical treatments, such as facelift or laser skin resurfacing.
The differences are small but important. Dysport® can provide a smoother result than BOTOX® Cosmetic for forehead wrinkles and crow's feet, although your experience may vary. Depending on your needs, BOTOX® Cosmetic may provide more localized accuracy for treating the lower face. Dr. Brunner will discuss your concerns during your initial consultation and develop a customized treatment plan that can optimize your results.
After treatment, BOTOX® Cosmetic can take a week or two for the results to appear. With Dysport® you may begin to see the effects after about 24 hours. Downtime for both should be minimal. You may experience some redness, bruising, and tenderness at the injection sites, which should fade quickly. You may return to normal activity after treatment, but you should wait roughly 12 hours before exercising.
To learn more about the similarities and differences between BOTOX® Cosmetic and Dysport®, please contact our office today. Our friendly and knowledgeable medical team will answer your questions and help you schedule a consultation with Dr. Brunner.