A defined and prominent jawline is probably one of the most important aspects of your face. A saggy jawline can negatively impact your appearance, which can also impact your self-confidence. The good news is there are ways to turn back the clock on your appearance, including a sagging jawline, to restore your youthful vibrancy.
In a 2008 study involving various procedures on the jawline, researchers found there must be a clear understanding of the jawline and how it changes as you age in order for your doctor to offer the best solution for you.
Dr. Eugenie Brunner, a double board-certified facial plastic surgeon operating out of her Princeton medical spa, offers such knowledge and understanding with positive results. Her expertise in contouring your jawline developed after many years of education and experience. She will tailor your procedure to match your precise needs and goals for natural, beautiful results.
The Aging Jawline
Women often focus on keeping their face looking youthful, leaving their jawline to begin sagging over time. Fortunately, there are effective non-surgical treatments for the aging jawline, such as jawline sculpting or jawline contouring.
As you get older, your jawline will start to sag or look less sharp. This saggy jawline occurs with bone resorption and a decrease in volume higher up in the face. Your jawline might become less defined because of an increase in fat in the neck and jaw area, or if the muscles are shrinking.
Quick Contouring Options:
Injectable Fillers and Neuromodulators
For some patients, a quick and effective injectable treatment may be all that is required to restore youthful definition and contouring to the jawline.
Collagen stimulators like Radiesse and thicker hyaluronic acid injectable fillers like Restylane Defyne, Restylane Contour, and Juvederm Voluma offer natural results that last for many months.
These injectable treatments stimulate collagen production over time….an extra added advantage! As collagen levels rise in the weeks and months following treatment, volume along the jaw also increases for a more defined shape.
Radiesse and the thicker hyaluronic acid fillers can also be used to contour and augment the chin.
Neuromodulators like Botox and Dysport are very effective treatments that can easily reshape the cheeks and jawline. Neuromodulators can reduce the size of the masseter (chewing) muscle, which in turn slims the cheeks and jawline for a more contoured appearance.
Botox and Dysport can also be used in the upper neck to help define the jawline and chin.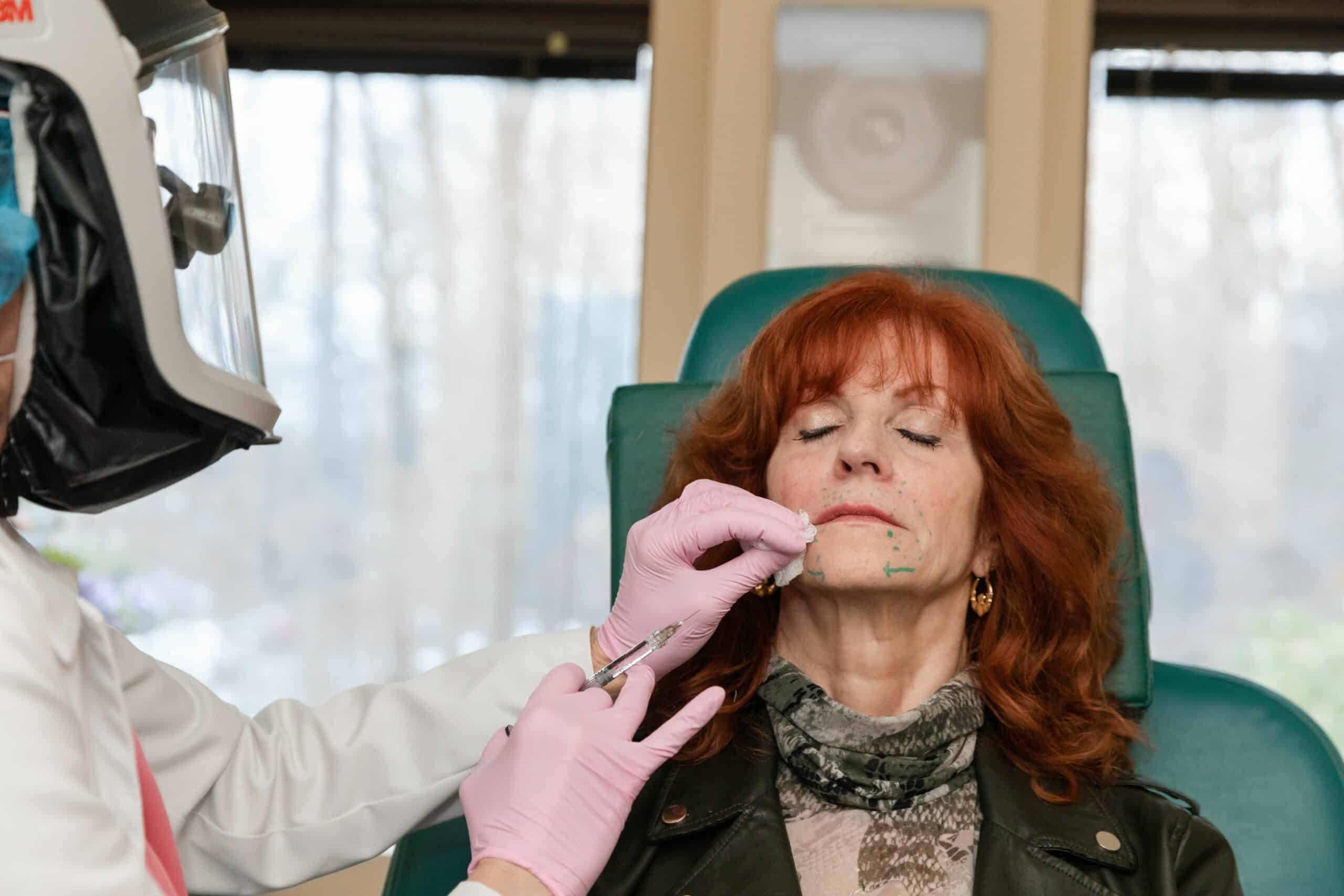 Skin Tightening Solutions
There are non-surgical skin tightening solutions women can turn to for their aging jaw. Take a look at your options:
Evoke
Evoke® Facial Remodeling is a non-surgical, non-invasive treatment that is used for jawline sculpting that may help restore a fresh and more youthful appearance in your face in a safe and comfortable way.
Jawline contouring with Evoke involves the use of radiofrequency (RF) energy to probe into the skin's deep layers and remodel the tissue and muscle in the affected area. Using a hands-off, programmable headgear, it rejuvenates the skin as it repositions fat, tightens the skin, and helps restore your youthful appearance.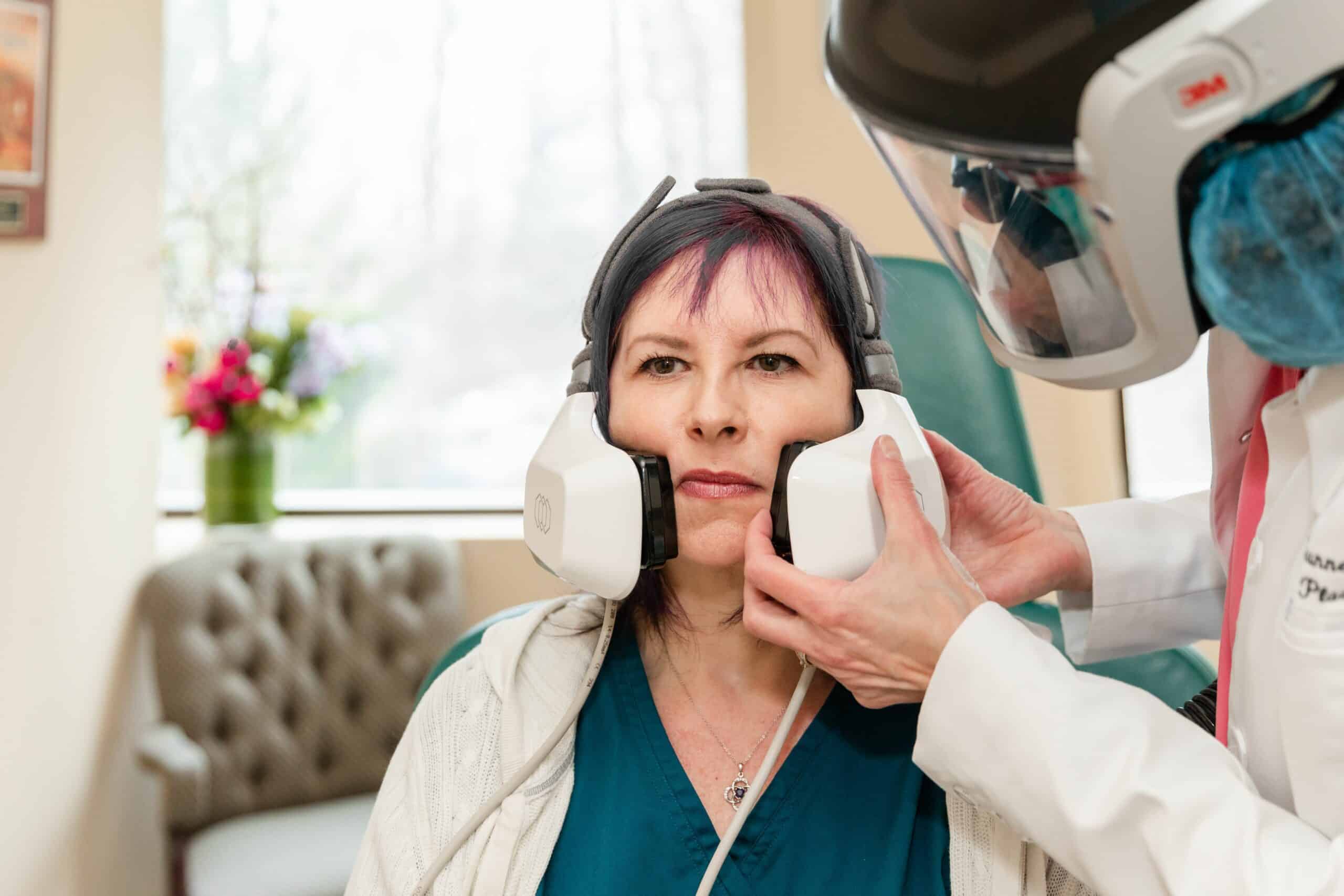 EmbraceRF
To effectively treat an aging jawline, your doctor may have to use a combination treatment. EmbraceRF® uses two leading facial rejuvenation technologies, FaceTite and Morpheus 8 (the latest generation of Fractora RF).
Using these two technologies, EmbraceRF is a therapy that lifts, contours, and smooths the face without surgery. Known as the "facelift alternative," EmbraceRF is the jawline sculpting treatment that is a great option for patients who are unsure about having a facelift but want to see significant rejuvenation.
Fractora RF / Morpheus 8
The Fractora RF/Morpheus 8® Comprehensive Aesthetic Enhancement is another option for the aging jawline. Also utilizing radiofrequency (RF) energy, this treatment is effective for those who suffer from mild jowls, loose or crepey upper neck skin, acne scars, facial scars, fine lines, wrinkles/lines around the mouth, or a combination of issues.
If you are interested in learning more about how to fix an aging jawline without surgery, contact Dr. Eugenie Brunner at (609) 921-9497.
Trim the Fat with Minimal Downtime
One of the most important areas to target to improve your jawline is fat accumulation underneath the chin. With the following treatments, you can trim the fat with minimal downtime.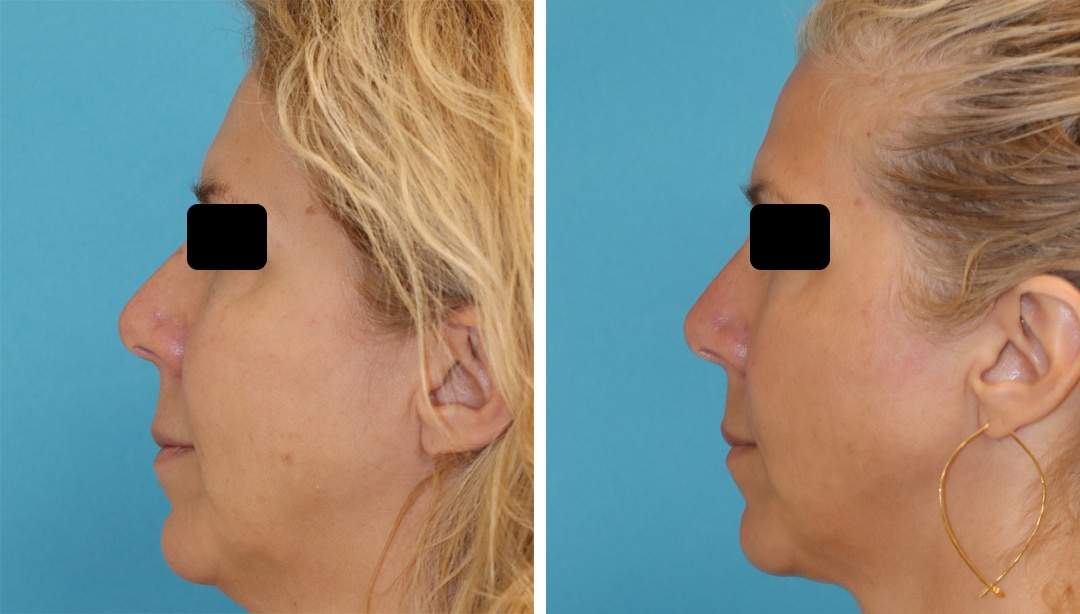 Facetite
FaceTite® is a technology that is used in conjunction with EmbraceRF. The radiofrequency energy emitted from the device melts fat cells to sculpt small problem areas. It's used in combination with Morpheus 8 to replenish and revive your jawline.
PrecisionTX
PrecisionTX® is a treatment for the fat in the areas of the lower face (under the chin) and neck. It's perfect for those who want a thinner, more defined-looking face. Laser energy is used to reduce fat cells and stimulate collagen production in the treatment area.
SmartLipo
Also, using a laser for jawline sculpting, SmartLipo® is a technology that targets fat around the jawline. It will also tighten the skin for a smoother, more defined facial contour. It's an effective treatment for those who don't want traditional liposuction or a facelift.
If you're interested in any of these treatments for fat around the face, call your local New Jersey doctor, Dr. Eugenie Brunner, at (609) 921-9497.
Consider the Combination Approach
To target all areas of the aging jawline, you have endless options. Using a combination of treatments for jawline contouring is a great way to make your face picture perfect. Consider using a combination approach of jawline sculpting to solve your aging jawline beauty issue.
Dr. Brunner offers her proprietary combination treatment known as the Tri-Zone Laser Lift at her Princeton, NJ medical spa. This innovative procedure combines SmartLipo, FaceTite, injectable fillers, and a skin-rejuvenating laser like Clear + Brilliant or PicoSure to achieve dramatic improvement in a single treatment session.
The procedure is relatively comfortable with local anesthetic and downtime after treatment is minimal.
Tighten and Sculpt Your Jawline at Our Princeton Medical Spa
Beauty is possible with non-surgical, non-invasive treatments. If you want to tighten and sculpt your face without surgery, your face-rejuvenating doctor, Dr. Eugenie Brunner, can help restore your beauty and give you self-esteem and confidence. To schedule a consultation with Dr. Brunner, please contact us at (609) 921-9497.