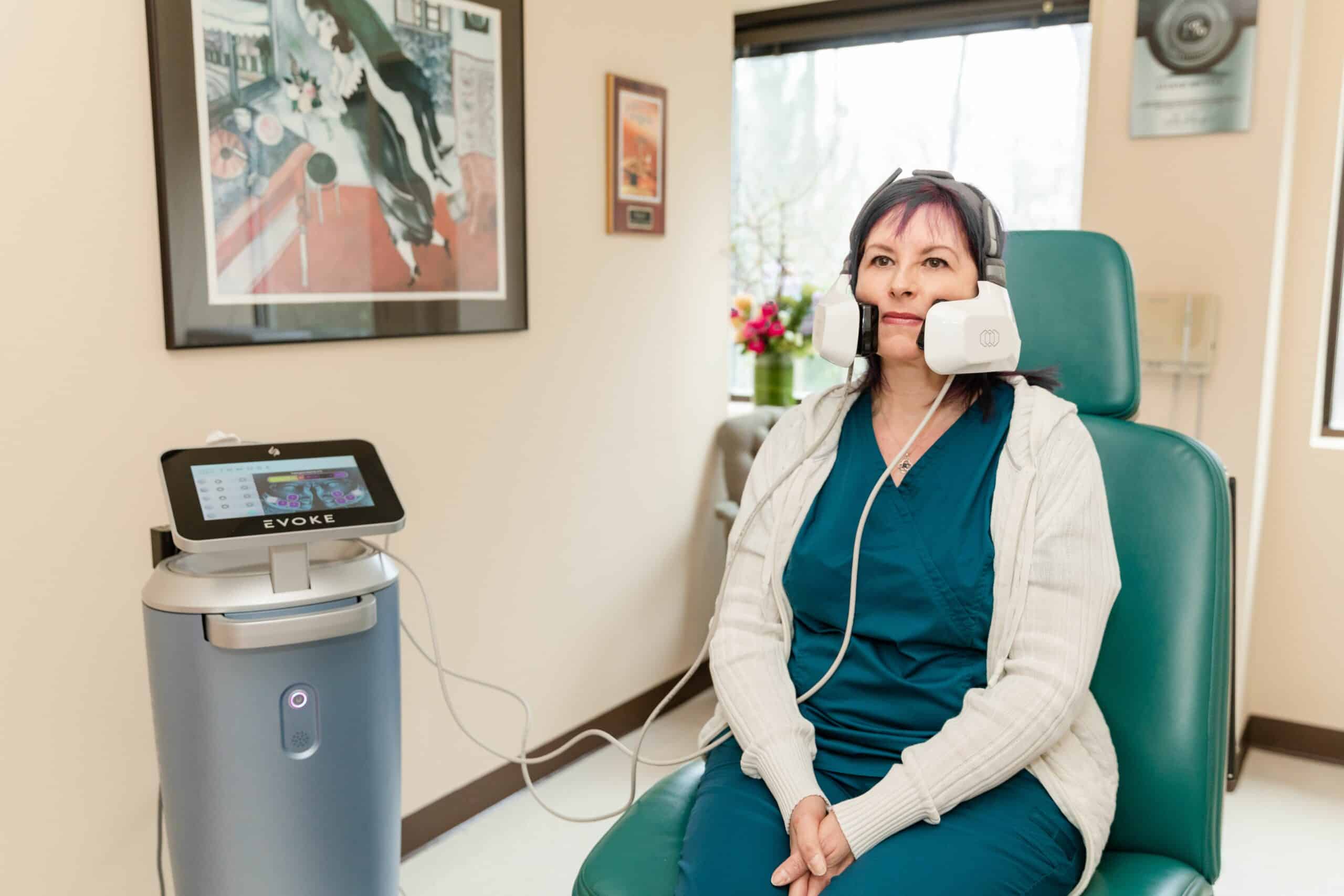 Evoke Facial Remodeling
The natural process of aging will cause the skin to lose its elasticity, resulting in a poorly defined jawline, sagging cheeks, and heaviness under the chin. However, surgery or painful laser and energy therapies aren't the only solution. Evoke is a non-surgical, non-invasive treatment that can help restore a rejuvenated and more youthful facial appearance in a safe and comfortable manner.
What is Evoke?
Evoke is a hands-free facial remodeling platform made by InMode for the cheeks and neck that Dr. Brunner has added to her menu of facial cosmetic services offered in her Princeton, NJ office. Its patented technology utilizes the power of radiofrequency (RF) energy to penetrate the deep layers of the skin and remodel the tissue and muscle in the targeted area. It rejuvenates the skin as it effectively repositions fat and tightens the skin, helping to achieve a more youthful appearance.
How Evoke Works
A specially designed headgear is worn by the patient, and a series of fully programmable, hands-free applicators are used to deliver bipolar RF energy to the target problem areas such as the cheeks, jowls, jawline, and neck. RF energy is delivered to the surface and subdermal layers of the skin. And similar to other lasers and devices, Evoke heats the skin and triggers the skin cells to tighten as collagen and elastin production is stimulated. This thermal response of the skin can help loosen and reposition fat, tighten the tissue, and tone the overlying skin. To learn more about evoke technology, visit their official website.
Dr. Brunner understands that pain and discomfort may deter patients from seeking desired cosmetic treatments. Fortunately, nerve blocking, a procedure that prevents pain signals from reaching the brain, allows patients to experience the transformative benefits of cosmetic procedures without discomfort. With over 25 years of experience in facial plastics and expertise in nerve blocking, Dr. Brunner can perform procedures at a leisurely pace for perfect, natural-looking results. Dr. Brunner's nerve-blocking technique, along with topical numbing creams and Pro-Nox™, is a game-changer in aesthetics.
Evoke for Facial Contouring
Evoke technology can benefit those who have sagging, loose skin in the cheek and neck areas. Evoke's ability to remodel facial tissue makes it ideal for facial contouring. Specifically, it can help address the following facial and neck concerns: 
Lack of definition along the jawline
Excess submental (under the chin) fat or double chin
Loose skin or excess fat on the neck
Jowls
How Long Do Results Last?
Results of Evoke treatments are long-lasting but not permanent. While it effectively reduces the signs of aging on the face, it cannot stop the natural course of the aging process after a treatment. Therefore, we recommend follow-up sessions in our Princeton, NJ office to maintain optimal results.
Results are seen after the second or third session. Typically, 3 sessions (or more if needed) are performed at one-week intervals.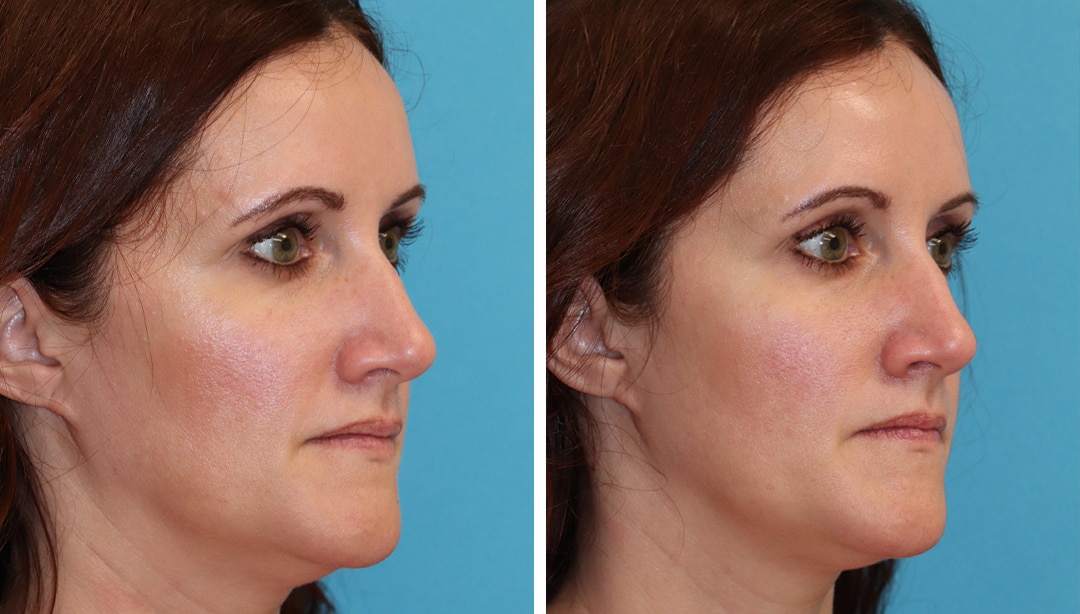 Evoke Facial Contouring FAQ's
How Do I Know if Evoke is Right for Me?
Face sculpting with Evoke is suitable for anyone with mildly sagging skin in the neck and cheek area, or those who simply want tighter-looking skin for a more contoured facial profile without the need for facial plastic surgery. Evoke might be the solution for you if you want to avoid more invasive procedures such as SmartLipo or FaceTite, or if you've already tried dermal fillers and would like to further enhance your jawline. Evoke is also suitable for all skin types.
Do Evoke Treatments Hurt?
While there are many ways to rejuvenate the face, only a few treatments are as comfortable as Evoke. Unlike Ultherapy and Thermage, which can be quite uncomfortable for the patient who may need numbing cream on the treatment area prior to the procedure, Evoke involves no anesthesia and protective gels are used to evenly distribute heat while preventing skin damage. Most patients report the skin feeling mildly warm and having a sensation of contractions on the treatment areas that are similar to those experienced during a facial massage. If you do feel anxious about the procedure, Dr. Brunner offers a safe and convenient nitrous oxide inhalant called Pro-Nox™ to relieve discomfort during treatment.
What Can I Expect to Happen During an Evoke Treatment?
Evoke treatments generally take about 1-1.15 hours for two target areas. The hands-free accessories (face and chin applicators) are designed to fit over the face and neck to target the cheeks and jowls. The applicators can be controlled through the intuitive screen of Evoke's remodeling system. The applicators will then deliver RF energy to the predetermined areas on its own. Built-in heat monitors and emergency stop controls in the system ensure that the device is working safely and effectively. During your session, you can relax while you read a book, watch TV, or use your smartphone.
What is Recovery From Evoke Treatments Like?
Recovery after an Evoke treatment should be relatively simple and comfortable. You can expect little to no downtime, and even pain medication should be unnecessary. Following your treatment, you should be able to immediately return to your normal activities without any pain. There may be minimal redness, which is only temporary.
What Are the Benefits of Evoke?
The Evoke system offers a non-invasive alternative to surgical procedures. Patients can therefore look their best with minimal pain, recovery time, and scarring. Other Evoke benefits include:
Toned, tighter-looking skin with reduced fullness 
Smoother skin
More defined facial contours
Youthful appearance
Natural-looking results
Customizable treatments (the time needed for the treatment can be altered to optimize results)
Schedule A Face Contouring Consultation Today
If you desire to regain youthful cheeks and a more sculpted neck and jawline, Dr. Brunner and her staff in Princeton, NJ can discuss your facial sculpting and skin tightening treatment options with you. Dr. Brunner will customize the best treatment plan to suit your needs and goals. Contact us to schedule a private consultation.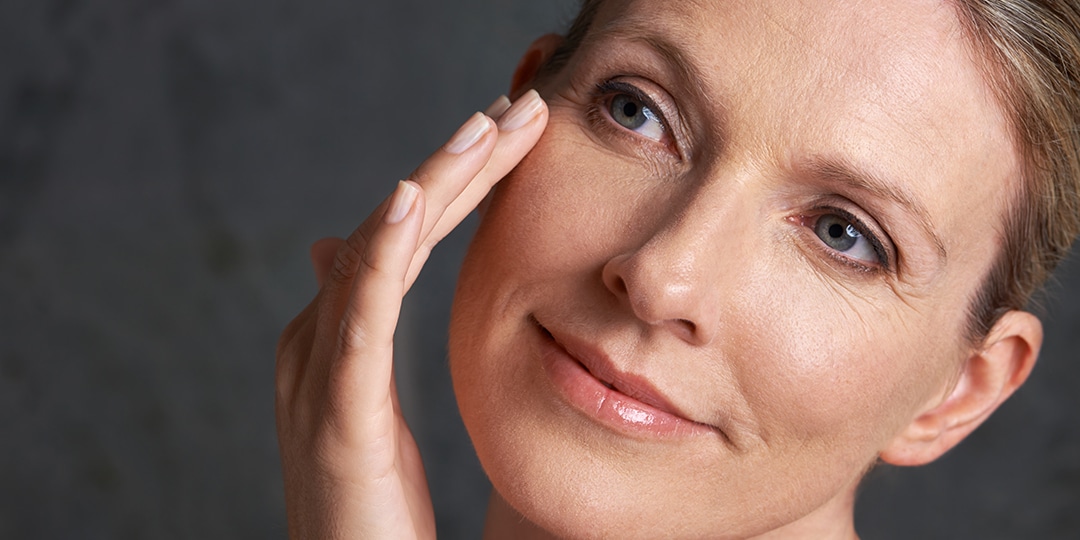 Dermal fillers and cosmetic injectables offer a way to soften the appearance of a wide range of concerns with typically quick results and minimal downtime.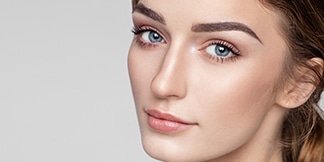 The Fraxel Re:pair laser is a non-surgical enhancement that is the premier fractional ablative CO2 laser designed for treatment of wrinkles, sun damaged skin, texture irregularities, acne scarring, brown spots due to sun exposure and aging, and generalized redness.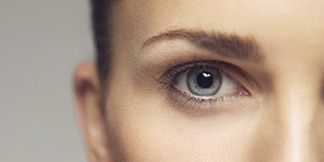 Botox® Cosmetic is a non-invasive injectable treatment designed to weaken the muscles that contribute to frown lines, deep forehead wrinkles, crow's feet, and platysmal bands along the neck. 
Regional & National Awards