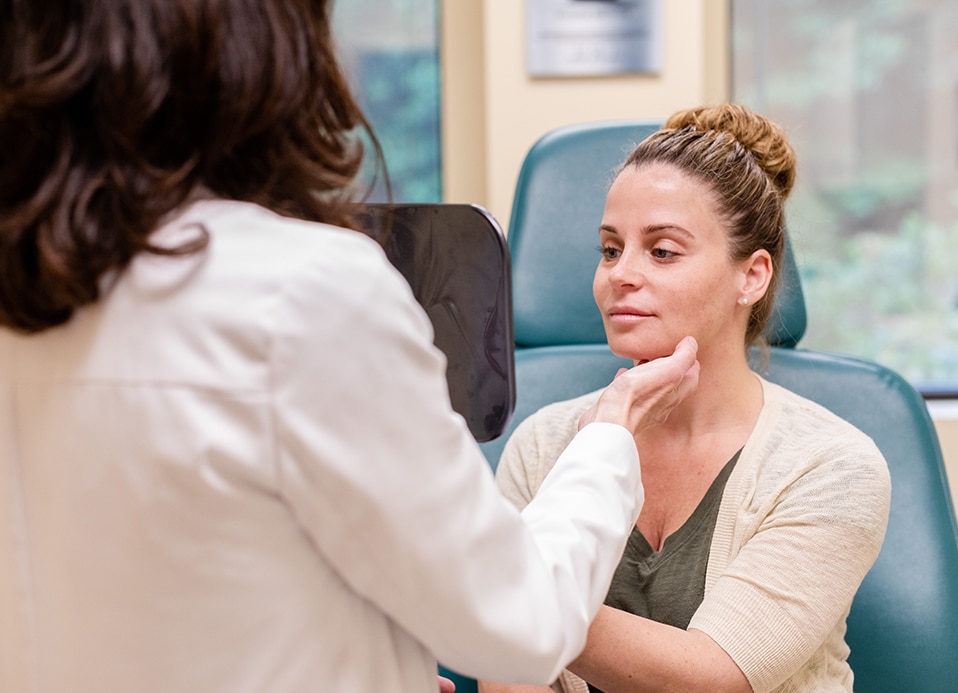 Neck Rejuvenation
Are you dissatisfied with the appearance of your neck but not ready for a neck lift? Neck rejuvenation may be the perfect option for you.
An experienced cosmetic plastic surgeon Dr. Eugenie Brunner in Princeton, New Jersey, offers neck rejuvenation as an effective, non-invasive alternative to traditional neck lift surgery.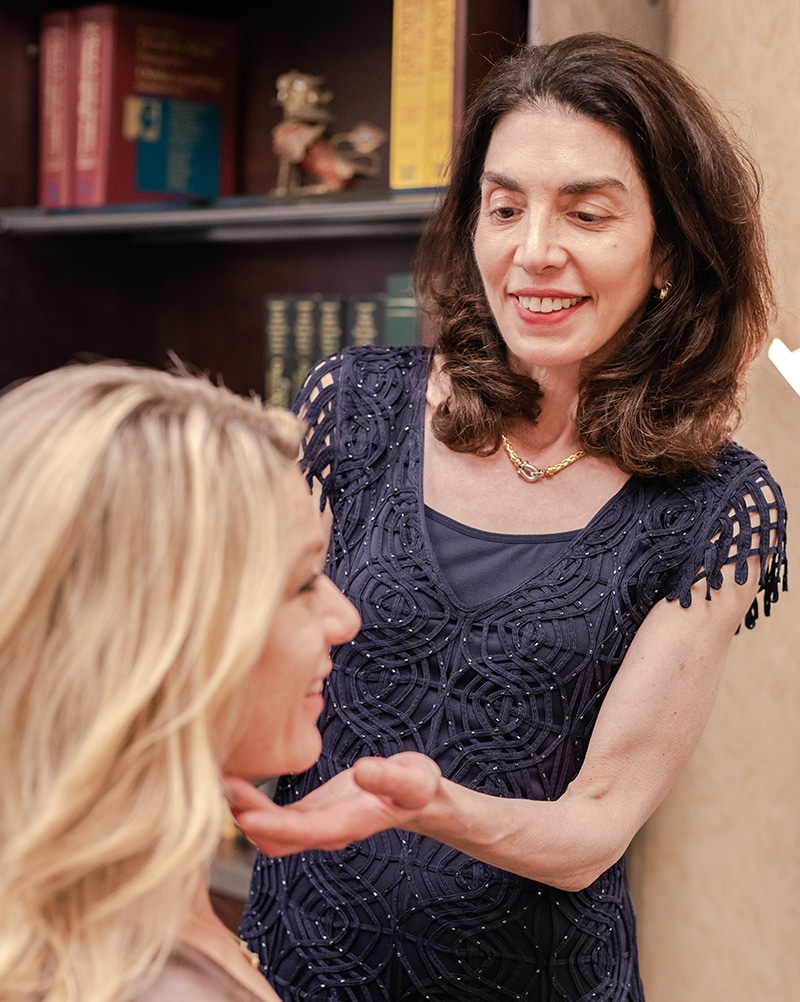 Neck Rejuvenation Consultation
During your neck rejuvenation consultation, our cosmetic plastic surgeon will examine your skin and discuss your concerns and desired outcome.
Dr. Brunner will then design a custom treatment plan for you by combining different lasers and devices for non-surgical skin tightening with Botox injections to deliver optimal results with minimal post-treatment downtime.
You may choose to have facial rejuvenation performed with your neck rejuvenation, depending on your goals.
Neck Rejuvenation Treatment Options
Your neck rejuvenation procedure will include several treatments—each selected for its ability to provide specific improvements: tightening and contouring, reducing neck banding, minimizing sun damage, and refreshing and brightening the skin.
EmbraceRF for Tightening and Contouring
EmbraceRF combines two rejuvenation treatments, using radiofrequency energy with microneedling to contour, lift, and tighten the neck. EmbraceRF is a minimally-invasive means of achieving many of the effects of a surgical lift. While EmbraceRF can't duplicate the results of a neck lift, it's an excellent option for patients seeking significant improvements without surgery.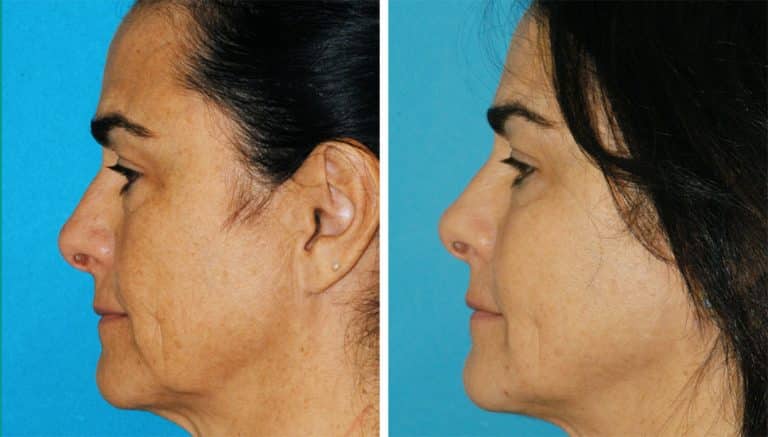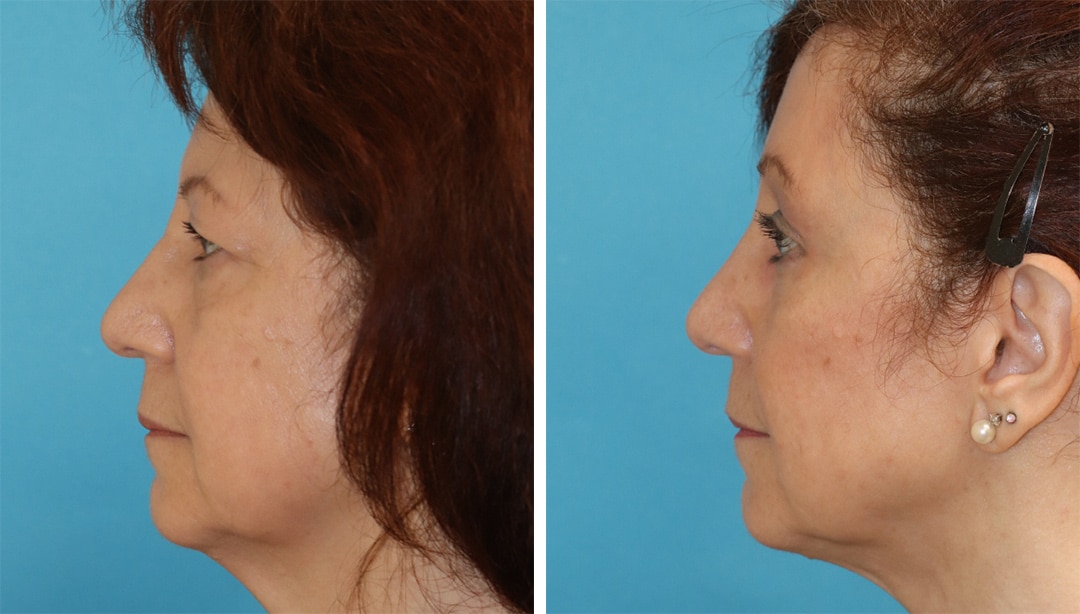 SmartLipo/PrecisionTX for Neck Contouring
SmartLipo is considered by many to be one of the safest and most effective methods of removing submental fat from underneath the chin. This treatment uses laser technology to melt fat cells for gentler removal, while stimulating skin tightening for a smoother effect. Dr. Brunner can also add PrecisionTX, a device that delivers heat to the treatment area for additional tightening. Also known as Sidelaze™, is one of the best methods of non-surgical skin tightening available today.
Botox for Neck Banding
Neck banding refers to the vertical lines caused by changes in the platysma muscles of the neck that make them appear more prominent as we age. Botox injections relax these muscles and help reduce the appearance of neck banding.
The effects of Botox injections last about 3-6 months, and touch-up treatments will be required to maintain your results. However, regular Botox treatments may help soften lines long term because the muscles are gradually "trained" to relax.
Dr. Brunner can also use dermal fillers to fill in the horizontal neck lines on some patients. These products work by restoring structural support to the dermal layers, smoothing out lines from the inside out. Results can last 6-12 months depending on the filler used and how quickly the patient breaks down the hyaluronic acid in the formula.
Patients typically see results after 24 hours, but the full effects may take up to two weeks to become visible.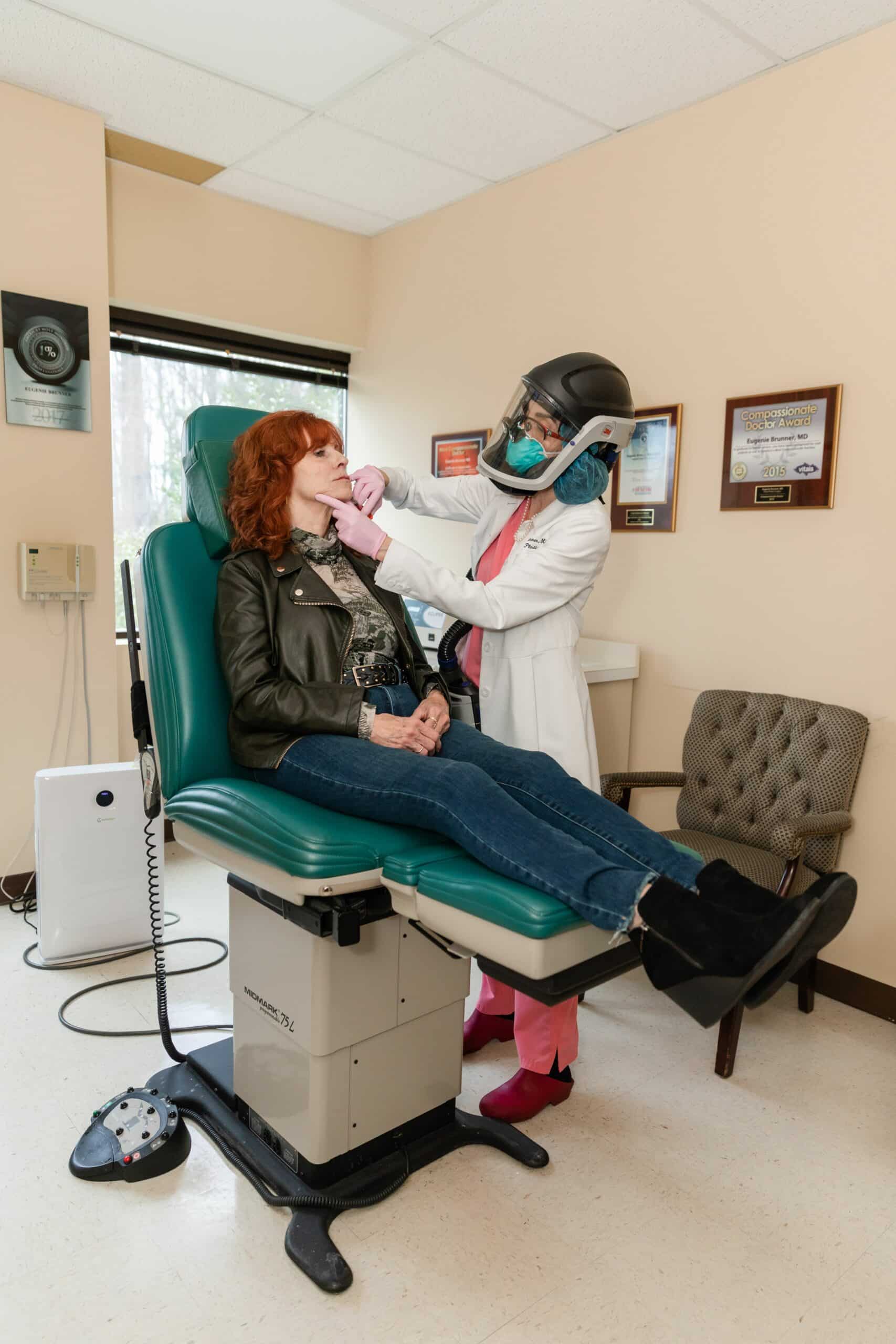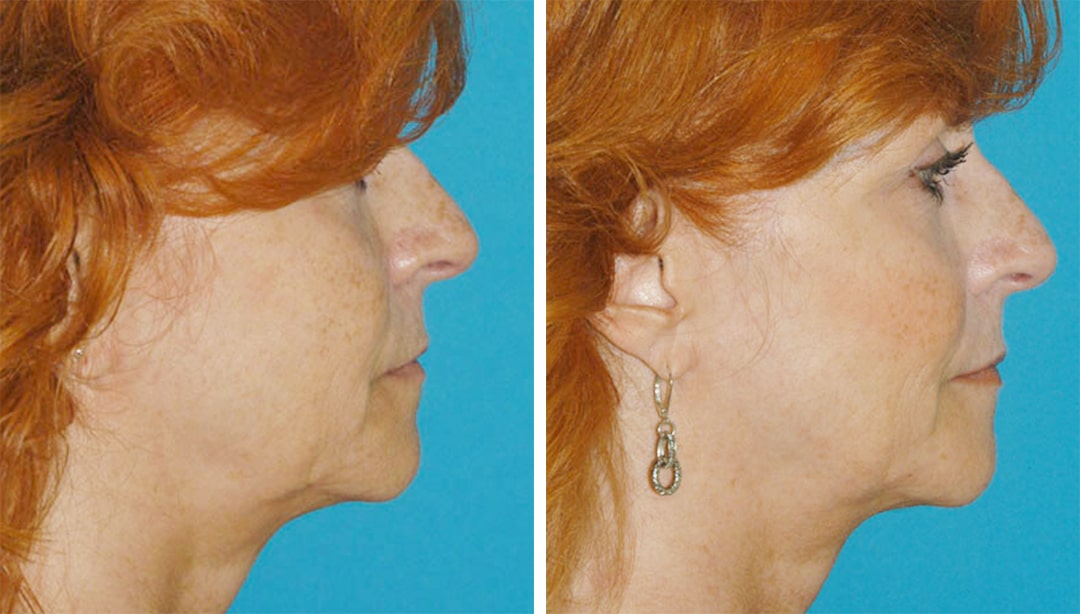 Fractora RF/Morpheus 8 for Skin Rejuvenation
InMode RF refreshes and rejuvenates your skin in several ways. Fractora RF and Morpheus 8 treat concerns such as wrinkles and crepey upper neck skin, promoting skin tightening and collagen production.
Pico Laser, VariLite and Advalight lasers for Sun Damage
Laser treatments are particularly effective for neck rejuvenation, addressing several of the most common patient concerns. These lasers correct skin imperfections such as general sun damage, uneven skin texture and tone, dyschromias, and spottiness on the neck or décolletage. Laser beams target the melanin in the skin, eliminating hyperpigmentation while leaving surrounding skin and tissue untouched.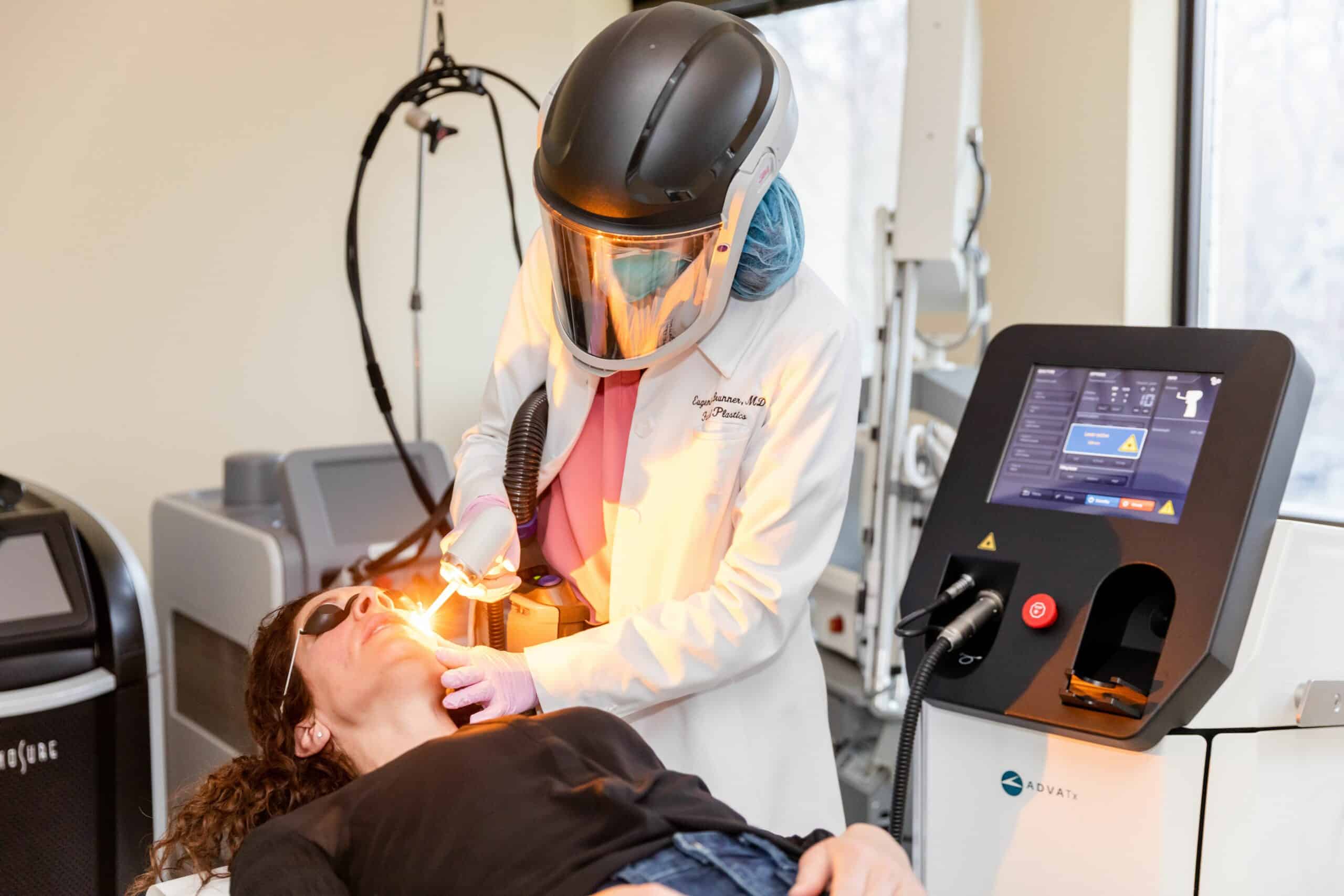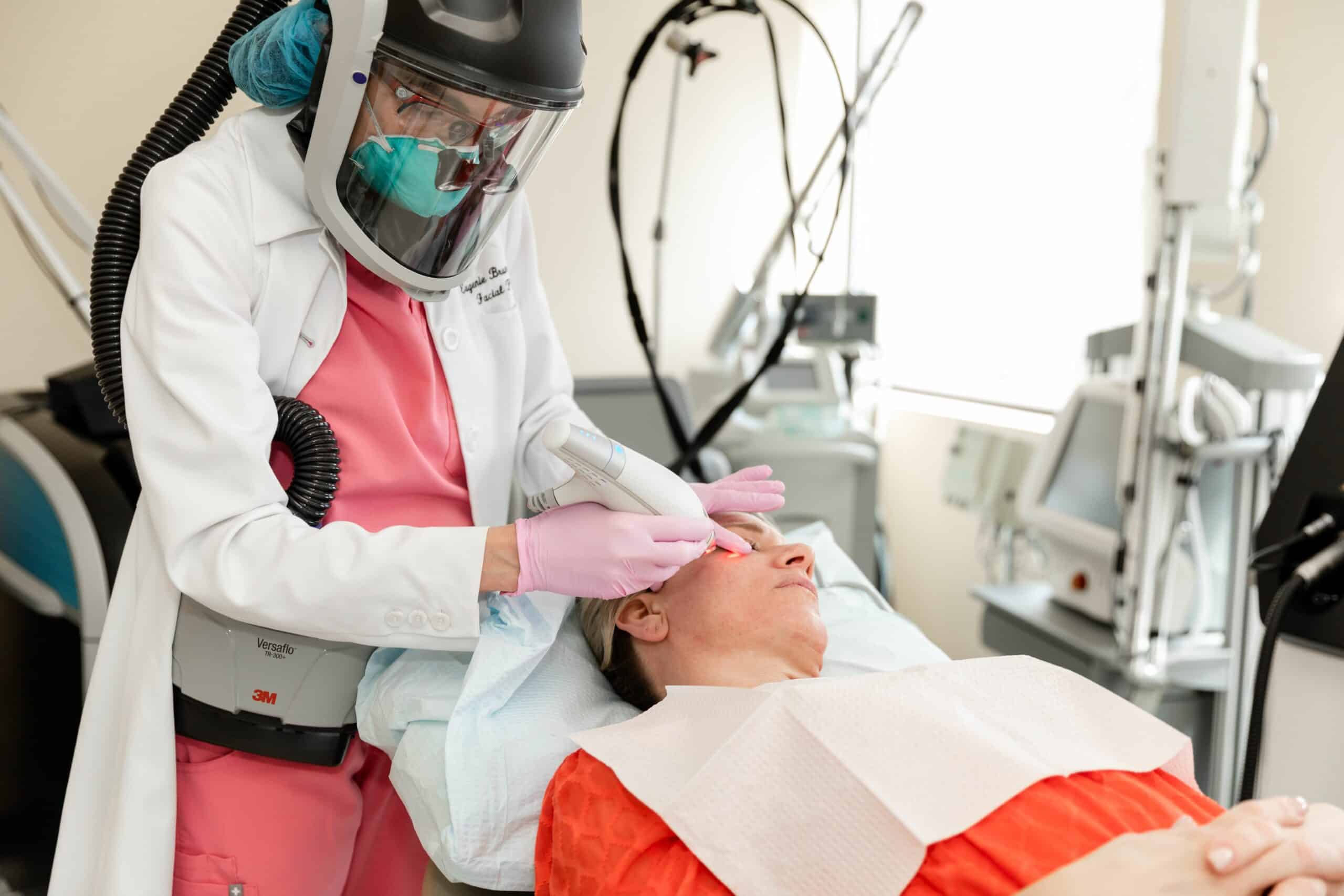 Clear + Brilliant for Skin Brightening
Treatment with the Clear + Brilliant laser reduces the appearance of fine lines and mild sun damage and helps reduce the early effects of aging. After the first Clear + Brilliant treatment, patients generally see an improvement in skin tone, texture, and brightness within a few days. Additional treatments augment the initial results, creating visible improvement that can last for months, depending on factors such as age, skin condition, and skincare regimen.
Medical-Grade Skin Care for Healthy Maintenance
Extend the results of neck rejuvenation with nourishing skincare and sun protection. Dr. Brunner developed her exclusive line of skincare products to cleanse, moisturize, enhance, and protect the skin at any age.
Our Princeton, NJ, clinic also carries a selection of mineral-based sunscreen products and the DefenAge skincare line.
After Your Neck Rejuvenation
After your neck rejuvenation, your skin will appear healthier, smoother, and younger.
The effects of Botox injections last about 3-6 months, and maintenance treatments will be needed.
Laser treatment results are long-lasting but not permanent. The more vigilant you are about protecting your skin from future sun damage, the longer you'll enjoy the effects.
Who is a good candidate for neck rejuvenation?
Neck rejuvenation is an excellent option for patients who wish to improve the appearance of the neck but aren't ready for neck lift surgery.
How do I know which procedures will work best for me?
At your consultation, Dr. Brunner will examine your skin and work with you to determine which combination of treatments will best meet your needs.
What kind of downtime should I expect?
Recovery and downtime from any of the treatment modalities used in neck rejuvenation are minimal:
EmbraceRF: Most patients can return to regular activity after about two days of recovery. Tenderness, bruising, and swelling is normal after treatment and will fade within a few days.
SmartLipo/PrecisionTX: Patients usually return to regular activities within a couple of days. Bruising, swelling, and tenderness are typical after these procedures and usually subside within a week.
Botox: Dr. Brunner recommends avoiding exercise and strenuous activity for about 12 hours after receiving Botox injections.
Fractora RF/Morpheus 8 – Recovery from Morpheus 8 may take 2-4 days, depending on the depth of micro-needling performed. Fractora RF doesn't penetrate skin tissues as deeply as Morpheus 8, so recovery time is generally shorter. Resume your usual activities when you feel comfortable.
Pico Laser, Varilite, and Advalite: Patients may experience mild redness or swelling after treatment, but most return to regular activities right away.
Clear & Brilliant – An antioxidant serum will be applied after the procedure to reduce the potential for redness and swelling.
Dr. Brunner advises all patients to wear sunscreen daily to prevent sun damage and to help extend the benefits of all neck rejuvenation treatments. If desired, makeup may camouflage any lingering redness or swelling.
How soon will I see the results?
You'll notice results soon after your procedure.
The effects of Botox injections will be apparent within 24 hours, but it may take up to two weeks for the full effect to become visible.
Results from laser procedures will continue to improve for a period of time following treatment and may take between 3-6 months to become fully visible.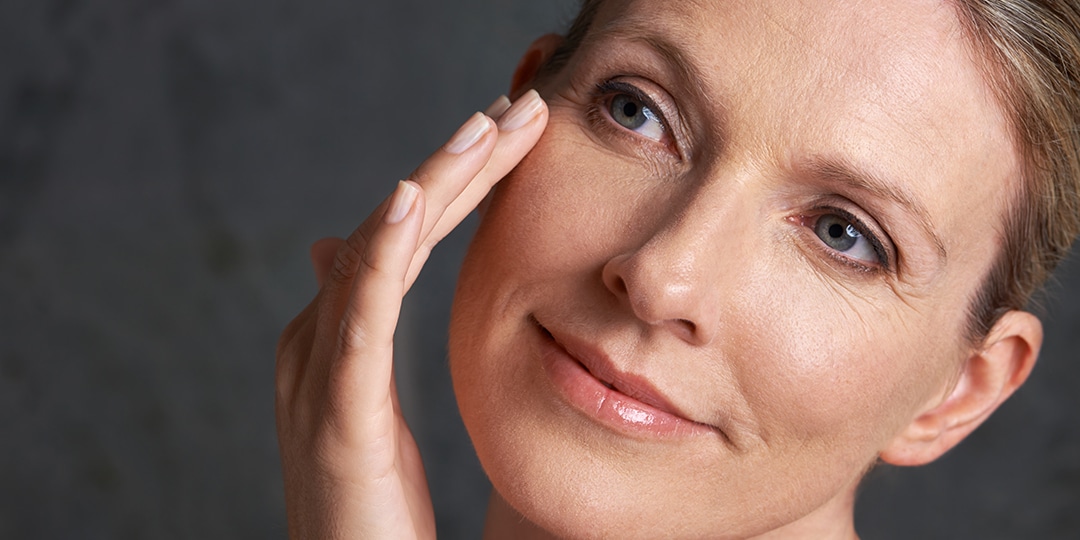 Dermal fillers and cosmetic injectables offer a way to soften the appearance of a wide range of concerns with typically quick results and minimal downtime.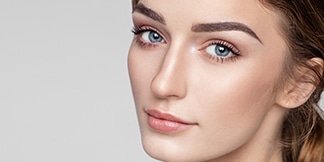 The Fraxel Re:pair laser is a non-surgical enhancement that is the premier fractional ablative CO2 laser designed for treatment of wrinkles, sun damaged skin, texture irregularities, acne scarring, brown spots due to sun exposure and aging, and generalized redness.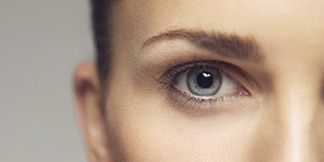 Botox® Cosmetic is a non-invasive injectable treatment designed to weaken the muscles that contribute to frown lines, deep forehead wrinkles, crow's feet, and platysmal bands along the neck. 
Regional & National Awards
We Look Forward to Meeting You!