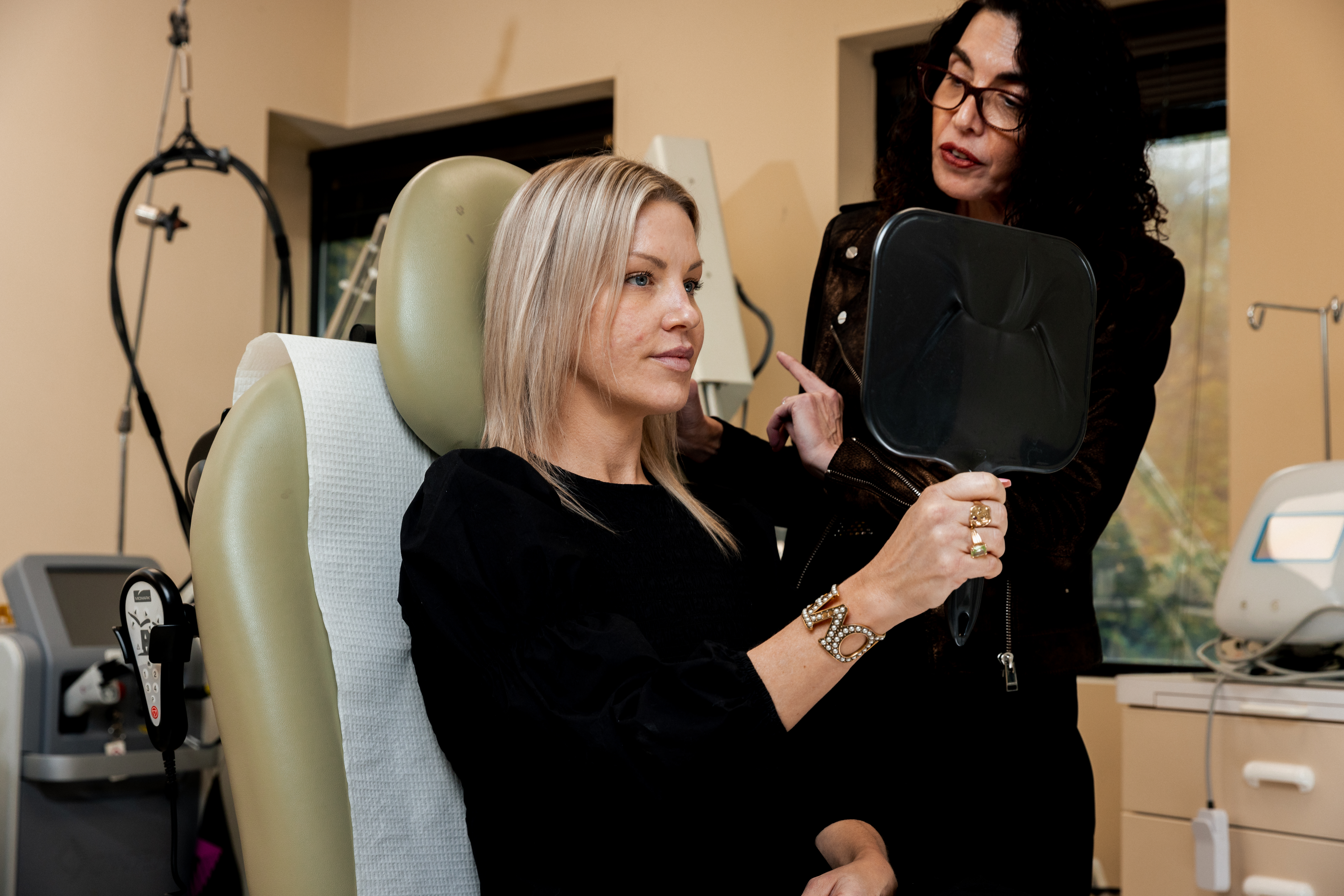 Non-Surgical (Liquid) Facelift in Princeton, NJ
While a facelift remains the gold standard in facial rejuvenation, not everyone is ready to take the surgical route. Fortunately, modern aesthetic procedures and non-surgical facelift options make it possible to rejuvenate the skin without invasive surgery.
Dr. Brunner understands that pain and discomfort may deter patients from seeking desired cosmetic treatments. Fortunately, nerve blocking, a procedure that prevents pain signals from reaching the brain, allows patients to experience the transformative benefits of cosmetic procedures without discomfort. With over 25 years of experience in facial plastics and expertise in nerve blocking, Dr. Brunner can perform procedures at a leisurely pace for perfect, natural-looking results. Dr. Brunner's nerve-blocking technique, along with topical numbing creams and Pro-Nox™, is a game-changer in aesthetics.
A face lift without surgery is possible at our state-of-the-art facial rejuvenation practice in Princeton, NJ, thanks to our comprehensive array of non-surgical aesthetic enhancement treatments. Laser devices and injectables can reduce signs of aging and refresh skin tone and texture for a healthy and more youthful appearance.
Dr. Eugenie Brunner is a double-board certified facial plastic surgeon who customizes treatment plans to address each patient's unique needs and goals. With her extensive cosmetic experience and artistic eye, she can help you achieve the beautiful, natural-looking results you desire.
What Can Non-Surgical (Liquid) Facelift Do for Me?
A liquid facelift offers the following benefits:
Smoother, firmer, and more toned look without surgery
No general anesthesia
Quick procedure
More cost-effective than a surgical face lift
Minimum discomfort
Minimum recovery time
Fewer risks involved
Natural-looking results
A temporary way to try a new look before surgery
Non-Surgical Facelift Treatment Options
A non-surgical facelift consists of minimally invasive procedures that are customized to address a patient's skin condition and goals. Non-surgical facelift procedures are designed to treat common signs of aging and include a variety of non-surgical skin tightening treatments, such as laser therapy and injectables.
Dr. Brunner offers the following non-surgical facelift procedure options at her Princeton, NJ, office:
Tri-Zone Laser Lift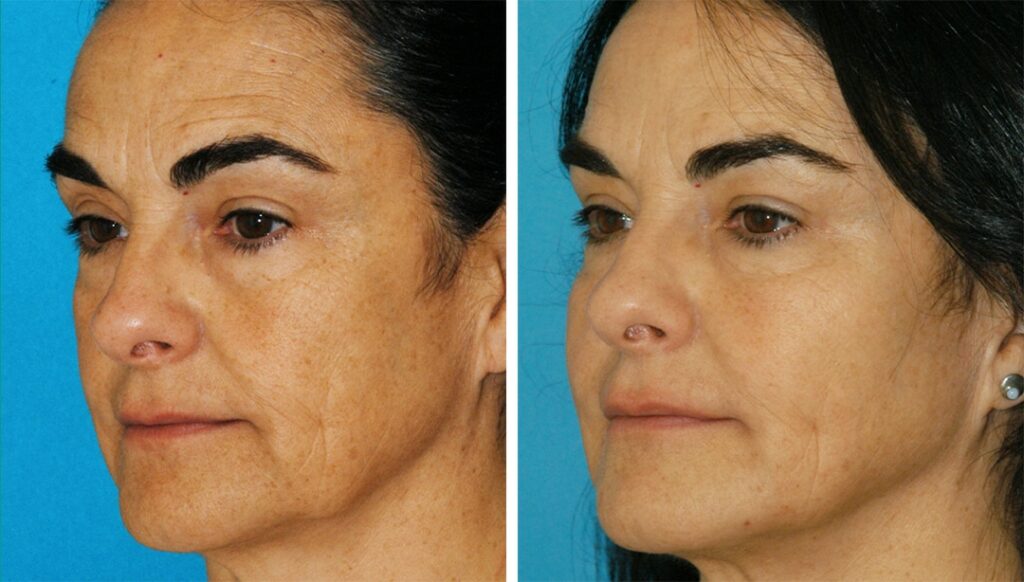 The Tri-Zone Laser Lift is Dr. Brunner's proprietary treatment that transforms the skin with a minimally invasive approach. It consists of SmartLipo/FaceTite, dermal filler injections, and Clear + Brilliant and/or PicoSure, which treat a wide range of skin concerns and create a natural lift when combined.
SmartLipo uses laser energy to liquefy fat and tighten the skin, while FaceTite/EmbraceRF utilizes radiofrequency waves to further tone and firm the skin.
Clear + Brilliant uses pulses of light to create microscopic treatment zones that replace damaged skin through new collagen production, while PicoSure utilizes a specialized Focus Lens Array that creates microscopic, photomechanical reactions in the epidermis, leading to new collagen formation and elastin production.
Dr. Brunner precisely uses hyaluronic acid fillers like Juvéderm® and Restylane® and collagen stimulators like Radiesse® and Sculptra® for a non-invasive facelift. These facelift fillers smooth out wrinkles and folds around the nose and mouth, restore lost volume, and enhance facial contours.
By combining laser treatments and facelift injections, the Tri-Zone Laser Lift dramatically reverses the signs of aging by improving the appearance of wrinkles, age spots, and other skin imperfections.
Embrace RF/FaceTite
A combination treatment on its own, Embrace RF/FaceTite combines FaceTite and Morpheus8 to create a powerful skin-rejuvenating procedure.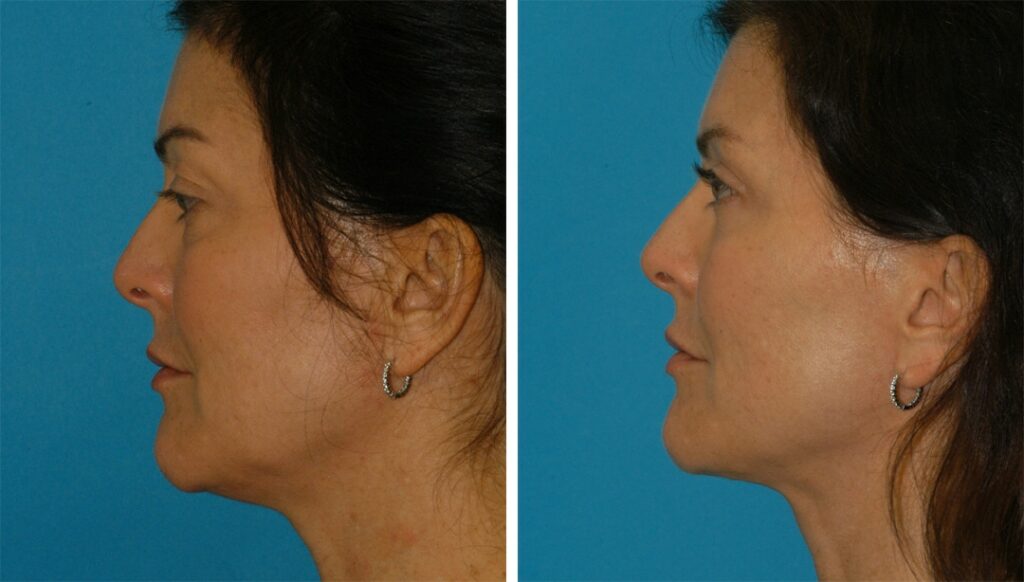 FaceTite uses Radio-Frequency Assisted Lipolysis (RFAL) for collagen production and fat reduction.
Morpheus8 takes traditional microneedling to a new level by combining it with fractional RF energy and creates an effective skin remodeling system at a cellular level. RF energy's warming effect in the skin's deep layers promotes cell generation without damaging the skin's outer layers. The result is tighter, firmer, and more youthful skin.
SmartLipo- PrecisionTx
This face-sculpting procedure effectively treats submental fat (fat located under the chin) to create a well-defined jawline.
SmartLipo uses laser energy to dissolve the fat before removing it and causes less trauma to surrounding tissue.
Fraxel Re:pair
Fraxel Re:pair is a fractional CO2 laser resurfacing treatment that works on a microscopic level. The laser removes damaged skin and penetrates the skin's deeper layers to stimulate collagen production and reveal tighter, smoother skin.
Fractora/Morpheus8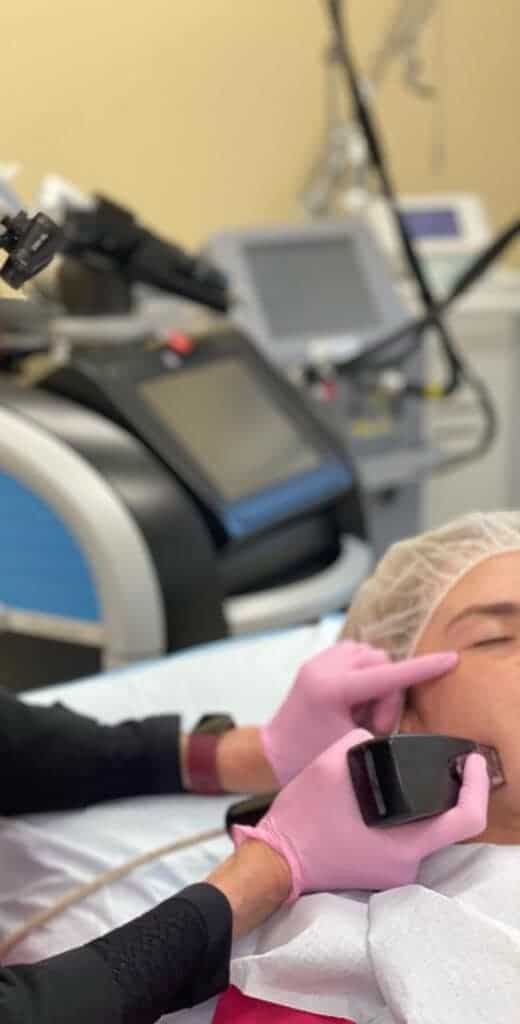 Fractora/Morpheus8 combines RF energy with microneedling to address wrinkles on the cheeks and around the mouth, skin laxity around the jawline and upper neck, mild jowling, crepey neck skin, and acne scars.
NovaThreads Non-Surgical Facelift
NovaThreads nonsurgical facelift can rejuvenate and refresh your appearance without the need for anesthesia, incisions, or significant downtime.
It uses absorbable sutures to lift tissue and address skin laxity, volume loss, and crepey jowls, to create a natural lift.
Evoke
Evoke is a skin-tightening and fat-burning device that targets the cheeks, jawline, neck, and jowls. Its bipolar radiofrequency (RF) energy penetrates the skin's deep layers to trigger collagen and elastin production and reposition fat. Evoke is best for treating early signs of aging and ideal for those in their 30s and 40s who have mild jowling and skin laxity.
What Areas Can Be Treated by a Non-Surgical (Liquid) Facelift?
Individuals with the following skin concerns may consider a minimally invasive facelift:
Expression lines, including frown lines (forehead), crow's feet (corners of your eyes), and marionette lines (on the sides of your mouth)
Under-eye circles
Hollow features
Deep lines and wrinkles
Lip borders and vertical lip lines
Sagging skin and loose jowls
Sunken cheeks
Liquid (Non-Surgical) Facelift Before and After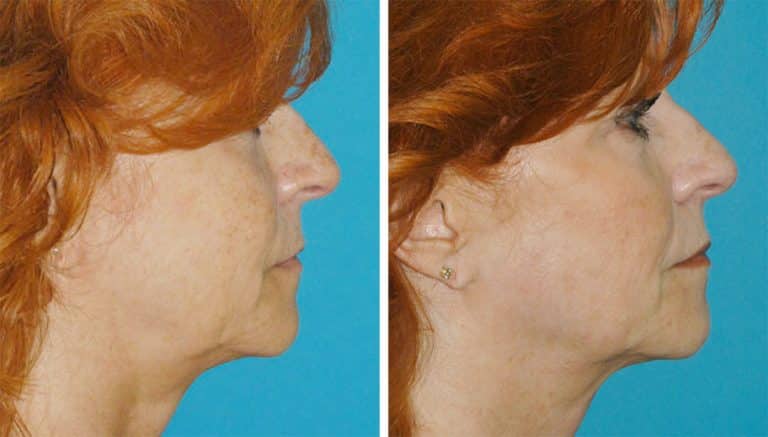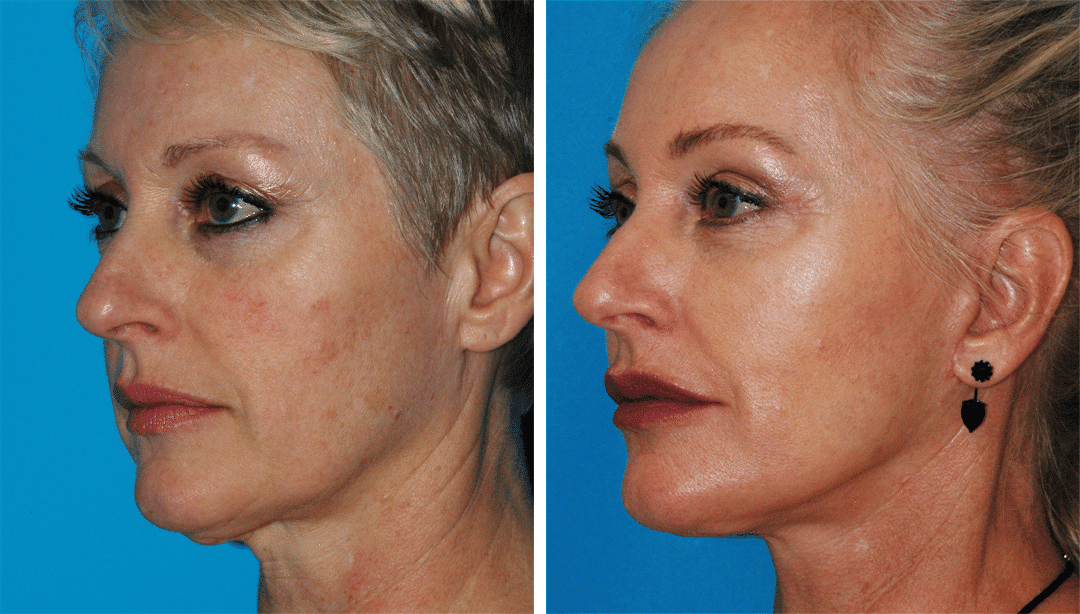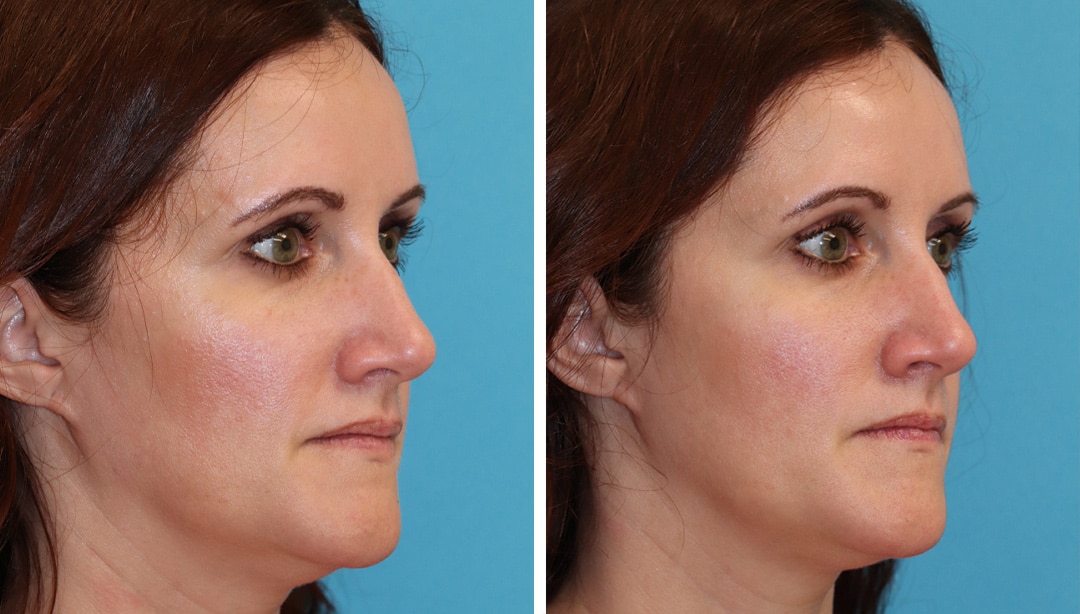 Why Choose Dr. Brunner for My Non-Invasive Facelift Procedure?
A treatment plan heavily depends on a patient's unique skin condition and aesthetic goals. Dr. Brunner always provides an honest and thorough assessment to design the best treatment plan to address your concerns and provide your desired results.
Dr. Eugenie Brunner in Princeton, NJ, uses the most advanced technologies and techniques to address signs of aging, reduce the effects of sun damage, enhance facial features, and improve a patient's self-confidence. Her skill, experience, artistry, and natural feminine approach lead to compassionate and customized patient care that produces the most natural-looking results. Contact us today to book your non-surgical facelift consultation.
What injectables are used for a non-surgical (liquid) facelift?
Fillers for a facelift in Princeton, New Jersey include hyaluronic acid fillers like Juvéderm® and Restylane® and collagen stimulators, such as Radiesse® and Sculptra®, to address wrinkles and creases around the nose and mouth and enhance facial contours.
How much does a non surgical face lift cost in Central Jersey?
No two liquid facelifts are alike. Dr. Brunner will customize her technique to suit your needs and optimize your outcome, and these variables will ultimately determine the cost. The full cost of a liquid facelift consists of several factors, including your location and your surgeon's years of experience.
How will the procedure go?
For laser and energy devices, a handheld device or hands-free applicators will be used to deliver energy to the target areas such as the cheeks, jowls, jawline, and neck. The energy penetrates the outer and subdermal layers of the skin. Energy is converted to heat and triggers the skin cells to tighten. The skin's thermal response loosens and repositions fat, tightens the tissue, and tones the skin.
Filler procedures involve the injection of the filler into the targeted areas using a very fine needle. Most of our patients find the procedures to be tolerable. Additionally, HA-based fillers already contain a local anesthetic to ensure a more comfortable experience.
What does recovery from a non-surgical facelift look like?
Recovery time depends on the procedure or combination of procedures performed, but expect some social downtime. Temporary bruising, tenderness, and swelling are normal side effects.
What is the recovery process like?
Recovery time depends on the procedure or combination of procedures performed, but expect some social downtime. Temporary bruising, tenderness, and swelling are normal side effects.
Does it hurt?
We use very fine needles to minimize discomfort. Most patients find the procedures to be tolerable.
To ensure a more comfortable experience, cold compacts, local anesthetic, and Pro-Nox™ (nitrous oxide gas) are available.
Will insurance cover my non-surgical facelift?
Aesthetic enhancements are considered elective, and most insurance policies will not cover them.
We offer a range of financing options if you are interested in alternative payment types.
How long does a liquid facelift last?
The duration of a non-invasive facelift in Princeton, New Jersey depends on which fillers and devices were used in the procedure. Hyaluronic acid-based fillers (Juvederm and Restylane) can last up to 9 months, while semi-permanent fillers like Sculptra can last up to 2 years.
The results of laser and RF energy-based treatments are long-lasting but not permanent. While lasers and RF devices effectively reduce the signs of aging on the face, they cannot stop the natural course of the aging process after a treatment. We recommend follow-up sessions in our Princeton, NJ office to maintain optimal results.
When will I start seeing results?
Results are visible soon after treatment, but full effects can take several months to appear depending on the treatments in your liquid facelift.
What are the associated risks and complications from this procedure?
The most common side effects of injectables are minor and include slight bruising, redness, and swelling at the injection sites. These symptoms are temporary, and you can wear makeup to conceal bruising and redness.
Liquid facelift vs. traditional facelift
Choosing between a liquid vs. a traditional facelift will depend on your skin concerns and goals.
A liquid or non-surgical facelift allows you to enhance your appearance without any incisions or significant downtime. While the results are more or less immediate, the effects of a natural face lift are not permanent. Fillers naturally break down in 12 months or so, but touch-up treatments can help maintain your results.
A non-invasive face lift in Princeton, New Jersey cannot provide the same level of correction that you can expect from a traditional facelift. Liquid facelifts are ideal for those who want to reduce signs of aging, restore volume, or create definition and symmetry to their facial features.
A liquid facelift cannot address severe skin laxity, therefore, those seeking more dramatic and permanent results may wish to consider a surgical approach. Traditional facelift results can last for 10 years or more.
Dr. Brunner provides a personalized approach to cosmetic care. She performs a thorough evaluation to determine your eligibility for a minimally invasive face lift. Patients with early signs of aging and are not ready for a full facelift are ideal non-surgical facelift candidates. If you are not qualified for a non-surgical facelift, Dr. Brunner will recommend alternative treatments, including a surgical facelift for more dramatic results.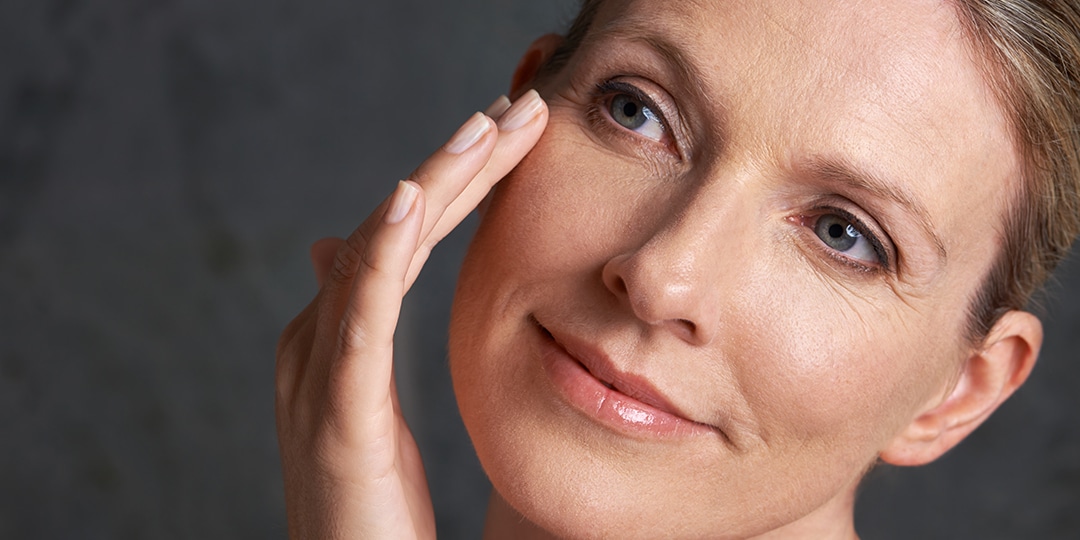 Dermal fillers and cosmetic injectables offer a way to soften the appearance of a wide range of concerns with typically quick results and minimal downtime.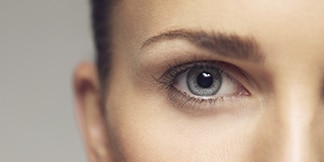 The Fraxel Re:pair laser is a non-surgical enhancement that is the premier fractional ablative CO2 laser designed for treatment of wrinkles, sun damaged skin, texture irregularities, acne scarring, brown spots due to sun exposure and aging, and generalized redness.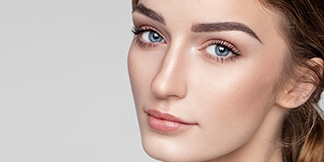 Rhinoplasty (a type of nasal surgery), also referred to as "nose reshaping" or a "nose job," improves the appearance and proportion of your nose, enhancing facial harmony and self confidence.
Regional & National Awards