Non-Surgical Facial Rejuvenation in just 30 Minutes
by Dr. Brunner | February 6, 2020 | Practice News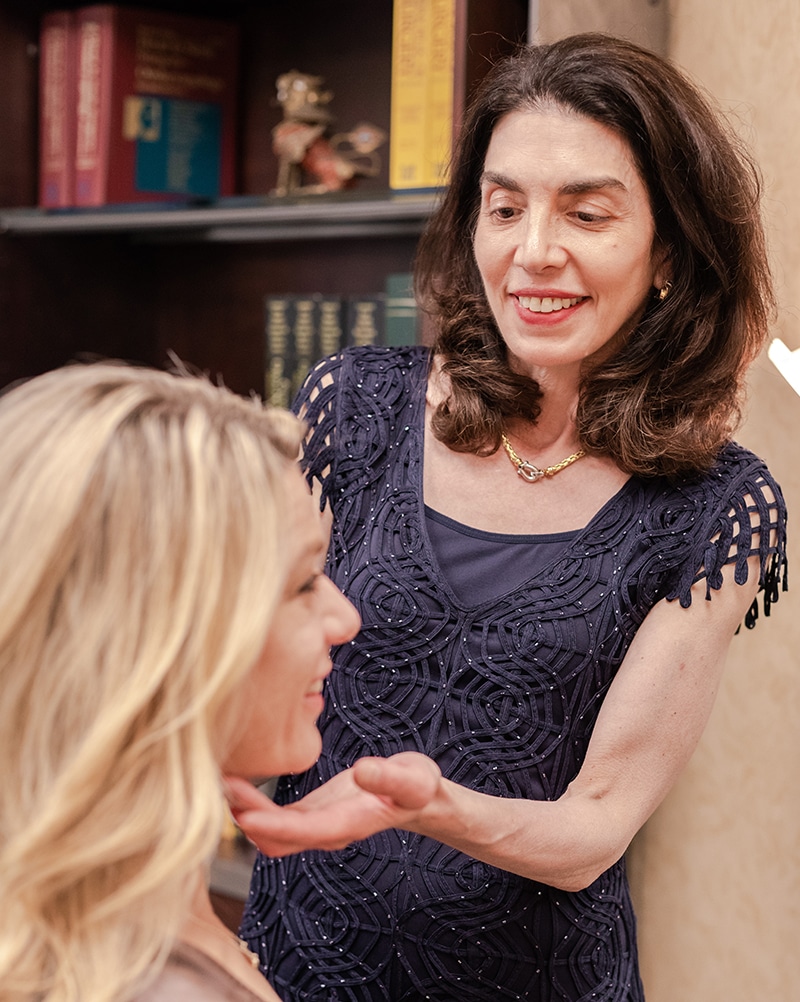 Your face and your spirits could use a lift, but you're too busy or not ready for surgery.  That's why expert Princeton, NJ facial plastic surgeon Eugenie Brunner, MD offers minimally invasive, nonsurgical "liquid facelifts" to lift, firm, and rejuvenate your face quickly, easily, and beautifully. After less than an hour in the comfort of her Princeton, New Jersey medical office, you will emerge with a face that glows with renewed volume, lift, and firmness. No stitches, anesthesia, or recovery time necessary.
Each injectable liquid facelift is custom-designed to match your unique goals, anatomy, and skin type. After a consultation with Dr. Brunner, she will recommend the right combination of neuromodulators and dermal fillers to transform your appearance. 
But the best thing about Dr. Brunner's liquid facelifts — and her surgical procedures, too — is that your improvements look perfectly natural. You're never "overdone" and you never look like a carbon-copy of the celebrity-of-the-moment. You're still the one-and-only you … just better, fresher, and more confident.
How does Dr. Brunner custom-design your liquid facelift? 
As a trained facial plastic surgeon and artist, she first looks at the canvas: Your bone structure and skin quality. She then discusses your aesthetic goals in depth so she knows what kinds of improvements to make. Finally, she selects the "paints" and tools that could best accomplish these goals. 
Botox, Dysport, or Xeomin
The neuromodulators Botox, Dysport, and Xeomin calm down the dynamic muscles in your face that create aging wrinkles such as:
Crow's feet

Forehead lines

Frown lines
Dr. Brunner uses a light touch so that the neuromodulator stops your muscles from pressing your skin into wrinkles, but doesn't stop them from making natural and flattering expressions. Your face will be expressive — not frozen — and free of dynamic wrinkles. The neuromodulators take from several days to 2 weeks to work and can last for up to 4 months.
Sculptra Aesthetic & Radiesse® 
Sculptra is a collagen-stimulating injectable dermal filler that Dr. Brunner from Princeton uses to replace lost volume in your midface or to recontour and rebuild your cheeks and chin. Sculptra contains microparticles of safe, biodegradable poly-L-lactic acid that stimulate collagen production in your skin. Over the months after your treatment, your skin produces new collagen and elastin, rebuilding itself to be thicker, firmer, and more elastic.
Sculptra is a wonderful way to create or enhance cheekbones for a lifting effect that lights up your entire face. She may suggest layering the softer hyaluronic acid (HA) filler Voluma® on top of Sculptra for an even more natural look. Sculptra and Voluma last for about 12-18 months.
Like Sculptra, Radiesse is a collagen-stimulating dermal filler. Radiesse is wonderful for filling in deep creases, such as the NLF. You may also want to consider rejuvenating your hands with Radiesse to match your now-youthful face. Radiesse lasts for up to 9 months.
Juvéderm or Restylane
collection of HA fillers
Both Juvéderm and Restylane offer dermal fillers with various consistencies to recontour your face, fill in wrinkles, and rejuvenate your lips. Hyaluronic acid is a substance that your skin produces when you're young to retain moisture. However, as you age, you lose HA, which is where the dermal fillers step in. With judicious use of the HA fillers, Dr. Brunner:
Erases fine lines and wrinkles

Fills in deep lines, such as marionette lines and nasolabial folds (NLF)

Reshapes lips

Restores or enhances lip volume
The thin- to medium-consistency HA fillers last from 6-18 months. Some of them contain lidocaine, an anesthetic that helps keep you comfortable during your treatment.
Compliment Your Liquid Facelift With These Procedures
A liquid facelift is compatible with many other forms of nonsurgical facial rejuvenation as described in this article. You may wish to combine your liquid facelift with:
Laser skin rejuvenation— stimulates the production of collagen to make your skin tighter, firmer, and more lifted. It also eliminates surface irregularities, including fine lines and hyperpigmentation. Dr. Brunner uses over a dozen lasers and energy devices in her office that achieve a variety of results. Laser and light devices such as Fraxel re:pair, Clear and Brilliant, and PicoSure work with the body's natural healing and repair processes to give you fuller and natural-looking skin that is healthy and glowing. 
Thread lift — lift your face with absorbable sutures. NovaThreads instant facelifts require just one tiny incision on each side, through which Dr. Brunner threads the resorbable threads that lift and secure your excess skin. Thread lifts can last up to a year and look most natural when combined with volume replacement using collagen-stimulating or HA-based dermal fillers.
Schedule A Consultation In Our Princeton Medical Spa Today 
Give your face and 2020 a lift with a customized liquid facelift. Contact Dr. Brunner and schedule your free consultation today.
We Look Forward to Meeting You!