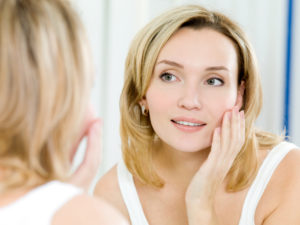 Cosmetic injectables offer an innovative way to minimize the appearance of fine lines and wrinkles, restore volume, and create a more youthful appearance. These non-surgical treatments come with few side effects, but bruising and swelling can occur in many people. To help patients heal faster and with less noticeable marks, Dr. Eugenie Brunner, our extensively trained facial plastic surgeon, offers a revolutionary system called OcuMend®.
OcuMend is a hydrogel patch containing a high concentration of Arnica montana and Ledum palustre that can be placed on the treated area to reduce bruising, pain, and swelling immediately after injectable treatment. Arnica montana and Ledum palustre are herbal medications that are known to decrease bruising, swelling, and inflammation. OcuMend works because it is composed of ultra-penetrating nanotechnology™ with 50 times the potency of Arnica montana compared to many over-the-counter products. If you love BOTOX® Cosmetic, JUVÉDERM®, Restylane®, and other injectables but do not like the recovery, OcuMend gel pads are able to quickly and easily reduce the bruising and swelling that may sometimes occur.
Talk to our medical team today to see if OcuMend can be added to your injectables treatment regimen for faster recovery than ever before.