Aging is inevitable, but when there are board-certified facial plastic surgeons such as Dr. Eugenie Brunner who specializes in a myriad of surgical and non surgical services and treatments, it doesn't have to be something we allow others to see. That's what one 68-year-old patient realized as she began her own beauty transformation with Dr. Brunner in Princeton, NJ.
Achieving your dream face, skin and overall look is something well within reach when treated by Dr. Brunner. As a trained artist, she combines her artistic eye with her facial plastic surgery expertise, and any look you dream of Dr. Brunner can work to craft. This was the case with our latest patient to have received a revamped and perfected look, at the hands of Dr. Brunner. To listen to our patient discuss the overall experience, click here
Her Tell-Tale Signs of Aging
The first physical signs of aging tend to be loose skin. Our patient first became concerned with her puffy lower eyelids and sagging upper eyelids. She also began to notice lines around her mouth and loose skin along her lower face and jowls. She says that she would stare at her neck and face in the mirror and pull her loose skin tight.
"I would think 'Ugh, I don't like this,'" she said.
It was these concerns that persuaded her to seek out Dr. Brunner in her Princeton, New Jersey office to achieve a revamped look. As a member of the demographic she serves, Dr. Brunner was able to consider all the options available to her patient to achieve youthful, natural results, just like she wants for herself.
These are common concerns for any aging patient, especially those who enter into their forties and beyond. Although these concerns are common, technology and the extensive training of doctors have allowed us to remain youthful for the set amount of time we desire.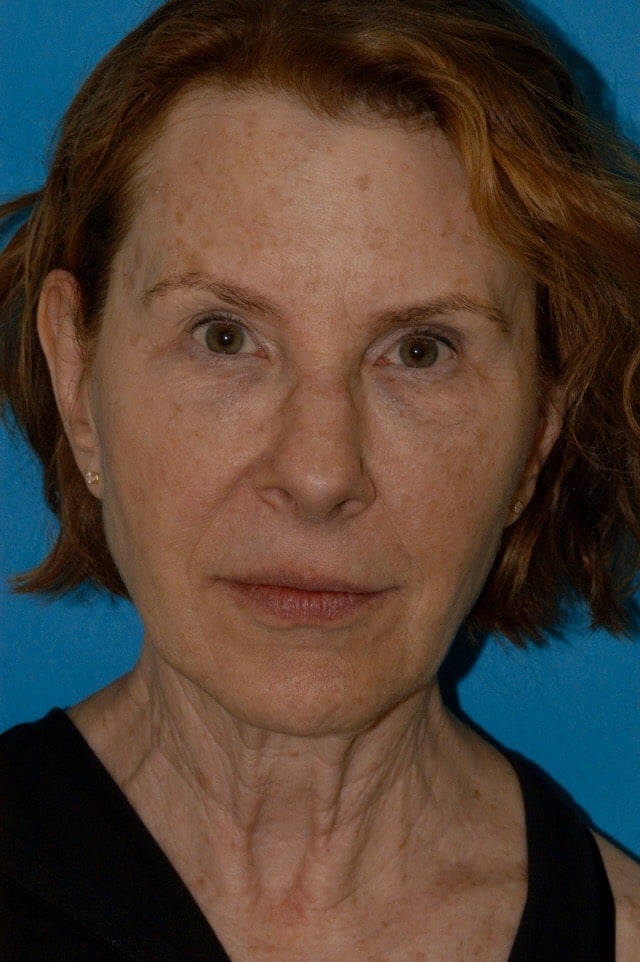 Ready To Embrace(RF) A New Look
The first issue addressed for our patient was the loose skin around her face, neck and jowls. By addressing these concerns with EmbraceRF / FaceTite, Dr. Brunner was able to begin this transformation, providing the first step toward her desired and youthful look.
A laser approach to address concerns of aging is a great option, especially when EmbraceRF is chosen. This is because the EmbraceRF laser combines two leading facial rejuvenation treatments, FaceTite and Morpheus 8—part of the Fractora Radiofrequency MicroNeedling generation. 
This laser therapy treatment uses radiofrequency energy to lift, contour, and smooth the face without surgery. Non-surgical procedures that are minimally invasive allow us to see the results of an appointment more quickly. 
Proving similar results as a surgical facelift, some of the other added benefits of EmbraceRF include: 
Remodeling of the face, jawline and neck 

Reduction in wrinkles and fine lines 

Reduced skin laxity

Natural looking results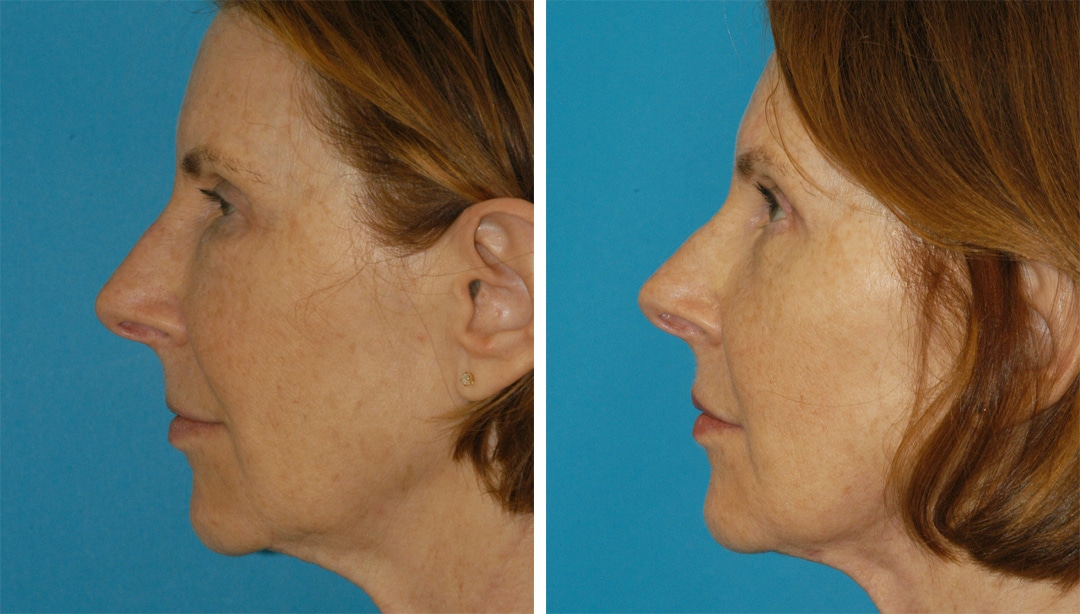 Radiesse and Restylane: No Frown Lines, Only Smiles
The next step in ensuring our patient felt youthful, beautiful, and confident was to address the lines around her mouth. This was a two step process that required fillers and injections, including Radiesee and Restylane.
Fillers are ideal for adding back volume in areas that have lost elasticity. Whereas neuromodulators like Botox smooth out wrinkles, dermal fillers provide volume where it has been lost. Hyaluronic acid is injected into the skin. Once injected, the skin's supply of hyaluronic acid increases, which begins to revitalize and add volume to the skin. 
Radiesse
Radiesse, a volumizing dermal filler, is perfect for reducing signs of aging. Composed of calcium hydroxylapatite microspheres suspended in water-based gel, it mimics the substances that are found naturally in the body. This allows for a more natural look, overall. 
The added bonus of Radiesse, aside from providing immediate results, is that overtime it will also stimulate natural collagen production. This results in gradual, ongoing improvements, which allowed our patient to love her new look more and more each day.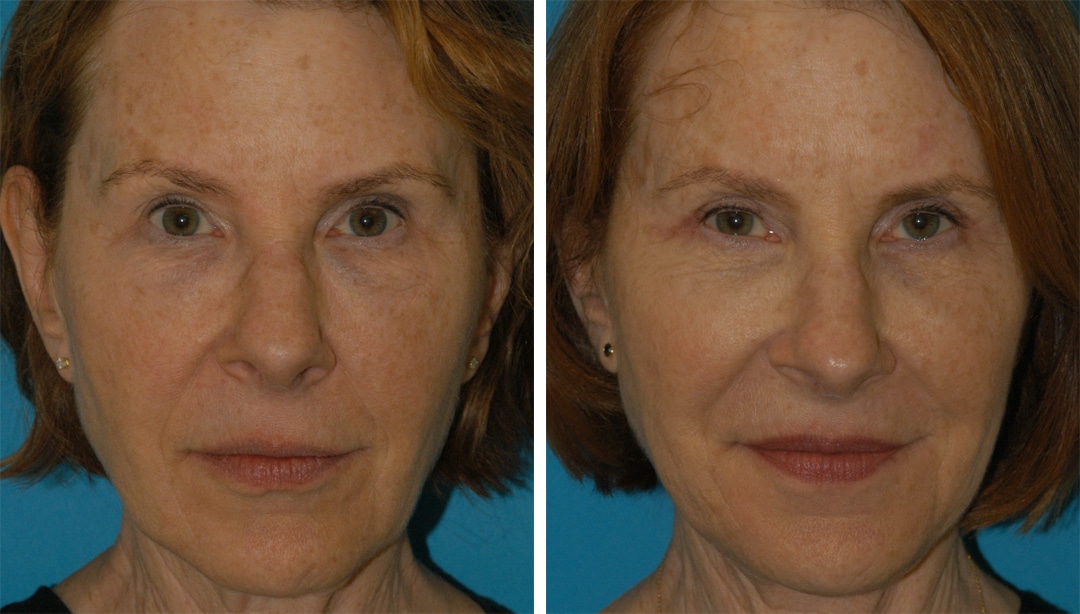 Restylane
Restylane has a large family, including Restylane Kysse, Defyne and Refyne, and Restylane Lyft. Each of these products contains a hyaluronic acid gel that is used to treat severe facial wrinkles and folds. Due to its composition, found naturally in our skin, it is considered very safe and effective. It fills wrinkles, folds, and lips by attracting water to the site and allowing for soft, supple corrections that look completely natural. With results that last 8 months or more, our patient has felt the glow of this appointment with Eugenie Brunner, MD, for quite some time.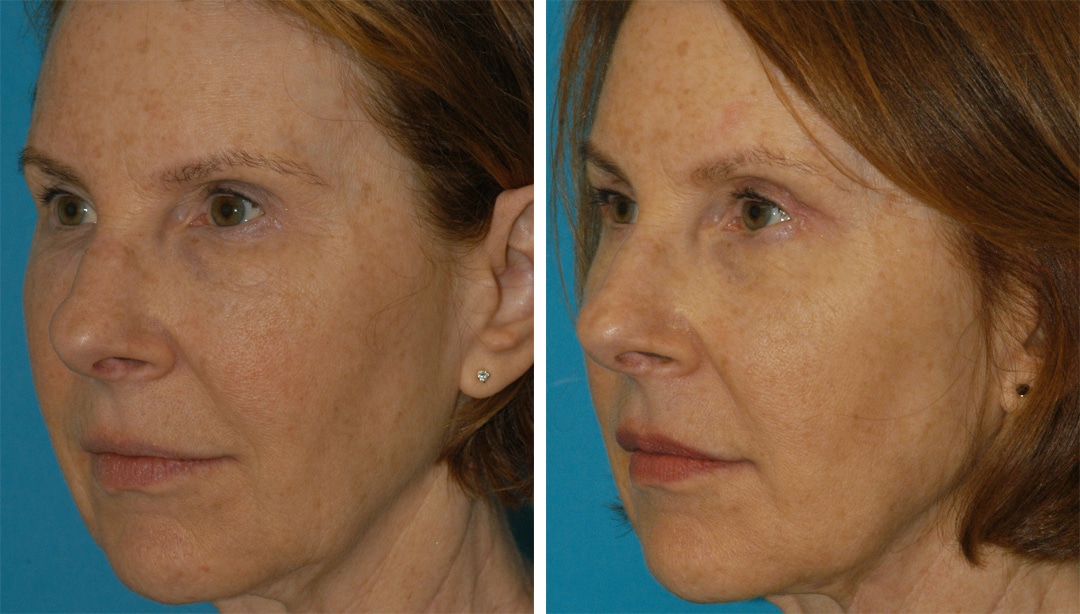 Blepharoplasty: Looking For Her Youthful Eyes
The last area our patient expressed concern about was her eyes, to remove the puffiness located on the lower lids and the drooping skin of her upper lids. These concerns typically become visible in your thirties, but genes can cause these issues to develop early on as well. She underwent a blepharoplasty, or eyelid surgery.
During a blepharoplasty in Princeton, NJ, excess skin is removed via an incision that is camouflaged by the natural creases around the eye.
When bags begin to form under the eye, caused by protruding fatty tissue, an invisible incision behind the lower eyelid to remove the fatty deposits results in astounding results, as evidenced by our patient's testimonial. Our patient's upper and lower eyelid concerns were addressed, corrected, and perfected.
The blepharoplasty procedure is not only quick, but provides results that are imperceptible. Though requiring anesthesia, you are still able to return home within a few short hours after treatment. Recovery takes very little time and often involves no discomfort, just some bruising and swelling.
"I look exactly like I did, just a little better," she says about her completed transformation. "I feel like I have my younger self back."
In the efforts to ensure nothing but exceptional results are delivered every time you visit, Dr. Brunner puts her artistic talents to use to craft beautiful results. In just this one patient's journey, the combination of fillers and injectables, lasers, and facial surgery allowed for a timeless, beautiful look that has deeply impacted her life, and now she is one of the 65,000+ satisfied patients of Dr. Brunner.
"Do it sooner rather than later, because it's going to be here for a long time, and you might as well enjoy it," she said. "It's subtle, and I think that's what's good about it."
To learn more about blepharoplasty, visit medlineplus.gov
Start Your Natural Beauty Transformation In Princeton, New Jersey
Be sure to schedule a consultation to receive your timeless and beautiful look today, designed and perfected by Dr. Brunner herself.
You can hear more about this patient's story in the video below.